Are you thinking about starting a virtual assistant business? Or maybe you have already started your business and now have a million questions about virtual assistant packages and pricing.
Do you have questions like, what are virtual assistant packages? And how do I create and price my freelance services?
Packaging and pricing virtual assistant services and presenting your prices to potential clients can be tricky!
This blog will tell you how to create and price virtual assistant packages for your freelance business! Plus, you'll get tips on what not to do when creating virtual assistant packages and pricing your services.
What are Virtual Assistant Packages?
Virtual assistant packages are typically how a VA prices services and present them to clients.
A virtual assistant package bundles a set of services or deliverables for a set price.
To create your pricing packages, you will want to consider the services you can offer. Also, consider the service your client wants or needs help with to solve a problem.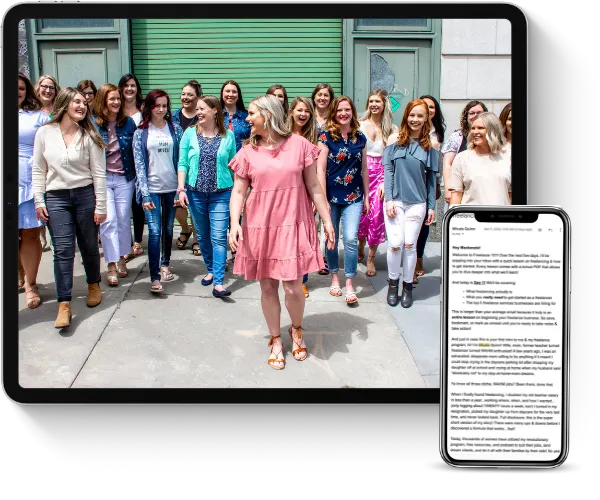 Learn how to earn $3K a month+ as a freelancer working less than 25 hours a week even if you think you have no experience.
This FREE crash course will teach you all about the freelance industry, so you can finally end the family vs. finances battle.
Types of Virtual Assistant Packages
You can create a few different types of packages based on your income goals and what services you offer.
Hourly Retainer: a set number of hours that recurs monthly. It is ongoing until either party cancels.
Project-Based Retainer: set deliverables that recur monthly. It is ongoing until either party cancels.
One-Time Project: a one-time package with set deliverables. This package does not recur.
VIP Day/Intensive: a one-time package that is delivered and completed in 1 day. This package does not recur.
How to Set Up Virtual Assistant Packages
No matter whether you are creating your retainer package, a one-off package, or a custom VIP day package, this is the process you will use to price out your services again, and again, and again.
Step 1: Determine your hourly rate
Use this base experience table to help determine your hourly rate. It is important to note that just because you may be new to freelancing does not mean you are a beginner. Experience from previous job factors in when determining rates!
Beginner rates: $20-$35 an hour
Advanced rates: $40-$55 an hour
Experienced rates: $60-$75 an hour
Expert rates: $80+ an hour
Step 2: Deliverables
Break down each part of the package into smaller parts. Then determine how many hours each of those pieces will take.
Multiply the number of hours by your determined hourly rate.
Step 3: Additional costs
Are there any additional costs needed to provide this service? That could be things like the software you need to pay for to provide the service or deliverable.
Consider a buffer of 10-20% for errors in the amount of time it takes to complete the work.
Add this cost to the price of the package.
Think about how this number makes you feel. Adjust it down if it seems like a lot, and adjust it up if it seems low.
The most important part of pricing your packages is being confident in the price!
How Many Packages Should You Have?
There's no set amount, but a good rule of thumb is one for each service you provide.
If you offer one main service, you can create tiers of packages. Start with a base package with fewer hours or basic services, then a middle option with more services, and a third tier that includes everything.
3 Common Pricing Mistakes to Avoid
Don't hide your pricing: make your prices visible to potential clients. You want them to know your pricing to accurately assess whether they can afford to work with you.
Don't leave your prices stagnant: leaving your pricing the same for each new client you sign will not help you grow. You gain experience with each client, allowing you to raise your rates. You can raise your rates with each new client depending on where you start your rates and the services you offer.
Don't lower your pricing: Don't give away free services or lower your pricing to accommodate a potential client that can't afford your services. Instead, create a smaller package with fewer hours or deliverables that will fit into their budget.
Want more help with pricing? Sign up for the Live Free Academy to get more information and help with pricing virtual assistant packages. You get access to the pricing calculator tool that makes it easy to set your services and price them confidently!