Starting a virtual assistant business comes with a lot of decisions to make. One of those decisions is probably, "How should I price my virtual assistant services?"
Should I offer virtual assistant packages for a monthly fee based on a project price, or should I stick to the hourly pricing model?
In this post, we are going to break down these two pricing models that are common ways to price your services when you want to start virtual pricing.
We will discuss the basics of each virtual assistant pricing model, and what the pros and cons are of each. Plus, what criteria you can use to help you decide whether virtual assistant project packages or hourly pricing is better for you?
Virtual Assistant Packages
What are virtual assistant packages?
Virtual assistant packages are a very common way for virtual assistants and other freelancers to price their services. Usually, when they have a set of services or want to offer more than one specific or niched service to a client, they will create a package bundle of services to include in their portfolio.
This pricing is predetermined for the package, so it is based on either the deliverable or a set number of hours.
Types of virtual assistant packages
Now, with that being said, there are a few different types of virtual assistant packages that you can price and package for potential clients.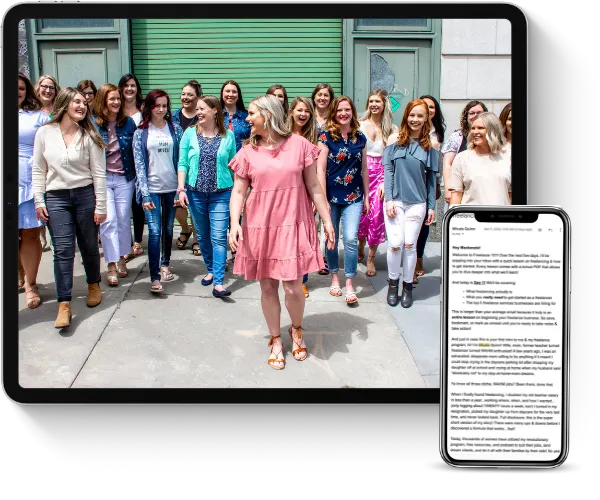 Learn how to earn $3K a month+ as a freelancer working less than 25 hours a week even if you think you have no experience.
This FREE crash course will teach you all about the freelance industry, so you can finally end the family vs. finances battle.
Those are:
Hourly Retainer: you offer a set number of hours that recurs monthly.
Project-Based Retainer: a set of deliverables that you deliver to the client monthly.
One-Time Project: a one-time project package with a set of deliverables that you deliver to the client. This may not be on a recurring basis, but the client could come back for additional support.
VIP Day Intensive: this is a one-time package that is completed and delivered to the client in 1 day. The package does not recur, but this type of service can typically be priced a little higher. (This is how a lot of the LFA women level up their businesses to premium pricing).
For more information on virtual assistant packages, how to set up packages, and common pricing mistakes read this blog post about How To Create Virtual Assistant Packages.
Project-Based Virtual Assistant Packages
With a project-based package, you will charge a flat rate fee for the deliverable. This fee is predetermined and is not based on how long it takes you to complete the work.
Pros of Project-Based Virtual Assistant Packages
Rewards (or does not penalize) you for getting faster and better at your job.
No need to track your time.
Allows you to charge different rates for a single package based on your skill level for each service in the package.
Allows for easier invoicing each month.
Cons of Project-Based Virtual Assistant Packages
You can lose money if a task takes longer than you expected, and charged for.
It's easier for scope creep (when a client asks for more work to be completed than what is in the package) to occur.
Hourly-Based Virtual Assistant Pricing
Hourly pricing is when you, as a virtual assistant, charge your client a set hourly rate. Your client will purchase a package of hours from you.
So, for example, you will perform 30 hours of work, and get paid a predetermined $30 per hour for that 30 hours, each month.
Generally, a good range of packages to offer are 10, 20, and 30 hours a month.
Each package will include services that you will help the client with at a set price for those services each month.
Cons of hourly pricing
You can lose money after you get faster at your client's tasks. This can cause you to take on more and more tasks, without a pay increase, to meet your monthly hours for each client.
You can have unpredictable income each month by focusing on completing the tasks which could decrease as you get faster at your work.
Your hours can fluctuate each month, depending on the work and client needs.
What Should You Choose: Virtual Assistant Packages or Hourly Pricing?
So, which of these types of virtual assistant pricing packages should you offer in your virtual assistant business?
Well, that depends honestly. You could start at an hourly rate in the beginning to get an idea of how long tasks will take you. Then you should transition to a monthly package.
I think the pros outweigh the cons with package pricing versus hourly. BUT I think the best practice, and the way I teach it in The Live Free Academy, is to combine these 2 pricing ideologies–especially when you are just beginning to plan your virtual assistant packages!
To do this follow this simple process:
1. Use the base experience table below to determine your hourly rate.
2. Break down deliverables or hours into the parts of your package.
3. Add them up using the Pricing Calculator. (If you are already a member of the Live Free Academy, you already have access to this awesome tool!)
If you are not yet a member and only want help with pricing, check out The Ultimate Pricing Calculator!
4. Add in any additional costs needed to provide this service.
Do you want additional help with determining your virtual assistant services and packages? Grab the Freelance Skills Assessment right here!