A common debate among virtual assistants is how to pronounce the word niche. Some virtual assistants pronounce it nee-sh, while others insist it's pronounced like nit-ch.
Even the team at LFA headquarters is split on the issue!
Whether you say neesh or nitch, read on as we cover common questions about choosing a virtual assistant niche you won't want to miss. This post discusses finding a virtual assistant niche, in-demand virtual assistant niches, and how to niche your services.
What is a Virtual Assistant Niche?
A niche is a product or service that a virtual assistant offers to market to a specific section or group of people in a market.
So, for example, a virtual assistant niche could be social media services.
Do I Need to Niche My Virtual Assistant Services?
When you first start as a virtual assistant, you can and should offer general virtual assistant services or services in a few different areas.
It's a good idea to try a few service offerings because you probably don't know what you like to do yet. After getting a feel for a service offering and whether you like it, you can decide to keep offering that service.
However, you will want to make a separate portfolio for each service when you offer multiple services. For example, do not send a social media services portfolio to a potential client looking for virtual assistant work!
Once you know what services you like to provide, you can niche or narrow your service offering to those specific services only. And focus on finding clients that align with your niche service offerings.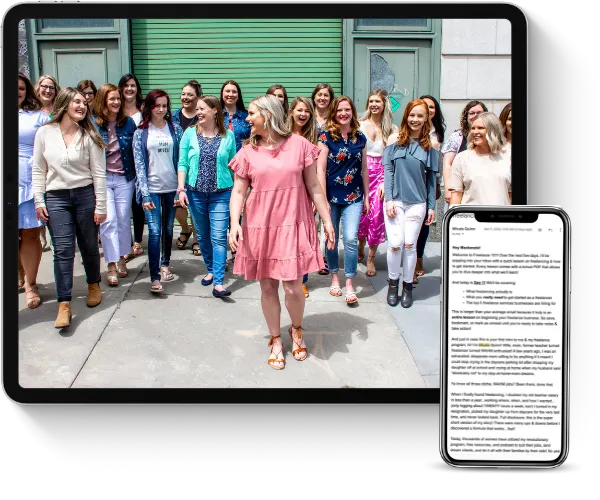 Learn how to earn $3K a month+ as a freelancer working less than 25 hours a week even if you think you have no experience.
This FREE crash course will teach you all about the freelance industry, so you can finally end the family vs. finances battle.
How Do I Find a Niche?
Step 1:
To find your niche, focus on finding clients, not skills. Do not spend much time or money building and learning new skills. First, you need to take action. Do the things that will help you land clients!
Step 2:
List all the services you offer or have offered. What do you like and what do you not like to do?
Step 3:
Narrow down your services and group them into related service offerings.
Step 4:
Identify your dream client. Then decide how your services can help them.
Step 5:
Gradually start adding new clients that align with your niche!
5 In-demand Virtual Assistant Niches
Social media management: social media is often the business's first impression for many customers, so having a well-managed account is essential. That can be a timely process for busy business owners and something they are not very savvy with. Social media management is in high demand right now.
A VA can help with things like creating post ideas, writing captions, designing images, scheduling posts, or managing comments.
Writing: besides just creating content for social media, businesses need all kinds of content created daily. For their Website, blog, podcast, product listings, or mailer handouts—the list could go on!
Most, if not all, of these marketing avenues need content. For example, even a YouTube channel with primarily videos will need a script or outline that keeps the video organized. That includes researching topics, keywords, and current trends.
Accounting: if you love numbers, math, or record-keeping, this may be a virtual assistant niche you'll enjoy. Helping businesses keep their books clean is a necessary and popular niche!
As a bookkeeper, you'll help track expenses, prepare invoices, and reconcile accounts.
Calendar and inbox management: scheduling appointments, sending out confirmations, reminders, and schedule updates help to keep a calendar organized. Sorting new mail into folders, responding as necessary, and deleting spam emails save a business owner a lot of time and headaches. They will pay good money for these services that help keep the backend of their business in good shape!
Podcast management: podcasts are gaining popularity like crazy, and with over

2,000,000 shows in 2021

, many podcast hosts need help producing all those podcast episodes.
A virtual assistant can help with podcast management by researching topics, coordinating guest host opportunities and details, repurposing old podcast content, pulling audiogram content, creating show notes, and posting promos for the podcast on social media.
If you want more niche ideas, check out this blog post with 100 virtual assistant services in high demand. This post will surely help you find inspiration for finding a virtual assistant niche you love!
Can I Switch Niches? How?
Yes, absolutely, you can switch! Most of the LFA moms have changed niches at least one time.
When you start your virtual assistant business, it's a good idea to begin offering general administrative services to clients. Find clients that will give you a range of tasks to do. That will help you figure out what tasks you like to do and which you don't want to do.
Once you figure out what you like and want to focus your niche on, then you can start to add new clients that align with your new niche goals, just like Brittany Kues did as a podcast manager.  Listen to her podcast episode for inspiration on finding a niche that helped her land premium clients and double her income!