When I first learned about virtual assistance, I had a million questions. Among the things I didn't know were:
What is a virtual assistant?
What kinds of jobs do they do?
Can you really work from home as a virtual assistant?
What kind of training do I need?
As I began to dig deeper into the world of remote virtual assistant jobs I learned so much. I learned that first there are virtual assistant jobs for beginners. And I learned these jobs are legit.
So, let's talk about it! In this post, I'm sharing the information I know about virtual assistant jobs for beginners: what it is, what tasks you can do as a beginner, and how you can get started in a virtual assistant job for beginners.
Plus, I'm sharing a few other helpful tips you will need once you get started, like how to get experience, and what to say when you are asked about your experience!
What is a Virtual Assistant Job
A virtual assistant works from home (or where ever)
A virtual assistant is someone who provides services to businesses. However, in this case, they do all the work remotely or virtually.
Helps with recurring and one-time projects
A virtual assistant will take on all of the random tasks that a business owner needs to be completed that the owner cannot or does not want to do. That could be recurring, periodic tasks or a one-time project.
Wears many hats
Think of a virtual assistant as a jill of all trades. When working as a virtual assistant, you will wear many hats (which means you'll gain tons of experience!)
Virtual Assistant Jobs for Beginners
1. Email inbox management
Email inbox management is a task that business owners often hand off first. It's very time-consuming for them, and maybe not their best skill set. However, if you are good at keeping or creating an organizational system this job is a great one for you to offer.
You might be filtering through incoming emails, organizing them, and responding to them.
2. Calendar management
Similar to email inbox management, with calendar management you will be helping to organize the client's calendar. That could include scheduling appointments or meetings in an app like Calendly, creating meeting documents for a client, setting up the meeting details like what type of meeting (in-person, phone, or video chat), and making sure all parties have the details.
3. Social Media
Social media is a huge opportunity for anyone looking for remote virtual assistant jobs. If you know how to use social media, and can write a caption create an image or reel, and set up an account or business info page you might give social media a try.
4. Copywriting
Writing takes a lot of time for a business owner. Whether that is writing a blog post, technical paper, ebook, copy for their website, or an email newsletter it takes up a lot of time.
I mean, just think about all the touchpoints in a sales funnel that needs writing. If you have an act for writing this is a great option for a virtual assistant job for beginners.
5. Customer service
Think about all the touchpoints a business can have with a customer. There are a lot. Depending on what type of business there is a lot of opportunity here to help clients within their business when you are working in a virtual assistant job.
Some examples of this could include, contacting customers for a medical practice to remind them about appointments or process payments. Another example might be for an e-commerce business, processing a return or answering a question. Or for an online business that needs help answering potential questions they receive through Facebook Messenger or another chat app.
These are just some examples that I can think of from real women in the Live Free community, who are doing these jobs for clients right now!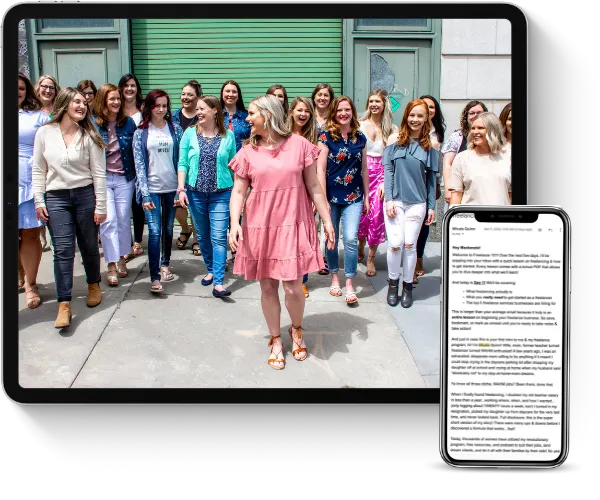 Learn how to earn $3K a month+ as a freelancer working less than 25 hours a week even if you think you have no experience.
This FREE crash course will teach you all about the freelance industry, so you can finally end the family vs. finances battle.
6. Graphics
If you have an eye for design, you can help a business owner design graphics for any social media app like Pinterest and Instagram.
Apps like Canva have free and paid options for users and are easy to use. From newsletter images to social media images they have templates for you to start with and customize.
7. Podcast virtual assistant
With the growing popularity of podcasts, it's easy to see the need there is for podcast virtual assistants.
As a virtual assistant with no experience helping a client to produce a podcast could mean you are researching guest opportunities, creating show notes, pulling content and sound bites for promotions, or creating landing pages.
How to Start Working in a Virtual Assistant Job with No Experience
You seriously don't need a ton of experience to get started and work as a beginner virtual assistant.
Inside the Live Free Academy, you will learn how to start working as a virtual assistant. I teach you how to create your business from the ground up so you start with a solid foundation.
We will go through everything from the legal stuff like creating a contract to finding clients. I've included templates in the course for you to use when you are reaching out or pitching to a client, to a discovery call script. It's all in there!
Read this easy guide to learn more about the process of setting up your business here!
Are there really virtual assistant jobs for beginners?
Do virtual assistant jobs for beginners really exist? Yes, they do!
Clients hire beginners for various reasons.
Easier to train
Sometimes they want a beginner because they are easier to train.
Smaller budget
Sometimes a client just doesn't have the budget for an intermediate or expert so they hire a beginner. When you start as a virtual assistant most of the time they start around $30-35 per hour. Then when you advance your skills and get more clients you can increase your rates.
What to say when you are asked about your experience
Now, maybe you are thinking, well that all sounds great. BUT what about when you are talking to a client and they ask about your experience?
Answering this question had me stuck for a long time when I was trying to land my first client.
Wrong answer
My initial answer, which landed me 0 clients was, "I don't have any, but I'm a fast learner." And it didn't matter how positive, excited, or energetic I was about that answer, I lost clients because of it. I realized in this area, I could improve and once I did, I finally landed a client.
Right answer
First, you have to be honest. Say, "I don't have any direct experience with virtual assistance." The next part is where I went wrong. Instead of saying, "I'm a fast learner", say, "But one of my strengths is…"
This is exactly what I said and how I booked my first client, "I don't have direct experience with social media as a business owner. But one of my strengths as a classroom teacher is getting my students to talk about literature and engage in conversations with their peers. At the bare bones, social media is all about starting a conversation. If I can get my sophomores in high school talking about Beowulf, The Iliad, and the Odyssey, then I can get your audience talking about whatever you want them to. Conversations and creativity are my strength, and I can bring that strength to your business, and as your social media manager help you build conversations with your audience."
Always, answer honestly! Then highlight the experience and strengths you do have that tie in to help the business owner.
How to get more experience as a beginner
Testimonial work is how you will get more experience. Exchange small tasks or projects for a testimonial that you can use to gain experience and in your portfolio.
In this episode of my podcast: How to Use Free Work to Fast Track Your Success, I explain the details of how to go about getting testimonial work.
Additional Resources:
If you are ready to start building your business today, here are a few resources to get you started!
Start by reading the Live Free Blog posts and Live Free Podcast episodes. I have so much free information in these resources that are straight from my program!
Here is one to get you started: How to increase your confidence as a beginner!
If you want to go the DIY route and piece it all together, be sure to check out the Template Shop!
If you want the fast track to building your business, sign up for The Live Free Academy for step-by-step instructions to building your virtual assistant business asap!