Do you need a contract as a virtual assistant?
Yes.
Let me repeat that.
YES!
You absolutely need virtual assistant contracts or a contract for any freelancing service you provide.
Many LFA members do not love this part because of the legal jargon included in contracts that causes intimidation.
A virtual assistant contract protects you and your client. And it outlines the scope of the project for all parties involved.
Learn more about what you should include and how to send virtual assistant contracts as a freelancer.
What is a Virtual Assistant Contract?
A virtual assistant contract is a legal document that outlines and provides the scope of work between two parties. Generally, it is between the virtual assistant (or freelancer) and the client.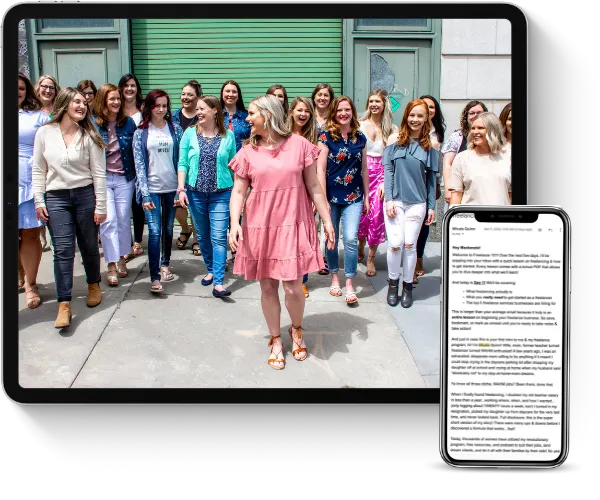 Learn how to earn $3K a month+ as a freelancer working less than 25 hours a week even if you think you have no experience.
This FREE crash course will teach you all about the freelance industry, so you can finally end the family vs. finances battle.
Do You Need Virtual Assistant Contracts?
As we covered earlier, yes, you absolutely should have a contract.
A virtual assistant contract protects your rights as a service provider.
What Should Virtual Assistant Contracts Include?
These are a few basic parts of a contract that you should include. However, as your business grows and becomes more strategic, you will want to work with a lawyer to include more in your contract to protect your business.
description of services
start and end of the agreement
how/when time is billed
confidentiality
non-exclusivity
Description of services
This section details what services you are providing.
Be specific with the details because vagueness can lead to misinterpretation or disagreements. Be specific but not too wordy.
Also, include what deliverables you will send as part of your services.
Start and end of the agreement
Include a start and end date.
If the services are ongoing, include that too.
Also, add the number of days notice either side needs to give when ending the contract.
How/when time is billed
Include how and/or when the time is billed.
If you have a recurring project month-to-month, a project fee can be included in the set amount agreed upon by both parties.
If it's an hourly-based contract, determine how you will track the hours for the agreed-set price per hour.
Include when the invoice is billed each month. It is helpful for the client and good to add to your virtual assistant contract!
Confidentiality of information
When you start freelancing as a virtual assistant, you may work with clients' sensitive information. That could be things they don't want to be revealed to competitors or logins used to access accounts.
How do you include the work in your portfolio, then? First, define the details that allow you to share the work you produce in the contract.
If you have access to login information, include how that information is safely and securely stored and how you will use them.
Non-exclusivity clause
This part of the contract protects you by stating that you can take on as many clients as you see fit.
How Should You Send Virtual Assistant Contracts?
HoneyBook, HelloSign, Dubsado, and 17hats are all CRM systems that automate everything for you. Down to appointment booking, automatic confirmation emails, contract templates, and more. The pricing ranges from $13-39 a month for the basic plans and goes up with a premium plan.
Or you can create and send a manual contract. Use a plain Google Doc to create it. Then print to send to the client. You can ensure details and sections are included.
How Long Should the Contract Be?
The size of your virtual assistant contract matters. You want to be sure to include all the necessary parts in your contract, but you don't want it so long that a potential client won't read it.
Most likely, it should be between 2-4 pages. However, if your business or the services you offer are more complex, the contract may be a little longer. It should not be longer than ten pages maximum!
Do I Need a Lawyer-Prepared Contract?
Contracts are very important! But you can find a lot of great templates out there for when your business is just starting.
When your business grows, and you bring on sub-contractors or are charging a lot of money for marketing plans, look into hiring a lawyer for a more in-depth contract that protects you if something goes wrong.
How Can I Get a Template?
When you sign-up for the Live Free Academy, you get access to 2 template examples you can use to create your contract.
Plus, a bonus interview with a legal expert who provides extra information on what you should include in your virtual assistant contract!