When starting a virtual assistant business, what do you need to start?
Well, you need a business name, a logo, and the services you will offer. But what else do you need?
This post covers the basics you need to start your business and is the virtual assistant checklist you will want next to you!
The Virtual Assistant Checklist
Find Your Why
The first item on the virtual assistant checklist is find your why. When you start a business, you will be full of different emotions. And it may take a toll on you as you start and build your business on the side.
So, if you have a full-time job or are a stay-at-home mom, no matter what circumstance, you will be building your business on the side.
Whatever it is that you're doing, though, will bring a lot of emotions, both good and bad, and is going to be extra work that you might sometimes ask yourself–why am I doing this?
To answer this, you need to understand your deeper why. It will help you to persevere when things get tough in your business. It's not always going to go your way all the time. Unfortunately, there will be setbacks, and knowing your why will keep you going when times get tough!
Choose Your Working Hours
To build a business, you need to find the time you will work on it. So write down your entire day for a week. Then add up the hours you have to work.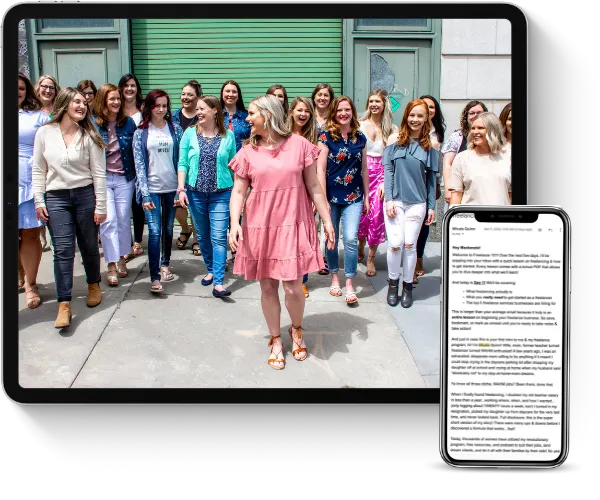 Learn how to earn $3K a month+ as a freelancer working less than 25 hours a week even if you think you have no experience.
This FREE crash course will teach you all about the freelance industry, so you can finally end the family vs. finances battle.
Legalities:
Name
Pick a name for your business. You can choose either to use your name or come up with a creative name.
LLC or sole proprietorship
There are pros and cons to both! For example, there can be fees associated with forming and operating an LLC. As a sole proprietorship, you won't have to pay fees or do paperwork, but it doesn't offer personal protections either.
Contracts
Learn more about setting up contracts from this blog post!
Want a done-for-you template? When you sign up for the Live Free Academy, you will get exclusive access to templates you can quickly customize to your business!
EIN Number
An EIN isn't required but can offer you benefits like more privacy.
Identify the Services You Will Offer
Next, on the virtual assistant checklist is identifying the services you want to offer to clients. To find these, first list out all the current and previous jobs or other positions you've held. Think about the skills you need for those, and use them to choose the services you will offer.
Rate
Learn how to set your fees for your packages from this blog post!
Your Packages
A few basic packages you can offer.
Hourly Retainer: a set number of hours that recurs monthly. An hourly retainer will be ongoing until either party cancels.
Project-Based Retainer: set deliverables that recur monthly until either party cancels.
One-Time Project: a one-time package with set deliverables. This package is a one-time package and does not recur.
VIP Day/Intensive: a one-time package that is delivered and completed within 1 day. It is a one-time package that does not recur.
Determine Your Ideal Client and Where You Will Find Them
This person is the perfect person you want to target to market your services. Your messaging speaks their language, and your services (or product) solve their problem.
Find your ideal client in 3 steps!
Develop Your Brand:
Virtual Assistant Mission statement
Similar to an elevator pitch, your virtual assistant mission statement will describe what you do, wish to accomplish, or how you help people in a short description.
Choose your logo, colors, fonts, etc.
Choose your brand personality first. How do you want your brand to come across to your ideal client? What will speak to your ideal client?
Use your answers to those questions to choose your colors, fonts, and logo. Learn more about branding your business here.
Digital Portfolio
You do not need a website, blog, or massive social media following to start your virtual assistant business. You only need a digital portfolio to show clients. Use an app like Canva to create a portfolio that shows how you will solve their problem and the solutions you provide.
Virtual Assistant Tutorial for Beginners
This virtual assistant checklist is your guide to launching a business! However, I remember that feeling of being overwhelmed trying to figure everything out myself. How do I find clients, and how do I work with them after we connect? Are you feeling overwhelmed too, and want a tutorial to guide you?
The Live Free Academy is the answer! It's an 8-step course that dives deeper into this virtual assistant checklist to guide you into getting your business up and running.
When you sign up for LFA, you get exclusive access to tutorials, templates, and workbooks that make it easy to launch your business fast! Plus, the resources you need to run your business after landing clients and how to work with them!