Starting a virtual assistant business comes with learning a lot of new things! And there are a lot of tasks that clients will ask of you.
Those things can include knowing how to use software programs that help with efficiency. Some of the tools are actually basically impossible to complete without a functional virtual assistant app service!
With so many choices, it is difficult to choose which virtual assistant apps services you should spend time learning for clients and implementing in your own business.
We are covering some Live Free Academy favorites that are tried and true for many women in the LFA group.
Virtual Assistant Apps Services For VAs
Best invoicing app service
Wave: using Wave you can invoice by creating a one-time or recurring periodic invoice. It processes payments and direct deposits if you allow it to connect to your bank account. And you can store a client credit card for easier payment processing each month.
It has other payroll management and accounting functions like income and expense tracking.
Plus, you can even upload a logo and brand your invoices using the free version!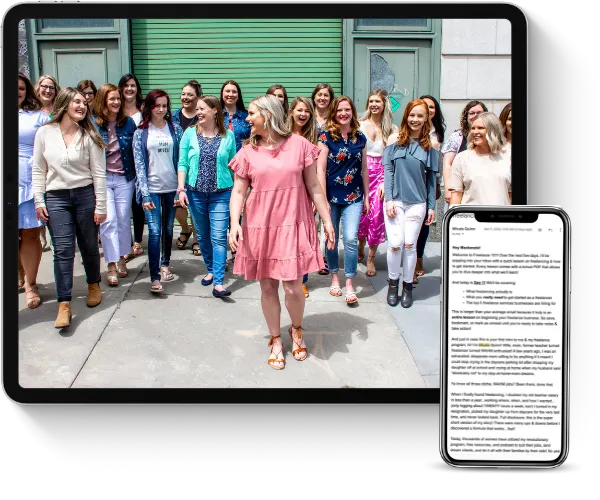 Learn how to earn $3K a month+ as a freelancer working less than 25 hours a week even if you think you have no experience.
This FREE crash course will teach you all about the freelance industry, so you can finally end the family vs. finances battle.
Best design app service
Canva: Being more affordable than Photoshop, the paid version of Canva is a dream for all the non-designer VAs out there. It is simple and easy to learn just by playing around in it for a while.
You can create GIFs, transparent images, logos, and social media posts. The list goes on!
Both, paid and free, versions allow you to use their templates or start from scratch. And you can download it to share in a variety of formats.
Best stock photos site
Unsplash: is a favorite because of its simplicity! Using a keyword you can search for images you want to download and use completely free.
Best project management app
Trello: a fan favorite for obvious reasons. You can organize almost anything on a Trello board!
There is the ability to create several boards, and add due dates, notes, images, and documents to tasks and boards is why many LFA members like using it so much.
Make your own board or sign-up for the Live Free Academy, and you gain access to the Trello board templates to use over and over again!
Best app service for sharing & storing files
Google Drive: If you have Gmail or a Google account, then you are likely familiar with Google Drive. And you likely know how amazing it is for storing everything digitally.
The organization options are endless, allowing you to create folders and folders within folders for subcategories.
You can create documents like word documents, spreadsheets, powerpoints, and forms. Plus, share documents or entire folders with one or a group of people.
Best scheduling app service
Calendly: this tool is awesome for scheduling meetings and appointments! It allows you to set a schedule so clients can only book calls during designated times. Once someone books, you get an automatic email notifying you of the details.
Bonus: a sync function so you can sync with your Google calendar.
Best Password Management Tool
LastPass: Getting logged out of a site is the worst for time management. You have to guess the username and password or look it up taking up all your precious working time.
That is where LastPass comes in!
It is a savior as it securely saves your logins and passwords. It even recognizes when you use a new password asking if you want to save it.
With the Premium paid version, you can share a folder of passwords and logins for co-managing online accounts.
Best app for client communication
Voxer: A favorite of the Live Free team! It is an app that allows you to send voice messages like a walkie-talkie, or text messages back and forth between users.
The multi-function is perfect for a quick message that is too much to type out. Or a quick response to a question to keep tasks moving.
What Virtual Assistant Services Should I Offer?
Are you wondering what services you should offer or can offer after reading about these awesome app services? Start by checking out this blog post where we discuss  5 tasks a virtual assistant does. It will help you understand the services you can offer when starting a business as a virtual assistant.
Then sign up for the Launch Fast Crash Course, where you'll get a free pdf download of the Freelance Skills Assessment. To help uncover your freelance skillset using the knowledge and skills you already have!
Once you determine the services you can offer as a VA, you can figure out what virtual assistant app services you want to learn.
How to Learn VA Apps Services with No Experience
There are three easy ways to learn new virtual assistant apps services.
1. The app software tutorial video
Many of the software apps out there will have tutorial videos that showcase their features on the website.
2. Learn by finding videos online
There are tons of learning videos online. Just search for the app on YouTube to get options for tutorial videos.
3. Sign up for a free trial
If you can't find a tutorial video or want to learn with a more hands-on approach. You can sign-up for a free account or a free trial, and play around with it until you get to know it.
These will give you enough information about the virtual assistant apps services to say you are familiar with them, rather than you don't know anything about it!