EPISODE 128: SHOW NOTES
Do you have a system that creates a WOW experience for your clients from the first time they meet you to working with you month after month? In this episode systems and workflow strategist, Loran Geeter shares how she uses systems to create an unbeatable experience for her clients.
Loran started her business as a Social Media Manager, but in working with her clients, she saw a major need for backend support. She began to understand that no matter what service she was hired for, the outcome always depended on the systems her clients had in place. She decided it was time for her to make a bigger impact on her clients businesses by assisting them with systems that would make their entire business flow smoother. In this episode, we cover how systems boost your authority and confidence in addition to creating a WOW experience for you clients.
Thanks for listening today! Head over to the show notes for the links and resources mentioned. Let Loran and I know what you're implementing from this episode over on Instagram! Talk with you there!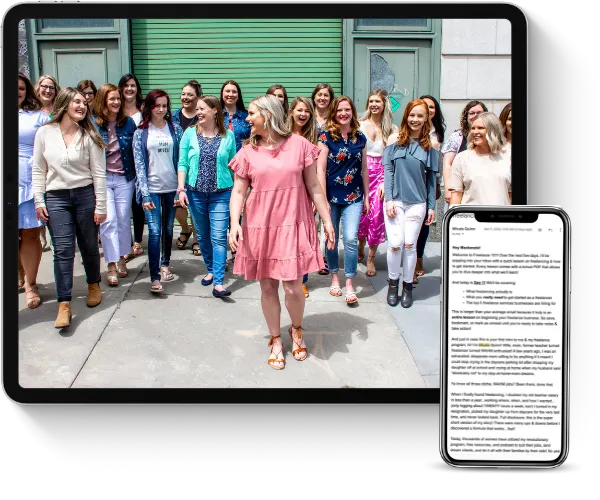 Learn how to earn $3K a month+ as a freelancer working less than 25 hours a week even if you think you have no experience.
This FREE crash course will teach you all about the freelance industry, so you can finally end the family vs. finances battle.
In this episode, we cover:
How to set up systems to create a WOW experience for your clients,
Why systems boost your authority and your confidence,
How you can nurture, prep, and educate clients at different stages of their contact with you, and
The return on investment for setting up automations
Resources and links mentioned in this episode:
Find Loran's $5K Attraction System here!
Ready to launch your freelance business? Grab the Get Legit & Quit kit HERE for only $27!
**This post about creating a wow experience may contain affiliate links, which means if you click one of our affiliate links and decide to make a purchase, we receive a tiny commission from the seller at no additional cost to you. We only share products and services we have used, tested, and love ourselves!**