EPISODE 77: SHOW NOTES
Starting a freelance business has opened my eyes and the eyes of so many moms in my program to the unlimited opportunities for a work at home mom but how do you start unlocking your potential?
I'm excited to bring on Elizabeth Hartke to talk about how to unlock your potential in a way that supports your long-term vision for yourself and your family. So, are you focused on your 80-year dream? If not, download Elizabeth's Future Forecast Formula to get started on that vision. My hope is that this episode will motivate you to take action toward your long-term vision.
Thanks for listening to this episode! Again, get Elizabeth's Future Forecast Formula here. Come share your long-term vision with us in the Live Free Podcast Mastermind fb group! Thanks again for spending this time with me today and I'll talk to you soon!
**This post about unlocking your potential may contain affiliate links, which means if you click one of our affiliate links and decide to make a purchase, we receive a tiny commission from the seller at no additional cost to you. We only share products and services we have used, tested, and love ourselves!**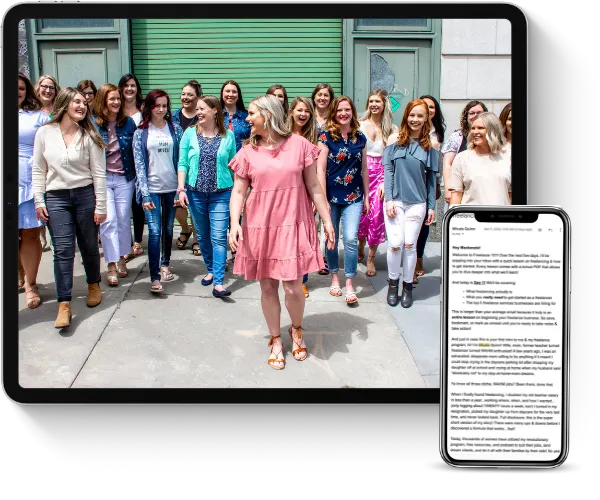 Learn how to earn $3K a month+ as a freelancer working less than 25 hours a week even if you think you have no experience.
This FREE crash course will teach you all about the freelance industry, so you can finally end the family vs. finances battle.
In this episode, we cover:
why it's important to set a long-term vision now (not matter where you're at in business,)
two action steps you should take to start unlocking your potential, and
what roadblocks may be in your way
Resources and links mentioned in this episode: