What is a virtual assistant? What services are included in virtual assistant services? How much can you get paid for virtual assistant services?
Is it a scam? I promise you, it is not a scam! It is a legit work-at-home solution for moms who need to work, want to be at home, and want to spend more time with their kids.
So, to help more moms learn about virtual assistant services, I created this ultimate guide! Read on to find the answers to these common questions about virtual assistant services, how much you can get paid for virtual assistant services, and who needs virtual assistants.
You might find out that working as a virtual assistant is something that you want to do!
What Services Do Virtual Assistants Provide?
What services do virtual assistants provide? That is a great question! And to answer it first I want to talk about what a virtual assistant is.
What is a virtual assistant?
A virtual assistant works as an administrator of a business, executing tasks virtually. They manage tasks on a daily, weekly, or monthly basis to ensure a business is running smoothly for a single or set of clients. Virtual assistant services are needed by every type of business large, medium, and small–in every industry!
A virtual assistant services list
Virtual assistant services can vary depending on the virtual assistant, the client, and the industry. For example, technical virtual assistant services are going to be different from medical virtual assistants.
For a complete virtual assistant services list of 100 tasks a virtual assistant can do, click here!
Those services can be grouped by service types.

Administrative services

Marketing services
Podcast services
SEO
Design services
Technology services
Social media services
Accounting services
Writing services
If you want to offer general virtual assistance, some of the services you can offer are:
Customer service
Email correspondence
Email organization
Calendar management
Creating PowerPoints and presentations
Appointment setting
Interview pitching and coordination
Client onboarding
Coordinating listings for realtors
Product launch coordination
Google Drive organization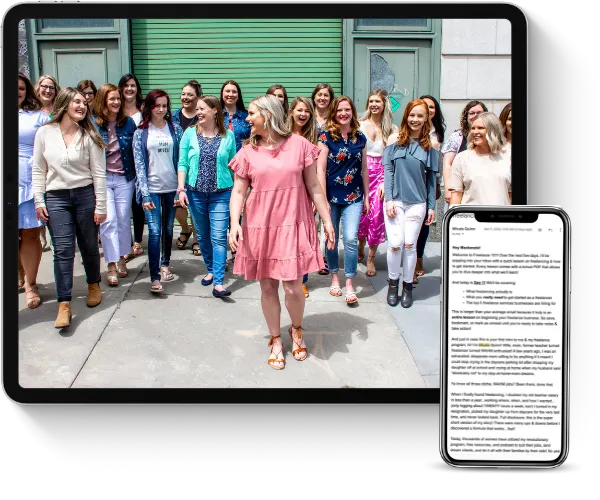 Learn how to earn $3K a month+ as a freelancer working less than 25 hours a week even if you think you have no experience.
This FREE crash course will teach you all about the freelance industry, so you can finally end the family vs. finances battle.
Surprising industries for virtual assistant services
As I mentioned before virtual assistant services are needed in all industries (even the ones you don't suspect!)
These industries are teaching, healthcare, tech, real estate, and bookkeeping.
That's right! There is a need for virtual assistant services outside of administrative and marketing services in every industry!
So, if you want to start as a virtual assistant and want to use your degree or background, but think it's not relevant–it is!
You can offer virtual assistant services in these surprising industries, just like the women in these success stories.
Healthcare:
Bookkeeping:
Technology:
Teaching:
Real Estate:
There are so many stories like these in the Live Free Community! If none of those are in the industry you are looking for, email me at [email protected] and tell me your background. I will send you a success story that relates to you!
How Much Can You Charge for Virtual Assistant Services?
Typically, as a beginner offering virtual assistant services, you can charge anywhere between $20 – 35 per hour; $40 – $55 as an advanced virtual assistant; $60 – $75 as an expert; and $80+ for expert services.
How much you charge (and make) offering virtual assistant services can vary depending on the level of your virtual assistant skills, the number of clients you have, and your confidence.
When you own your business offering virtual assistant services, it is up to you to raise your prices as you see fit. Generally, I suggest raising them $5 – $10 with each new client you land.
Virtual assistant package types
Hourly Retainer: a set number of hours that recurs monthly. An hourly retainer will be ongoing until either party cancels.
Project-Based Retainer: set deliverables that recur monthly until either party cancels.
One-Time Project: a one-time package with set deliverables. This package is a one-time package and does not recur.
VIP Day/Intensive: a one-time package that is delivered and completed within 1 day. It is a one-time package that does not recur.
Hourly vs. packages
Virtual assistant packages are commonly how virtual assistants price services for clients.
So you, as the virtual assistant, will put your service offering into a monthly package with a set number of hours and services included in each package.
Generally, there are 3 packages you can offer.
Tier 1: Service A, B, and C. 10 hours per month. For $500 per month.
Tier 2: Service A, B, C, D. 20 hours per month. For $1,000 per month.
Tier 3: Service A, B, C, D, and E. 30 hours per month. For $2,000 per month.
A client would choose how many hours and the services they are looking for, then pay you monthly that amount to execute those services for their business.
Virtual assistant services pay range table: beginner to expert
The table below shows the various rates a virtual assistant usually can charge according to the level of experience.
Who Needs Virtual Assistant Services?
As I've shown throughout this post, ANY industry needs virtual assistant services. It is a necessity for all industries!
That is because businesses may not have enough work for a full-time person. They may not need someone to come into the office to do the job for 40 hours a week.
So instead of hiring someone full-time, with benefits, healthcare, vacation pay, space for a desk, computer, all the things. Instead, they could hire you to do the work virtually without having the extra expenses of a full-time employee. Then you, as the virtual assistant, can do the work part-time from your home.
How to Become a Virtual Assistant
Read more about each step with the complete checklist here!  
Determine when and how many hours you want to work.
Pick a name, type of business, register your business, and create a contract.
Identify the virtual assistant services you will offer, your rate, and your packages.
Who is your ideal client?
Develop your brand with colors, fonts, and a logo.
Create a portfolio for applying to jobs.
Start networking, applying for virtual assistant jobs, and landing clients!
How to Start Learning Virtual Assistant Services
If you want to learn more about virtual assistant services and what services you can offer, this link will take you to the Free Resources section of my website.
Here, I've created all the free resources you need to learn more about freelancing.
When you are ready to offer virtual assistance services and want help building a virtual assistant business, check out my course.
Or if you want to DIY your business but need help streamlining your workflow, improving client communication, or taking your virtual assistant services to the next level.