EPISODE 81: SHOW NOTES
We are talking about how and why you should triple your goals on this episode with Kirsten Tyrrel! Kirsten is dedicated to helping as many women as possible to see their potential and what power they have to create in this world through her brand, The Marvelous Moms Club.
In this episode, she shares lots of wisdom on what she's learned through growing multiple businesses (even 7 at one time) with her husband ben. Kirsten believes in legacy building and each day works to share her light and knowledge with anyone who is within the reach of her voice – which today is us!
Are you ready to TRIPLE your goals?! Sounds pretty crazy, right? As Kirsten explains, tripling your goals does not have to mean tripling your efforts or time. Come brainstorm how you can triple your packages, rates, and goals in the Live Free Podcast Mastermind! You aren't alone in this freelancing journey!
Thanks for joining me today! Don't forget to sign up for Mackenzie and I's workshop at MicalaQuinn.com/10k and hang out with Kirsten on Instagram! Talk to you soon!
**This post about why to triple your goals may contain affiliate links, which means if you click one of our affiliate links and decide to make a purchase, we receive a tiny commission from the seller at no additional cost to you. We only share products and services we have used, tested, and love ourselves!**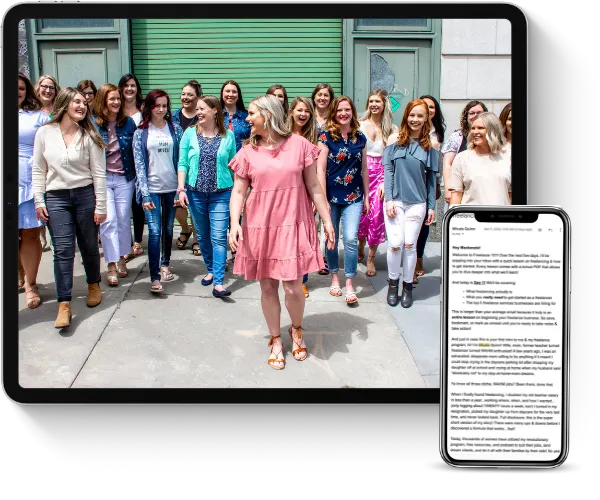 Learn how to earn $3K a month+ as a freelancer working less than 25 hours a week even if you think you have no experience.
This FREE crash course will teach you all about the freelance industry, so you can finally end the family vs. finances battle.
In this episode, we cover:
the strategic AND mindset reasons why you should triple your goals,
why clients will pay you a higher price if you show them one thing, and
the importance of mentors and coaches beyond giving you the how-tos
Resources and links mentioned in this episode: