This post on the top five freelance careers contains affiliate links. If you click one, and sign up, I get a credit for sharing the awesome resource with you!
Here is a list of the TOP FIVE freelance careers any mom (or anyone) can start doing from home now with little to no investment in software and skills training.
Chances are you have the skills from your current job to offer one of these to clients today.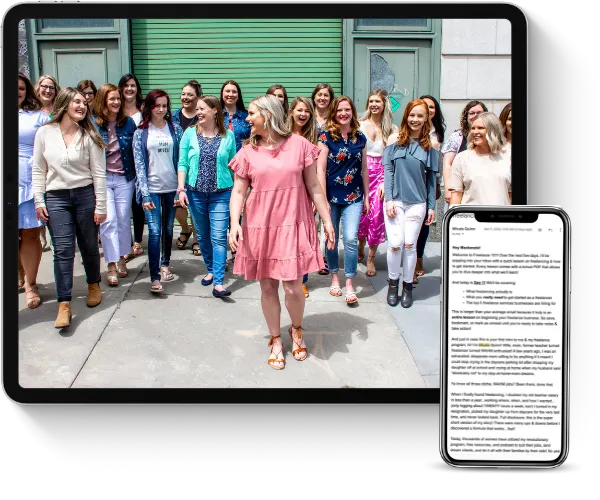 Learn how to earn $3K a month+ as a freelancer working less than 25 hours a week even if you think you have no experience.
This FREE crash course will teach you all about the freelance industry, so you can finally end the family vs. finances battle.
My Ultimate Freelance Guide can help you discover which freelance career you can start today based off your current skills and experience! Oh ya! Grab that below!
And just to be clear, this TOP FIVE list, is according to me. No research of other's opinions was sought after to write this post. These are the top hats I enjoyed wearing when I was working predominantly as a freelancer.
Lucky for you, I now teach moms (and anyone) how to start their freelance business from home using the skills they currently have.
So if one of these intrigues you, let me know and we can get you launched in no time!
Maintaining a blog is a lot of work.
A blog manager typically takes the text someone wrote for their blog, formats it, finds an image, creates the various social images, schedules and then promotes the blog on all of the client's social media platforms. They might even work to promote it within shared threads on facebook.
Blog Managers should also be familiar with:
SEO

Basic Graphic Design

Social Media Marketing
Software a blog manager should know:
Canva

WordPress

Squarespace

Wix

Yoast SEO plugin

Social media schedulers: hootsuite, buffer, meet edgar, smarter queue

Tailwind App
This may also relate and tie into Pinterest Management, because if someone has a blog and is not using Pinterest, they must not care about growing their business.
Blog Management could also turn into email marketing and/or ghostwriting.
Blog Managers save their clients lots and lots of time and make money doing so!
Resources:
#4 Copywriter
A copywriter creates compelling written content to help convert leads into sales. A copywriter can write content for a variety of different things:
Sales page copy

Ghostwriting for blogs

Email sequence copy

Website copy

FB, Pinterest, & IG AD copy
Copywriters typically charge a starting at or a flat rate price for each job.
Each copywriter has their own process, but good copywriters do market research and conduct interviews of your target market to create copy that will speak to your ideal client or customer.
Another side of copywriting is to do copy audits and look at businesses current messaging across all platforms, website and social media, and assess if their copy is staying on brand and conveying consistent messaging.
They also can even help businesses create their brand messaging.
Another related area is proofreading and/or editing
Resources to look into copywriting:
#3 Graphic Designer
Graphic Design can encompass a lot of different aspects. Graphic designers are tasked with helping clients develop the look and feel of their brand, as well as creating images, graphics and other deliverables that reflect a client's brand.
Specific services a graphic designer may offer are:
Brand Identity Development

Logo Creation

Creation of various deliverables: ebooks, pdfs, presentation templates, social media graphics, flyers, pamphlets, invitations etc.

May also offer landing page design and/or web design
Software and programs you should know:
Canva (free)

Picmonkey

Adobe programs (higher end)

Leadpages (landing page design)

Clickfunnels (landing page design + so much more)

WordPress (web design)
Resources to look into:
#2 Social Media Marketing & Management
A social media marketer helps client's curate engaging and relevant content for their chosen platforms. Some SMM work in a variety of platforms and some only specialize in one specific platform.
Social Media Managers may offer:
Creating posts

Curating content

Strategy plans

Account audits

Engagement packages

Fb ad campaigns

Scheduling only
Software a SMM should be familiar with:
Hootsuite

Buffer

Meetedgar

Facebook

Instagram

Twitter

LinkedIn

Canva
Resources:
And… are you ready for it?!?!? #1…..
Drum Roll.
#1 Pinterest Management
A Pinterest manager helps clients pin related and engaging content as well as manages getting the client's content out there and visible to dramatically increase traffic to their products and services.
If you have a business and do not use Pinterest, you are missing out on lots and lots and lots of traffic. 
A Pinterest manager may offer packages that include the following services:
Account setup

Account optimization

Account Audit

Managing the client's queue of pinning other's content

Managing the client's visibility strategy
A Pinterest Manager should be familiar with the following software:
Pinterest as a search engine

Pinterest

Canva

WordPress
Resources:
Okay, out of all of these, which one speaks to you?!?!
Want to hop on a fast call (15 minutes) to hear how I can help you make one of these your full-time job.
Did you know, eventually you could make a full-time income with part-time hours?
Imagine what you will do with all that extra time and/or money?!
Fascinating isn't it!
Get excited. The free life is the good life 🙂