Are you a mom looking into becoming a freelancer? If your answer is yes, then you are in the right place! Today, Lesley Pyle, is on the blog to share 6 tips on exactly how to become a freelancer!
Lesley is an entrepreneur, freelancer, and owner of HireMyMom.com. Her business connects moms who want to become a freelancer or looking for freelance work with small businesses.
In case you didn't know, HireMyMom is how I started freelancing! It is where I landed my first client and found out about this virtual space where people would hire moms as independent contractors in flexible jobs from home.
That was before I even knew what freelancing was. 
Today we get to meet Lesley and hear about how and why she started in this industry over 25 years ago. We also learn 6 very valuable tips on becoming a freelancer and standing out in your email pitch to potential clients!
Lesley's Journey To Becoming A Freelancer
Lesley Pyle says her journey began when she was pregnant with her first child. She had just finished her master's in PR and marketing. After getting her first job, her dream was to climb the corporate ladder. After being in that job for about 3 months, she planned on coming right back to work after the baby was born.
Little did she know she would feel so attached to her daughter that she was born that Lesley changed her plans.
At 6 weeks, when maternity leave was over, she dropped her baby off at daycare. She cried the whole way to work. This happened every day for 2 weeks.
Lesley discussed with her husband what to do because they needed her income after becoming a new family with a new house payment.
Lesley also discussed this with her corporate boss, but the company was not flexible. Remember this was 25 years ago, before working from home was common and done easily with modern technology.
So they cut the budget everywhere they could, sold one car, cut out cable TV, and started eating ramen noodles for cheap. Lesley was so determined to make it work and find some clients that she went out "pounding the pavement" (this was before the internet and social media).
She would meet with people face to face, cold call, and slowly she began to drum up business.
About 6-8 months into it she realized how hard it was. She began searching for other moms looking to become a freelancer and other resources.
Having trouble finding any connections, she thought she could start an association. So she did. Calling on her PR background, she sent out press releases about starting the National Association of Home-Based Working Moms. Lesley ran this association for 14 years and grew it to about 100,000 members.
Wanting to continue to help moms work from home, now that it was becoming more acceptable, Lesley had an idea. A match.com meets moms who want to work from home. Starting it from a website and an idea, she began HireMyMom.Com in 2007!
Tips On Becoming A Freelancer
To stand out among other applications when applying on any kind of job board, try not to get frustrated when you don't hear back. Whether it's 1 job or 10, keep applying. These businesses try to respond to all the applicants, but they are busy, small business owners who feel they don't have time. Keep applying, because eventually, you will find the right fit!
Standing out in the sea of resumes means yours needs to be really good. You don't want it to have mistakes on it or to be 3 pages long. There are tons of great templates on

Canva

. Don't be afraid to add a splash of color or a headshot.
Make it known in your cover letter and resume that you are dependable. These business owners want to know they can count on you. Find some kind of connection to the business, owner, or job that will let the person know that you actually looked at their business.
In the interview, try and practice some common questions.
Follow up. It doesn't have to be long, but just follow up if haven't heard back, and reiterate that you are still interested in the job.
Follow them on social media, like, and comment on their posts. In a few months, even if you didn't get the job you will still be top of mind because you've been interacting with them in case they need to hire again down the road.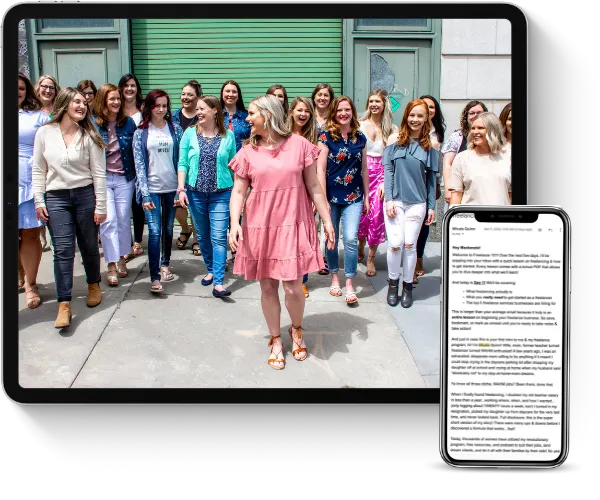 Learn how to earn $3K a month+ as a freelancer working less than 25 hours a week even if you think you have no experience.
This FREE crash course will teach you all about the freelance industry, so you can finally end the family vs. finances battle.
How to stand out in an email pitch
No mistakes/spelling errors.
Keep it short and simple.
Don't be afraid to add some color or your headshot.
Use the cover letter to make a connection.
Follow-up.
Are you ready to find and land your first client with these tips on freelancing? If you're ready to jump in, great! Still on the fence? Maybe you need some extra info or want more guided help on becoming a freelancer. Check out the Live Free Academy course. It will help you at every stage of starting and becoming a freelancer.
Inside this course, you get full access to the how-to build your business tutorial so you can get ready to land your first client ASAP! Templates, skills training, coaching calls, and exclusive job leads are all inside the LFA community.
Plus you get access to all of it from day 1 when you sign up. So what are you waiting for? Check out the Live Free Academy today!