EPISODE 17: SHOW NOTES
Truth: without this skill or step your business will probably not make it!
And I do not want that to happen.
I promise I am not being dramatic. I am just being honest.
In today's episode, I am going to help you find and make the time to launch or grow your freelance business.
If you've ever thought, man I would love to be a work at home mom and launch my freelance business, but…
I don't know when I'd find the time or…
I don't have any time…
LIES!
And by the end of this episode, I will show you how you can fit 10, 20, maybe even 30 hours of business building and work into your already busy schedule.
Now if you have already started to build your business, maybe even landed your first client or two, or you're fully booked out, but you haven't sat down to make the time or figure out a work schedule you are not going to want to skip this episode!
**This post about how to get visibility for your freelance business may contain affiliate links, which means if you click one of our affiliate links and decide to make a purchase, we receive a tiny commision from the seller at no additional cost to you. We only share products and services we have used, tested, and love ourselves!**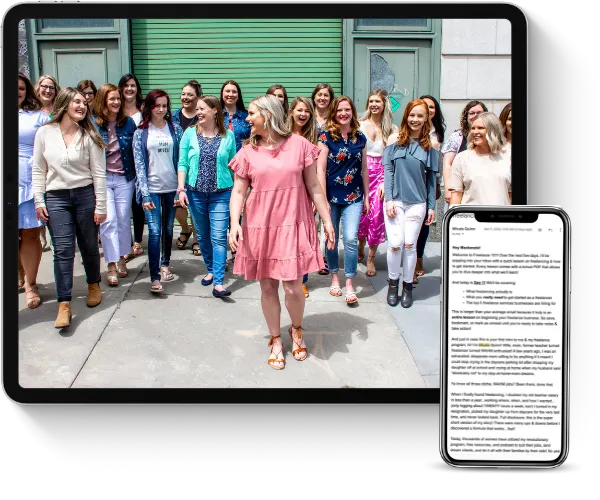 Learn how to earn $3K a month+ as a freelancer working less than 25 hours a week even if you think you have no experience.
This FREE crash course will teach you all about the freelance industry, so you can finally end the family vs. finances battle.
In this episode, we cover:
why the dabble method does not work
what I spent my time doing when I finally got serious
my four step process to finding the time to build your freelance business
Resources and links mentioned in this episode:
But… this seems hard… what if I get tired?
It is hard, but it is only temporary.
Your other options are to either quit cold turkey and just start focusing on your freelance business ( not an option for most people)
Or your option is to not try and stay in the same situation you are in now. Not what I wanted, but ultimately it is going to come down to do you want it or not?
If you do, you will find a way. If not, you won't.
It will not be a walk in the park, but it is possible and let me just tell you how rewarding it is to have control back over where you work, when you work, how you work, and how much you can earn.
If you are ready to find the time and make this happen! Make sure you grab my free-resource to help you navigate building your business on the side! 
Or if you are ready to move forward with no looking back, come join my program… Overwhelmed to Overbooked.
I will give you the exact things you need to do to build your business and start landing clients ASAP. You'll know what to do, when to do it, why you do it, and how to do it.
Plus you'll get the support and coaching from me as well as the other women in the program along the way! Check out all of the details and if you have any questions shoot me an email or message me on the course info page!