Being a full-time mom is a full-time job. Now, add in working from home, and it's easy to get overwhelmed! Where does everything like cooking, cleaning, and client work fit in? The answer is time management, and if you want time management tips for working moms–you're in the right place!
There's managing the house, the cooking, the cleaning, the errands, the laundry, AND now add in the client work.
Where do I find the time to work on growing a business AND be a full-time mom?!
This is something I still struggle with. The thoughts like this one, "I could be working way more, and making a ton more money", but would I be present for my kids if I did that?
The work-at-home mom dilemma of finding more time to work in your business, growing it, and finding a work-life balance is real. So, if you are constantly struggling with these thoughts of, "I want to but…I've got small kids at home, I know deep in my heart that now is not the time."
Know you are not alone, and navigating those thoughts is hard! Today on the blog Megan Shoenleber, a LFA alum, who started her business back in 2020 shares how her business has grown, but the direction she decided to take her business instead.
She decided to take a step back and work with only 1 client. This is helping her to create a work-life balance. She also shares how she made the tough decision not to grow and make the most money possible based on her current season of life.
Plus, learn Megan's time management tips for working moms who are currently full-time at-home moms and starting a business creating a harmonious balance of both.
Megan's Background
Megan shared her whole story of how she started her business back in 2022. If you haven't listened yet, check out Episode 202 here!
Megan started the course mid-year in 2020, after having her first baby and being in the middle of the pandemic. She realized she liked working from home and hated working 40 hours a week.
Becoming a virtual assistant
Working in human resources, she took her knowledge of the corporate world, quit her full-time job, and became a virtual assistant.
Scaling to an OBM
6 months later, she scaled into an operational business manager role. It's been a year since Megan we last spoke with Megan!
Letting go of clients
Since then, Megan had the biggest client load with 3 OBM clients. With her ideal working hours being 10-15 hours per week, she realized she was actually working 30-35 hours a week. It ended up being too much for Megan in this season of life. So she took her time management tips for working moms to create a schedule that would work for her and her family.
Megan says she was so focused on income at that time, that she was always concerned with how to bring in more income. But with a 2-year-old at home with her, she needed more flexibility. Megan realized that was only going to come with less retainer income, so she parted ways with 1 client.
After working with the other 2 OBM clients, it was still too much for Megan. So she brought up the idea to her favorite client to expand her hours and work solely with this 1 client. Now, she exclusively works with 1 client with a bigger retainer package.
Role as an OBM
The role as an operational business manager with her now 1 client consists of team management, project management, and weekly strategy calls. With all of these weekly tasks, Megan is balancing her, her client's, and the rest of the team's time management.
Team management
She helps her client manage a team of about 10 contractors, and 2 sometimes contractors. Megan checks in with the team members to make sure everyone is feeling fulfilled and helps with hiring.
Project management
Megan's client is currently launching a new course, so there is a lot of launch prep she helps with in terms of logistics to plan the launch.
Weekly strategy prep calls
Every week they have a 1 on 1 strategy call where they both braindump ideas and plan. They talk about what is on their plate, where are going, where they need to be, and priorities for the week.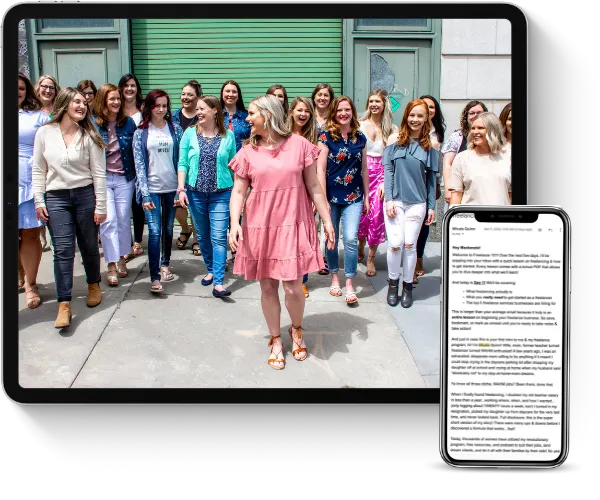 Learn how to earn $3K a month+ as a freelancer working less than 25 hours a week even if you think you have no experience.
This FREE crash course will teach you all about the freelance industry, so you can finally end the family vs. finances battle.
Time Management Tips for Working Moms
As a mom who focuses on helping other business owners with work-life balance and finding enough time to work and prioritize family life, here are Megan's time management tips for working moms:
When you take on a new task, get it done right away. That way your to-do list doesn't pile up week after week.
Be intentional with your time and what you will accomplish in the time you have to work. So, you don't have to finish this project within your 1 hour work time, but instead get these 7 emails to enter.
Create a realistic to-do list, and be realistic about the time it takes to accomplish the tasks on your list.
Be upfront with your clients about what you are going to prioritize for the week and expect to get done.
Schedule
Using these time management tips for working moms, Megan shared, that she has created a schedule that allows her to get her client work in and prioritize her work-life balance making more time for her family.
Megan says, that this school year, her daughter is starting 1 full day of preschool, a ½ day of preschool, and will go with Grandma one day a week too.
Megan says she works while her daughter is at school and with her family.
She also works in the afternoon during her daughter's "quiet time block" where her daughter has quiet time and watches TV so Megan can work.
Megan's husband works full-time from home, so she has a little help with her daughter from him as well during the day, so Megan can get more done.
How to Start Freelancing
Is your lifestyle not working for you anymore, just like Megan's wasn't working for her?
Megan made a change and is now making more income from her 1 operational business management client than she was working full-time in her corporate job. And you can too!
I want to help support your vision of living the life you want with the freedom and flexibility you have been dreaming about!
I know how overwhelming it can be to start your business, and that's why I created my course The Live Free Academy! This course will put you on the fast track to building your business.
The course includes tools, templates, skills training, monthly challenges, coaching calls, and the best community of Freelancers out there! You will get everything you need to fast-track your business and land your first client fast! Learn more about the program and sign up here!
Or learn more about freelancing with the Freelance Crash Course here!