EPISODE 70: SHOW NOTES
Do you have your goals set on time freedom – the ability to be home with a sick kiddo and not feel guilty for missing work or attend a school event in the middle of the day?
Our guest today, NJ Rongner, set a goal similar to this when her daughter was born. She had a specific vision of what she wanted her life to look like by the time her daughter was in kindergarten. On this episode, NJ shares her journey from corporate job to blogger to VA to marketing consultant and the hustle it took to get where she wanted to go.
So what does your hustle look like right now? What will you sacrifice to make your big vision a reality? Let us know over in the Live Free Podcast Mastermind fb group! If you enjoyed this episode, share it with a friend that is dreaming, planning, or questioning if time freedom could be a reality for her. Thanks for spending this time with me today!
**This post about time freedom may contain affiliate links, which means if you click one of our affiliate links and decide to make a purchase, we receive a tiny commission from the seller at no additional cost to you. We only share products and services we have used, tested, and love ourselves!**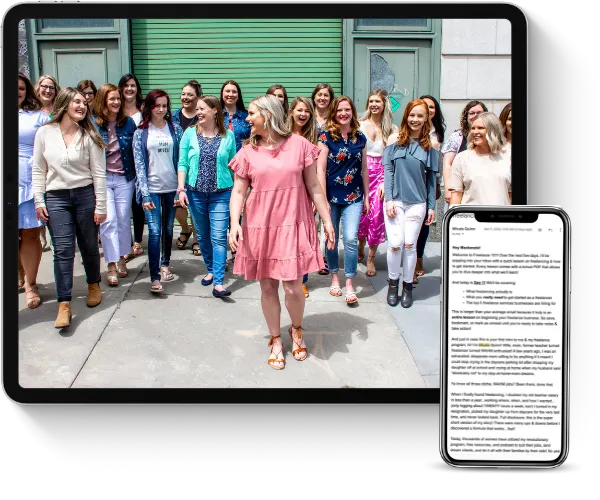 Learn how to earn $3K a month+ as a freelancer working less than 25 hours a week even if you think you have no experience.
This FREE crash course will teach you all about the freelance industry, so you can finally end the family vs. finances battle.
In this episode, we cover:
why sacrifice is a part of chasing after a vision,
how NJ kept pivoting to get to her 5 year vision of time freedom, and
how to start valuing your time as a freelancer
Resources and links mentioned in this episode: