A community manager job is a great way to niche your services and help busy business owners with their business. If you are looking to niche your services from a general virtual assistant role, but are not sure that you want to go the social media manager, then a community manager role might be the job for you! Learn more about the community manager job description in this post!
The need for the community manager job
Community managers are a need for busy business owners. In Facebook groups alone there is a lot of work to keep up a community for a large Facebook group. And those things take up a lot of time!
Benefits of an online community
You see for someone like myself, a Facebook group can do a lot for an online business! For example, an online community in a group like a Facebook group can build up the community. It can build trust among and engage current or potential members.
With all the benefits of creating and building up an online community, it is a lot of work to keep it running and manage the group daily. A few tasks needed to manage an online community are:
accepting new members
doing a little sleuthing to identify scammers and keep them out
ensure there is consistent posting and/or commenting.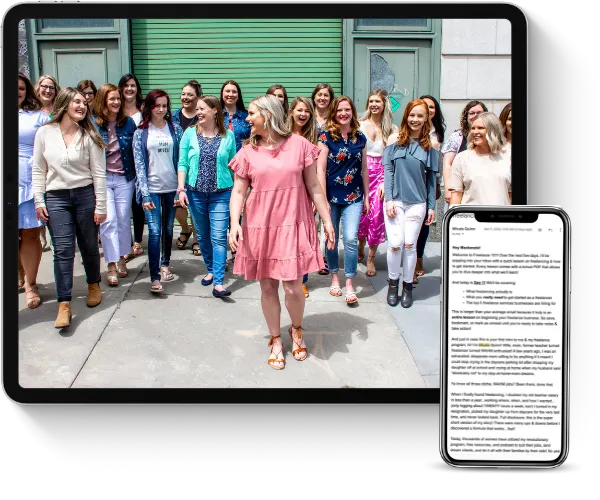 Learn how to earn $3K a month+ as a freelancer working less than 25 hours a week even if you think you have no experience.
This FREE crash course will teach you all about the freelance industry, so you can finally end the family vs. finances battle.
Community Manager Job Description
As a community manager, there are a few various tasks you may be doing for clients. Depending on the group size and whether it is a free or paid group.
adding members
engaging and answering questions
creating a social media schedule and/or posts
Daily responsibilities of a community manager
Adding members
When adding members, there is more to it than just hitting accept on every request that comes in. If the group is a paid member-only group, for example, The Live Free Academy that is the home to the best student community I know, you are going to be double checking that the requesting new member is a paid member, is up to date on membership fees, or any other requirements for becoming part of the group.
If it's a free group, then you will still do some background to make sure it's an actual person, not a bot, and not a scammer just trying to get access to the members of the group.
Engaging and answering questions
Many groups have engagement rules, and as a member you have to follow them or risk being kicked out of the group. Many of the common rules are being respectful of others, no spamming, and no promoting yourself except on approved "promote your services" posts.
As a community manager, you may get tagged in posts that are not following the rules or asked to keep an eye on the conversation.
You may also be asked to answer questions from members when the group owner is unavailable.
Creating a social media schedule and posts
This one kind of overlaps with the role of the social media manager. It can be done by a social media manager, however, if the business owner doesn't have one it can also be part of the community manager job role. Creating a posting schedule and posts for a private member-only group is going to be a completely different strategy, topics, and posts than it will be for a public social media page.
Skills Needed to be a Community Manager
Engagement
Communication
Organizational
Basic technology skills
The Difference Between a Community Manager and a Social Media Manager
As I mentioned earlier, these roles are similar but different. How? A community manager manages a private group, while the social media manager manages the public page. The community manager and the social media manager will both engage in posts and comments, answering questions, creating a strategy, and creating posts.
The difference is that the audience, goals for the audience, and strategy are going to be specifically for the members of the paid group or for the general public. Therefore, the content and strategy of the community manager is different than that of the social media manager. The biggest difference is who the target post is for, which will change the goals and content strategy.
How To Start Working in the Community Manager Role
Are you ready to start freelancing or pivot your services as a Community Manager? Get started today with the fast track to building a solid foundation with The Live Free Academy course!
With this program, you will build a freelance business with all the tools and templates you will need to land your first client fast! Don't just take my word for it check out these success stories from real LFA students who landed clients in record time!
When you sign up for the LFA course, you will get skills training, a community of freelancers just like you who are building their businesses, weekly coaching calls, exclusive members-only access to the job leads board, and accountability challenges to meet monthly goals.