EPISODE 127: SHOW NOTES
Did you know that small and large businesses are hiring freelancers at an increasing rate? On this episode of the Live Free Podcast I am chatting with Elaine Pofeldt on the coming boom for freelancers. Yes, there is no better time than NOW to get your freelance business up and running!
We are chat about the need for freelancers and Elaine ever shares that 92% of small businesses are run by a single owner plus their contractors and freelancers. That means 92% of small businesses do not use employees, they use freelancers. The freelance industry has been growing for years and there's only more growth to come. In the coming months, businesses will need you as a freelancer to help them succeed.
Tune in to hear Elaine's experience in the freelance world and what she learned about succeeding. Thanks for listening today! Don't forget that you can grab the Get Legit & Quit kit HERE for only $27! This kit will help you to kickstart your business with a solid foundation. Have questions? Email me at hello(at)micalaquinn.com!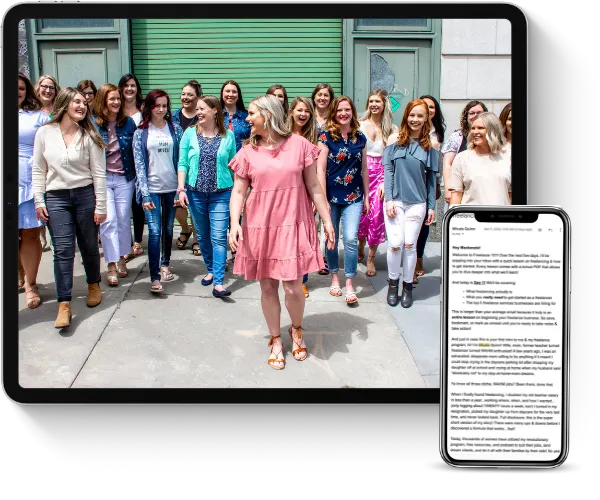 Learn how to earn $3K a month+ as a freelancer working less than 25 hours a week even if you think you have no experience.
This FREE crash course will teach you all about the freelance industry, so you can finally end the family vs. finances battle.
In this episode, we cover:
Why the freelancer industry is in the middle of a boom,
What opportunity there is for moms who want to work online and have more time with their kids at home,
Why businesses are hiring freelancers over employees, and
Elaine's journey as a freelancer writer and being a work-at-home mom over the past 10+ years
Resources and links mentioned in this episode:
**This post about the boom for freelancers may contain affiliate links, which means if you click one of our affiliate links and decide to make a purchase, we receive a tiny commission from the seller at no additional cost to you. We only share products and services we have used, tested, and love ourselves!**