Are you a teacher looking for an alternative career to teaching? Are you looking for something that will allow you to stay home with your kids, while still using your teaching background?
Yes, these jobs do exist! Whether you're looking for a new teaching job, a side hustle after school, or something to fill the summer months you can find a work-from-home job in teaching that will offer you both freedom and flexibility.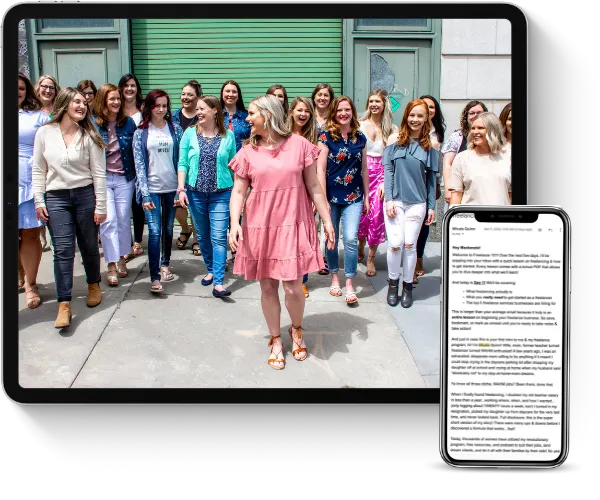 Learn how to earn $3K a month+ as a freelancer working less than 25 hours a week even if you think you have no experience.
This FREE crash course will teach you all about the freelance industry, so you can finally end the family vs. finances battle.
8 Best Alternative Careers for Teachers
Here are the 8 best alternative careers for teachers:
1. Open a Teachers Pay Teachers Store
An online marketplace with educational resources created by teachers for teachers. It includes instructional resources, classroom decor, professional development, and supplies for creating content like clip art and fonts. Teachers Pay Teachers (TPT) dedicates a place for teachers to exchange materials via easy access and digital tools.
Becoming a seller on TPT is fairly simple. You can register for an account and sign-up to become a seller for free. Choose a store name and upload your resources. You can choose to upgrade to the premium plan for a monthly fee.
The caveat here is that the TPT platform will take a 45% commission fee for each sale you make on the basic (free) plan, and a 20% commission fee on the premium plan, plus any other fees the site has.
Start slowly, and grow your store. The top TPT sellers are not an overnight success, it has taken years of work to create and manage their store, and grow it to make money from home.
2. Virtual Assistant – General or TPT
Is opening and running an online TPT store not your thing? Maybe you want to keep more of the profits you make, instead of paying commission fees on your printables. You could become a Virtual Assistant.
Virtual assistants (VA) work online as general administrators for online businesses. You can start as a general VA or pick a niche using your specific skill set and experiences, and there is always the option to pivot or niche later, after starting your VA business.
3. Blogging – Teaching Moms How to Homeschool or Creating Lesson Plans for Homeschooling
Do you like to write? As a blogger, you will create your website with regular content about a niche topic. This could be about the subject you teach, the grade you teach, or you could do something like creating a homeschool lesson plan or curriculum. There are a ton of homeschooling families looking for help with content online. And moms of toddlers looking for educational activities to keep toddlers busy during the day.
Becoming a blogger is a slow and steady game. You'll create content, post it on your website, then use social media, Pinterest, and other marketing strategies to drive traffic to your blog. Bloggers earn money through advertisements and product promotions.
4. Online Teaching & Tutoring
There are tons of online teaching jobs ranging from elementary to high school, adult learning, corporate training, and jobs with a special focus on teaching the English language. And if there is one thing we learned from the pandemic, it's that learning from home is very possible with today's technology. As more and more parents decide to home-school their kids there is more need for online teachers.
If you want to teach online, you could set up your teaching program and market it in Facebook groups or local businesses. Or there are platforms designed for online learning that you can apply to teach at.
If you want to teach the English language, VIPKID or Rosetta Stone will connect you with students around the world looking to learn English.
Tutoring is similar to this style of teaching, but you would likely specialize in a subject with online tutoring. Skype, Zoom and video conferencing technologies have made online tutoring more accessible in recent years.
5. Writing Coach
Many professional people in the workplace and students alike have trouble writing well. By becoming a writing coach, you will help people become better writers. By setting goals and offering advice on improving their skills.
Whether it's a project for work or school, as the coach you would create exercises to help improve writing. And using video conferencing tools, dropboxes, and email to help you connect with clients if you decide to start your own freelance coaching business.
6. Freelance Writing & Editing
Working as a freelancer is a great alternative career for teachers. Offering writing and editing are services teachers can easily provide, because teachers can communicate information in a way that is easy to understand.
There are a lot of opportunities in working as a freelance writer. It could be writing blog posts, news content, magazine articles, books & ebooks, and informational resources like white papers and reports.
Starting your own business as a freelancer you'll want to determine services to offer, how you will get new clients, who you want to work with, and what hours you want to work. In the Live Free Academy training, you will learn how to set up your business and create a business plan to start your business today!
7. Curriculum Developer
An option available for teachers who want an alternative career working from home is to be a curriculum developer. As a curriculum developer, you will be using the current curriculum to create lesson notes or plans to engage students, set up the structure of a class, and develop materials the teacher will use to teach. The goal is to make learning more interesting for students and help them learn more effectively.
These types of materials could be in different forms like lesson notes, worksheets, quizzes, etc.
Teachers are well equipt for this job because as a teacher you know what materials work and what doesn't. You already have experience creating lesson plans, so why not try making some extra cash doing it?
As a curriculum developer, you could start your own freelance business offering curriculum development.
8. Consulting
This option is for you if you are ready to get out of the classroom and want to start helping educators like teachers, administrative professionals, or any other people in education. You would be providing coaching services, career advice, and guidance to them in their careers as educators.
If you have the skills to help others get results in their professional lives, you have the skills to start a freelance coaching business.
Conclusion
Making a switch from being in the classroom teaching to being a work-at-home educator is possible!
If you want to control how much money you make, who you work with, and how much you are working-start searching for an alternative teaching career today!
As a freelancer, you don't need a ton of experience. You have very lucrative skills with your teaching degree and education experience to help you start and successfully find clients today! Learn how with the free resource Launch Fast Crash Course How to Get Started Freelancing. It comes with a workbook, video training, and podcasts to help you determine what services you could offer and where to find paying clients!