Are you a teacher looking to start a side hustle or replace your teaching income from home? Maybe you have heard about Teachers Pay Teachers, but opening a store just isn't your cup of tea.
That's okay, you have other options! Did you know that TPT sellers often need help running their businesses and often hire other teachers or former teachers to help them?
In this post you will read about Hayley Klees. She shares her story of starting a freelance business that helps her TPT clients with creating and promoting teachers pay teachers resources!
Hayley is a former teacher and began her freelancing journey in the TPT job niche as a virtual assistant for teachers pay teachers (TPT) sellers. She began a freelance business back in 2020, helping clients with various administrative tasks, and eventually transitioning to creating content and strategy for her clients who are selling teachers pay teachers resources. She is now a mom of 2, and rocking and rolling in her business!
If you want to hear how to get started in the Teachers Pay Teachers space, where to find clients, and what tasks you can do as a TPT virtual assistant this blog is for you!
Hayley's Background
Hayley began the course back in 2020 right before everything shut down during the pandemic. There was a sale going on, and Hayley purchased the Live Free Academy course. Looking back she says it was a blessing in disguise that everything shut down because it gave her more time to work through the course.
Hayley was a 6th-grade English Language Arts teacher and transitioned to a full-time freelancer in October 2020. She has various clients that she helps to manage their teachers pay teachers resources and stores.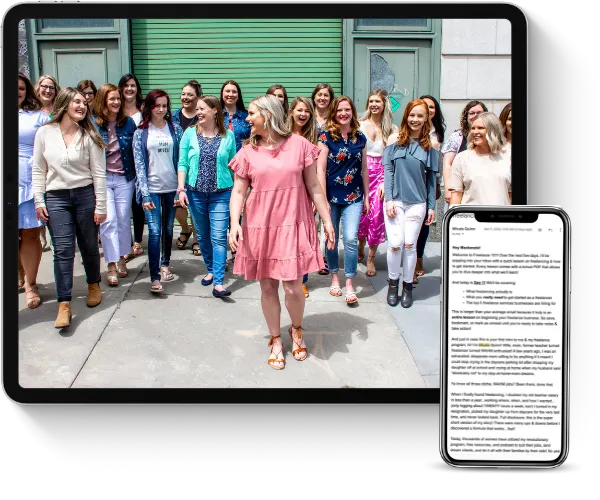 Learn how to earn $3K a month+ as a freelancer working less than 25 hours a week even if you think you have no experience.
This FREE crash course will teach you all about the freelance industry, so you can finally end the family vs. finances battle.
Schedule as a Teachers Pay Teachers Virtual Assistant
Hayley says her schedule has changed over the years. When she first began, she had 1 baby who was about 15 months old and was in daycare. When she began her TPT virtual assistant business she was working full-time on her business so she decided to keep her son in daycare for the time being.
After having her 2nd baby, she decided to keep him home with her while continuing to build her business. So now she works mostly in the mornings and at naptime, at night and on the weekends.
Sometimes she says she will find herself saying, "I wish I didn't have to work this weekend." But then she remembers she doesn't have to go to a 9-5 job during the week, so they can go to a mommy-and-me class together or to the park because the schedule is so flexible!
How to Land Teachers Pay Teachers Clients
Hayley said she knew she wanted to work in the education space, so she started applying to jobs with Teachers Pay Teachers sellers.
Looking for TPT sellers for clients, Hayley found all her clients with the Facebook group route. She used the group TPT Virtual Assistant Finder to find and network with sellers needing help with their TPT jobs. She says there are a ton of great teachers pay teachers resources in this group!
Ready to level up her business, and niche her services into more OBM-type services, she still finds TPT clients in the same Facebook group. But this time she was more selective in which jobs she applied for.
As her business has grown, Hayley markets her business mostly on Instagram to build connections with potential clients but still applies to job apps through the TPT Virtual Assistant Facebook group.
VIP days vs retainer clients
Hayley has 2 retainer clients and adds in a couple of VIP days each month. With the VIP days, she views them as a bonus.
As far as marketing her business for retainer clients and VIP days, she says there is more marketing associated with landing both retainer and VIP clients.
So, if you are happy with the number of retainer clients you have then you won't have to do as much marketing, but with finding more VIP clients there will be more marketing required.
However, once you start getting content about it out there, and start getting VIP clients, then you will start seeing more referrals and less marketing.
Tasks You Can Do to Help Clients with Teachers Pay Teachers Resources
Tasks for teachers pay teachers clients
Hayley started with blog writing, did some email marketing, wrote launch emails, and wrote weekly newsletter emails.
Then over time, she started trying new things like social media management, updating product covers, updating product descriptions, upload products.
There are a lot of little things that are included in the TPT job that sellers will hire out for. These eventually led her to have the ability to move up from being a general VA to project management and OBM tasks.
So, now she helps TPT clients with hiring virtual assistants and team members to help manage and sell teachers pay teachers resources.
Tasks as a content strategist for teachers pay teachers sellers
Business owners have so much to do they sometimes need an extra hand to come in and create or get ideas for their audience.
This could be during a big product launch or course launch for a back-to-school product. But they still need to promote the product launch with an email or blog post for example. So, Hayley will come in and help with that doing research on what their audience is looking for, keywords for blogs, and email writing.
Hayley will also come in and create a plan, kind of a rough outline, then help delegate it to the team.
If you have an education background, this might be a great niche for you to look into. Your skills will naturally translate from the classroom to what tasks these clients need help with. Especially if you're wanting to help with getting teachers pay teachers resources written, a curriculum written, and the backend of selling all these teachers pay teachers resources!
Are you a teacher looking to work from home or make some extra money helping TPT sellers write resources, create curriculum or manage the backend of the business? You can start your teachers pay teachers virtual assistant business today! And please know you don't have to do it alone!
The Live Free Academy course can help you! A step-by-step course that teaches you how to start your business with tutorials, training materials, skills training, and challenges to help you land your first client asap!
Sign up today at the MicalaQuinn.com/Academy I would love to support you!