Allison Nitsch was a teacher turned podcast manager and is sharing her story. Allison taught for 18 years. She wanted to be home, but never found something that worked for her–until freelancing!
Follow along with Allison as she tells us about her background as a teacher, how she found freelancing, specialized in podcast management, and the services she provides as a podcast manager!
Background as a Teacher
Allison has been teaching on and off for about 18 years. She wanted something else, something other than teaching, and to be home with her kids. So, Allision tried other options like a vinyl t-shirt business and medical transcription, neither of which worked out. Getting burned out she was trying to find anything else she could that would work for her.
Allison, a mom of 3 kids, remembers the first time she experienced burnout was when her oldest son, now 14, was little. She says they weren't in a place financially where she could quit teaching, so she tried to find something else to do.
When she decided to take a year off, she became pregnant with her twins, then decided to go back to the classroom. Once again experiencing burnout a few years later. Then Covid hit, and she started teaching from home. Allison thought, "Okay, I can do this!" and the following year did remote and in-person teaching. Wondering if she made the right decision to go back.
Then last year, she started having panic attacks and high blood pressure. Allision realized that teaching wasn't working out for her anymore. So, in February of 2022, she started Googling options. She even looked at corporate careers.
However, she really wanted to work from home. So, she kept searching.
Her search took her to a podcast about how teachers get out of the classroom. From that podcast, she found The Live Free Academy Podcast, and drove right in! Binged all the podcast episodes and took The Live Free Academy course.
By April, she decided to give her notice to leave and make freelancing work, turning from teacher turned podcast manager!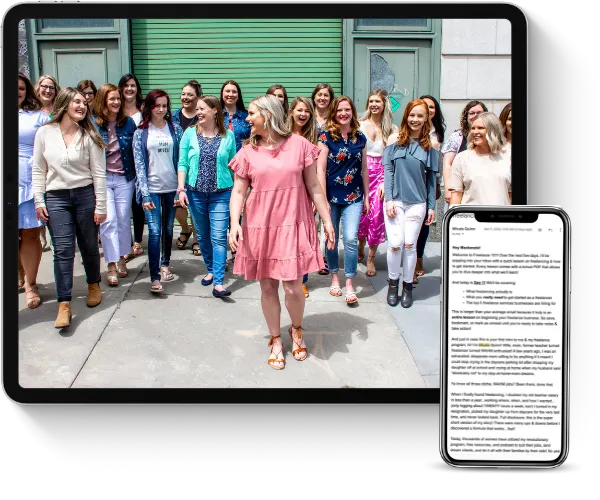 Learn how to earn $3K a month+ as a freelancer working less than 25 hours a week even if you think you have no experience.
This FREE crash course will teach you all about the freelance industry, so you can finally end the family vs. finances battle.
How Allison Went From Teacher Turned Podcast Manager
The plan
Allison shares her and her family's plan for beginning a business as a freelancer.
She was still getting a paycheck for the remainder of her teaching contract, so they saved that money and lived off what they could from just her husband's salary for that summer. Luckily, he could pick up extra shifts for overtime if needed.
Once September came, she hoped to be a little further along in her business, but since that wasn't the case they knew they had that extra money set aside if needed.
Building a Freelance Business as a Podcast Manager
Allison describes her journey as taking the slow route. She signed up for the course in April, finished the course in May, and landed her first client in June.
Allison's first client was editing projects for a home school.
Then she stalled and was experiencing fear of putting herself out there. She said she wanted to be known for something before getting clients, and that she was afraid to be unhappy again with the services she chose.
About July, she started thinking about what she loved when she was teaching. She loved setting up systems and accounts in Canvas. Meanwhile, she was setting up her own Dubsado account. Putting these two things together, Allison decided she wanted to pursue helping clients with Dubsado setups.
Allison joined a mastermind group and found someone that needed a Dubsado setup. Perfect, she thought! So, she worked with this contact and realized it was not what she wanted to do.
She decided to set up her business Instagram account and realized she did not want to talk about Dubsado.
So she started thinking about what she wanted to do and what skills she learned from The Live Free Academy course. One of the skills training videos included in the course was a podcast editing video. That's what Allison wanted to do!
She finished the course end of September, and had 3 podcast clients by the end of October!
Landing podcast clients
Allison found the first podcast client from a local job board group, and the other 2 were from people in her mastermind group on Facebook.
Since then she is working to land 1 more client, after slowing down a bit to start her own podcast.
Podcast management services
There are 2 routes that Allison takes when offering services as a podcast manager.
New Podcast Launch
Walks the client through why they are starting their podcast, their goals for starting it, what it is to be about, who the ideal listener is, and what the client wants it to do for their business.
Coming up with a name.
Planning the intro and outro.
Guide them to get it started and recording.
Add in music.
Edit
Set it up with a host.
Publish
Management Services
Once it's set up they move into managed services. From there, her clients send her the recorded audio and she handles the rest to get it published each week.
Podcast Manager Schedule
Allison says her schedule changes based on her tasks for the day. She takes turns with her husband dropping her kids off at school at 7 AM. On those early drop-off days, she tries to get her day going by making a task list the night before.
Then checking tasks off her list as different clients get their audio in.
On the days that her husband takes the kids to school, she has a slower morning, working and getting ready for the day.
Allison works about 20-25 hours a week, she says she is fine to work more because her kids are in school all day, and just work when they are at school.
Listen to the full podcast episode here: WAHM Success story: From Teacher to Podcast Manager With Allision Nitsch!
Are you on the fence about freelancing, and want to go from teacher turned podcast manager just like Allison did? Please go check out the free resources here, and listen to The Live Free Podcast to learn more about how freelancing can work for you! There are 200+ episodes to help you learn more about freelancing, and what it takes to build a successful freelance business that can replace your full-time income!
If you are ready to make freelancing work for you and want support, go to MicalaQuinn.com/academy to learn more about the program and enroll in The Live Free Academy today!