Writing copy: you either love it or hate it. I'm convinced there is no in-between!
This is great for moms who love writing and want to freelance because they can freelance as copywriters. And for business owners who do not enjoy copywriting? They can outsource it to freelancers who do love it!
What tasks do copywriters do? There are a lot of different areas a copywriter could choose to specialize in, or they could generalize and do it all! Read on if you want to learn more about 5 tasks a copywriter does!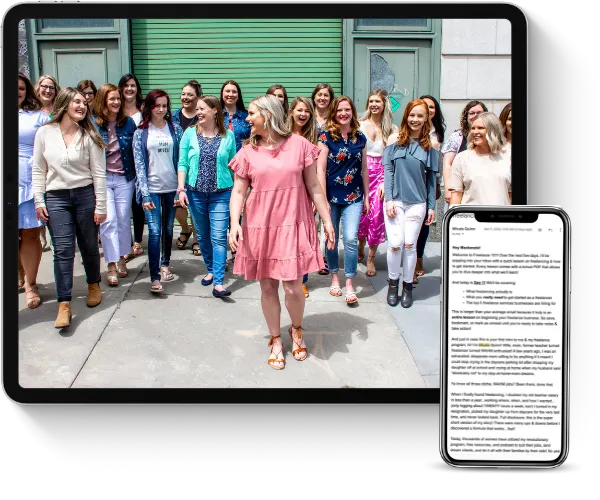 Learn how to earn $3K a month+ as a freelancer working less than 25 hours a week even if you think you have no experience.
This FREE crash course will teach you all about the freelance industry, so you can finally end the family vs. finances battle.
What is Freelance Copywriting?
A freelancer works as an independent contractor rather than an employee. Freelancers offer specific services based on their knowledge and skills to business owners under self-employment. Working on either a project-by-project basis or a monthly retainer choosing what services they want to sell.
A copywriter writes clear and concise copy for businesses. In addition, a copywriter creates content for blogs, social media, white papers, websites, advertising, or any other communication that is visible to the brand's audience. The main goal is to sell, educate or increase engagement.
Regarding marketing, copywriting is essential since its purpose is to nurture the relationship between consumers and the brand.
5 Tasks a Copywriter Does
1. Research
Before sitting down to write, research is the foundation of excellent copy. You must be informed and able to communicate your points to the audience clearly. So the words are not scattered and unaligned with the message you send to readers.
One of 5 tasks a copywriter does is to start by researching popular topics on which the ideal audience will want more information. It could include online research, client interviews, knowledge from books and journals, or writing about a product using a product sample.
Then look into popular keywords that can be used throughout the copy so that it's searchable and indexable on the search databases like Google (if it's for online publication).
2. Check the Competition
A great way to further research and ensure you are creating content that the brand's ideal audience cares about is to check the topics, keywords, and types of publications their competitors are making.
Do NOT copy what the competitors are doing! However, you can use it to brainstorm and help make your content or clients' content better than their competitors.
Finding the topics, keywords, and even the length of content they are creating can give you great insights into what similar audiences will respond to.
3. Brainstorm and Plan
Ready to start writing? Not yet, but almost there! Before a copywriter starts writing, it's essential to plan out what to write about.
Determine the goals and what you want the audience to take away from reading it.
Do you want them to learn more about a product or service? What is the next step of the funnel after reading?
These are all things to consider and plan out in an outline and are part of a copywriter's tasks.
4. Write, Edit, and Proofread
These copywriting tasks go hand-in-hand.
Write a first or rough draft to ensure all your ideas and information get onto the page.
Editing the draft for clarity and conciseness. Then rewriting to ensure the copy is engaging, informative, entertaining, etc., and achieving the goals and purpose of the copy.
A copywriter also needs to proofread for errors and grammatical mistakes. They ensure that the copy is written in a language and tone that the audience will understand and be interested in, using all industry-specific terms as necessary.
5. Managing Projects and Tasks
As a freelance copywriter working with clients, you'll need to have the ability to manage multiple projects and deadlines.
Using project management software like Trello can help you organize projects and upcoming deadlines for all your writing assignments.
Every writer will have a different process for each client to organize their writing, projects, and copywriting tasks. Exploring other methods to see what works best helps find the best approach when taking on new copywriting projects or assignments.
Copywriters are in high demand because nearly all businesses need excellent copy to entice their readers to stick around and keep coming back. So, there is a lot of potential in becoming a freelance copywriter, no matter your prior experience!
Download the Freelance Crash Course today to learn how to freelance as a copywriter and where to find paying clients!