Working with traditional brick-and-mortar type businesses has a lot of potential in 2023. I think this is one of the largest areas of opportunity for freelancers to grow their businesses, plus the opportunity to work with some amazing clients! However, women often ask, "How do I talk to traditional businesses about hiring freelancers?"
The quick answer is to educate them on how a freelancer can help their business.
Freelancers can help traditional businesses save money, or grow one specialized area of their business. Most of the time, traditional business owners don't even know hiring a freelancer is an option.
So let's jump into how you can talk to traditional businesses about hiring freelancers to educate them about their options. Plus, the options you have for connecting with traditional businesses!
The Opportunity with Traditional Businesses Hiring Freelancers
The number of small businesses there is for opportunity is HUGE! Thinking about just where I live, in a big golf course neighborhood, just outside my neighborhood about 5 minutes away are two commercial-type strip malls.
On one side of the street are a spa, a kids' daycare, a couple of restaurants, and a nail salon. On the other side are a grocery store, a bank, another nail salon, more restaurants, a liquor store, a pet daycare, an accounting office, and a dry cleaner. And that's all off the top of my head in just this one area.
If I drive just 5 more minutes, there is another huge commercial strip area with tons more businesses for about 7-8 miles filled with businesses and commercial development.
Think about where you live. What are the local strip mall-type areas around you that could be a huge pool of potential clients?
The other opportunity with these types of clients is that the competition for you to be hired by one of these traditional businesses as a freelancer is minimal. They probably don't have any or a lot of other freelancers they are talking to or considering.
The Challenge with Traditional Business Clients
The challenge with talking to and having local traditional businesses be your ideal freelance clients is that they may not know hiring a freelancer is an option.
They might think or only know, that getting support for their business means hiring a full-time employee.
So, how do you talk to these traditional business clients to help them learn hiring a freelancer is an option, and that you can help them? You'll need to be prepared to talk about it and educate them.
To do this, you will first need to let them know that freelancing exists. That a freelancer can help them to focus or develop a portion of their business, without hiring a full-time employee (which they might not have the capacity to do).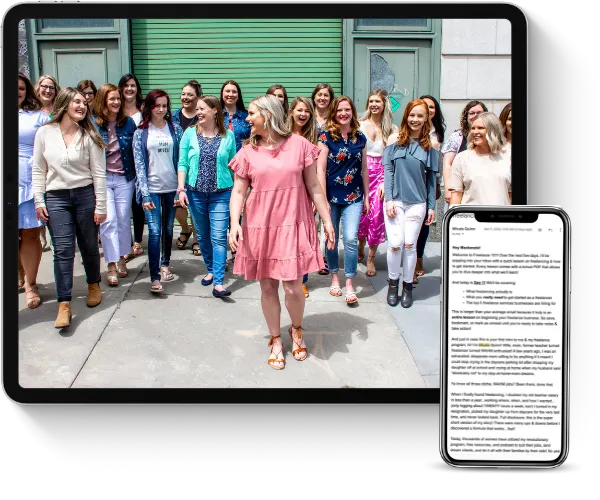 Learn how to earn $3K a month+ as a freelancer working less than 25 hours a week even if you think you have no experience.
This FREE crash course will teach you all about the freelance industry, so you can finally end the family vs. finances battle.
Options for Connecting with Traditional Businesses
After deciding you want to try and find traditional business clients there are options, some more intensive than others, for networking with these business owners to educate them on hiring freelancers.
Networking in person
Reach out by email
In-person conversations
Grow a social media channel
Guest on a podcast
Teach a training
Network in person
When networking in person you can attend a local networking event or just walk into the store. If you network in person, you will have to go in with the mindset that you will need to start some conversations.
So prepare ahead of time. What are some questions you can ask that would lead back to your services that will show that you can help these people?
One example question is, "What project are you working on right now?" Then have a follow-up question, such as, "are you planning on DIY or hiring out?". Then you can share that you do those services, and if they are interested now or in the future for outsourcing those you would love to talk with them about it and earn their business.
The focus here is to have some basic questions prepared to naturally get a conversation going to bring up your business.
Reach out by email
Another opportunity to reach out to these potential traditional business clients is to drive up and down the strip mall and make a list. You can reach out to them directly via email.
You will need a well-crafted pitch or outreach email to begin the conversation with them. Then instead of closing the email with "Hey, do you want to hire me?", try closing the email with a question like "Do you already have someone running your social media?"
This way, it's an easy reply for them either yes we do, or no we don't. If the response is no, then you can start the education about freelancers in your response. Ask if they've ever considered hiring a freelancer, and then include some of the awareness and education points in your reply.
Have in-person conversations
The third option is to have conversations about your business with people that you know or just bump into. For example, if you are at a local coffee shop (not Starbucks) getting coffee then strike up a conversation with the owner when you order.
Tell her, that you run social media accounts for local business owners or about your business services. Then ask if she ever hears of someone needing those kinds of services, without hiring a full-time employee, here are a few business cards–would she mind leaving them out?
Not only is this going to put the bug in her mind that if she wants social media (or other services) she can reach out to you, but also referrals.
Start and grow a social media channel
This option is more intensive because of the time and energy it takes to grow a social media channel from scratch. I believe there are faster ways.
However, if you want to explore this option more, listen to the Quick Freelance Question Series Episode 237: Do I need to have an active social media presence to land clients?
Guest on podcasts
Another opportunity is to guest on a podcast where your ideal client is a listener. Now not every small business owner listens to business podcasts, but it's worth doing some research into.
However, remember this is also going to be a little more intense because you will need to do some research on podcasts that business owners listen to, research the podcasters, and reach out via email to pitch the host a value-based podcast episode.
One thing to remember is that a lot of times people will book podcast guests well in advance, so your guest podcast episode may not go live for a couple of months.
Host a training
Another option is to host a training. These can be either in person or virtually. If there are different organizations you know of that host events with training, you can reach out to them to see if there is availability for you to teach one.
These are often in the form of a lunch and learn format, where there's a training for 30-40 minutes then lunch. So you would pitch yourself to be the expert teaching the training.
How to Talk to Traditional Businesses About Hiring Freelancers
So, let's say you've started some of these conversations with local traditional business owners. Now what? How do go about educating them?
Here are 3 bullet points to bring up when educating traditional business owners on the endless options of hiring a freelancer.
1. Flexibility: business owners can hire a freelancer on a short-term basis or a long-term ongoing basis. And they can hire for just what services are needed. They don't have to hire a full-time employee when the scope of work is a part-time role.
For example, hiring a social media manager per month is going to range anywhere from $500-$2500 per month. Or a full-time employee for a yearly salary of an average of $50,000 per year, plus benefits.
Lay it out there for the business owner. The options are either to hire a freelancer to get the support they need for a portion of the price of a full-time employee. Do not do it at all, and stay where they are at. Or do it themself and potentially run themself ragged.
2. Cost Savings: traditional businesses can save a lot of money by investing in a freelancer versus hiring a full-time employee. When they hire a full-time employee, the business pays for benefits and taxes. When they hire a freelancer, that's on the freelancer to cover.
If they hire a full-time marketing person for $50k a year + benefits = $65k per year. And if they don't have the budget for that, they can hire a freelancer, and spend a portion of that per year on a retainer package. To get the exact support they need to grow their business.
3. Freed-up time: Now, the extra benefit here is that when they hire a freelancer to take a portion of the business responsibilities off of the business owner, they are freeing up some of their time to focus on the other tasks only they can do as the owner.
So, do some research to figure out high-value tasks that they can then do with their freed-up time. That could be taking on more in-person customers, or spending more time with their families.
Click here to listen to the full Live Free Podcast episode of this post!
Are you going to go the direct outreach route to talk to traditional businesses about hiring freelancers? Let me know in the comments! Or come to a coaching call so we can put together a plan for you to start talking to traditional businesses about hiring freelancers.
If you are not in the Live Free Academy yet, enroll today. Get started and come to a coaching call so we can get a plan in place for you–in addition to the resources in the course!