This post about how to talk to toddlers may contain affiliate links, which means if you click one of our affiliate links and decide to make a purchase, we receive a tiny commision from the seller at no additional cost to you. We only share products and services we have used, tested, and love ourselves!
Episode 06: Show notes
Welcome back or welcome if this is your first time listening, my name is Micala Quinn and today we've got our first mom expert joining us on the podcast!
I cannot wait for you to meet today's guest. Sharon Somekh! I just love Sharon's parenting philosophy so much, and she came into my life at the perfect time, right after my husband and I lost our son George.
When George passed away, we sold our house, moved in with my parents, and everything my daughter Mclaren knew had changed.
Not knowing what to do, how to help her, and sometimes just not even having the strength to really be good parents lead to my husband Colin and I having really relaxed boundaries and a toddler who was used to getting whatever they wanted. It was just easier for us at that moment. Bedtime got later. Snacks became whatever she wanted. Too many toys were purchased.
However, there came a point where enough was enough and Colin and I knew we had to go back to setting boundaries, rules, and saying no. But the moment we tried to start implementing some of the structure and rules we once had, it was not fun. Pushback. Tantrums. Crying. Confusing. Giving up. Trying again. More confusion. Became too much.
Enter Sharon's amazingly simple, but effective process to talk to your children (toddlers) so that they listen!
And that is what I am bringing her here to chat about today! Sharon has a huge impact on my family, and I am so ready to share her knowledge and guidance with you!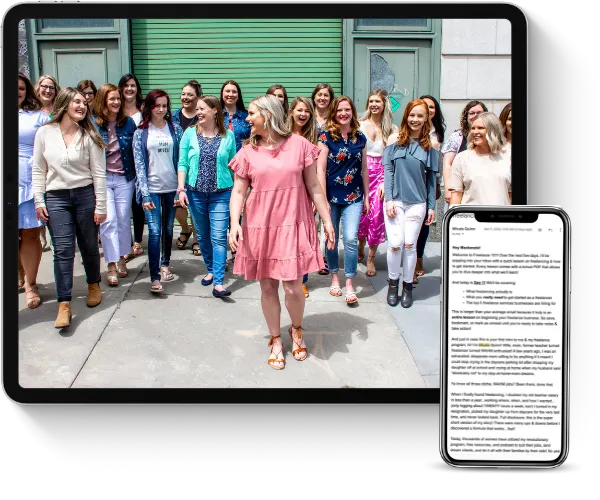 Learn how to earn $3K a month+ as a freelancer working less than 25 hours a week even if you think you have no experience.
This FREE crash course will teach you all about the freelance industry, so you can finally end the family vs. finances battle.
Meet Sharon
Sharon Somekh is a general pediatrician, loving wife and mother to 4 daughters.
After a decade of practicing general pediatrics and working with families, she realized that what she enjoyed most was helping parents with parenting concerns, and felt this is what would be most helpful in shaping their children's futures. There often wasn't enough time, however, while tending to children's medical needs to address their concerns.  She developed Raiseology to help parents with their parenting struggles and teach them how to raise resilient children in a modern world.  As a parenting mentor, she hopes to make a difference for parents today while affecting the future of their children in a positive way.
Why you need to discover your why in order to understand your parenting philosophy
Discovering your why is a step almost all business owners go through at some point. It's a part of my program and lots of different programs out there, and it is often an overlooked part of starting your business. But what happens when this step is skipped, is that when running your business, starting your business, or growing your business, there are going to be challenges and struggles that arise. The person that is crystal clear on their why, beyond just I want to make money are more likely to keep going, keep pushing, and keep trying when the struggles hit. Those that don't, give up too easily because there is no higher reason why.
This same concept applies to raising your children. And one tip Sharon shares with us is to instead of focusing on the moment, think about your kids in your twenties. What type of people do you want your kids to be when they are in their 20s and how can you start fostering that now.
Because your kids are going to challenge you, it's not always going to be easy, but having a clear focus on why you parent the way you do and knowing who you want your kids to be when they are old can really help you in your parenting journey.
To give in or to not give in
When we set limits and set boundaries or tell our toddlers no, of course, there is going to be pushback and testing and the dreaded tantrum. And a lot of times it may seem easier and better to give in, but Sharon suggests instead to ask yourself, what would be the end result if I do give in? What would be the end result if I don't give in. What are the consequences of my choices as a parent? Most of the time you know what is best, but it is hard to carry out… that's why you gotta know your why.
How do we talk to toddlers so they listen, but still foster their independence
We want our kids to grow up and be confident, assertive and independent, just not with us! Which is super confusing, but the truth is our kids are going to test and that is a natural part of being a child and growing up. It's our job as parents to help empower them to make good choices and part of that comes with us giving them options or choices so they still feel like they are in control.
What happens if they don't like our choices and the tantrum hits
Tantrums hit every mom, yep even the one giving you the side eye at the target checkout like because your kiddo wants candy and you said no. So just know tantrums will happen, but Sharon shares with us a few ways to help eliminate or drastically reduce them.
Anticipate their behavior — if you are going to a playdate and know it is going to be hard for your child to leave without having a major meltdown (this is me), it's important to first acknowledge and know how your child might react in this situation
Set realistic expectations — Sharon says lots of times we underestimate how smart our children really are. It is your job as the parent to decide what leaving should look like and then communicate that to your child
Have a conversation ahead of time — communicate your expectation to your child ahead of time. Remind them throughout the event. (Sharon has an excellent script to use on how to talk to toddlers so they listen, click here to grab it!)
Be consistent — follow through with what you say and mean what you say
Be prepared for testing — they will just stay consistent and follow through!
Wrapping it up: How to talk to toddlers so they listen
Now I won't say that this process was exactly easy. Yes, I say Sharon's script is simple and easy to follow, but it is not always easy to follow through and stay consistent. But with support and the help of Sharon, I was able to make it through the transition period and take back the parental control in our home.
If you are struggling or wondering if you are making the right decisions for your family as a mother, I would highly suggest reaching out to Sharon. At first, I was so embarrassed at how things had transpired with Mclaren, but Sharon helped reassure me that I was doing my best and that my best was pretty darn good for being weeks/months away from the most tragic scenario a family can experience.
As embarrassed as I was for how things were, I was also scared at how starting to be firm and stick to our rules would affect Mclaren. She had just lost her baby brother. I didn't want to see her cry. I couldn't tell if her tantrums were from being told no or being sad and confused as to why her brother is gone.  I was so lost and confused, but Sharon helped me formulate a plan of action that fit our families unique situation. There was no shame or guilt or shoulds, just love and guidance from a parenting mentor I trust.
Resources and links mentioned in this episode: