Hey there! Last week was a whirlwind, but I'm so excited to be back this week with another inspiring WAHM success story about a mom who surpassed her corporate health administration salary.
Today, I am chatting with Chelsea Johnson. Chelsea is a virtual practice manager working for naturopathic doctors. She surpassed her health administration salary from her corporate career working just part-time hours as a virtual practice manager.
Let's dive into Chelsea's story as she shares with us how she was flooded with interest from prospective clients, landed her current clients, and did it all while on maternity leave. Chelsea will also share what tasks she does as a practice manager and the path she took to surpass her full-time health administration salary working part-time from home!
A Health Administration Background and Mom
A mom to 3
Chelsea is a mom of 3 kids, a 12-year-old, a 6-year-old and soon-to-be 1-year-old. Chelsea and her family live in New Jersey but found all her clients were from the West Coast.
Chelsea's background in health administration
Before starting the course, Chelsea worked in mental health as a substance abuse coordinator, then worked in accounts receivable after that.
Chelsea decided to go back to school to get a degree in healthcare administration. Her goal was to run a floor of a hospital, but that quickly changed. Chelsea ended up working in a radiation facility, being a supervisor for her department in accounts receivable and collections.
Then after that, she ended up working in accounts receivable for an engineering company.
Starting a business
After ending up in accounts receivable at every job she worked at, she was bored and wanted something different. She wanted to use the degree she had obtained, so she started looking around for other options.
Chelsea had previously tried MLMs, which didn't work for her, but she always knew she wanted to work from home. She wanted to be able to be present with her kids and have more time to live since she was only able to see them for a couple of hours after work and school each day.
When she found The Live Free Academy course, Chelsea felt this was the answer she was trying to find! She had not previously known about freelancing but did know about virtual assistance.
She decided to join and went all in. She would work on the course during her lunch break and at night after her kids went to bed, and chip away at it a little bit each day knowing she didn't want to go back to work after her new baby was born in July.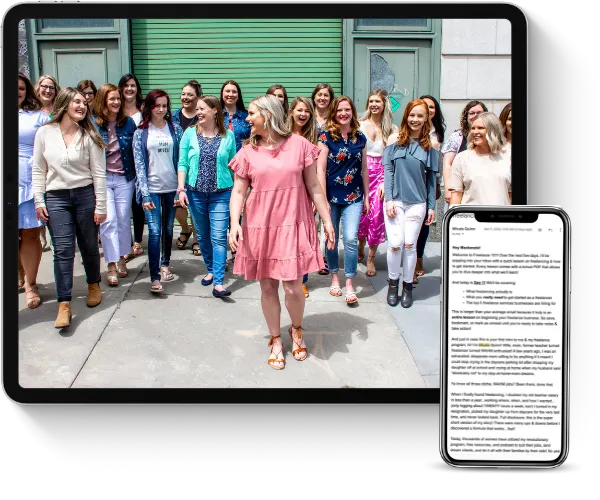 Learn how to earn $3K a month+ as a freelancer working less than 25 hours a week even if you think you have no experience.
This FREE crash course will teach you all about the freelance industry, so you can finally end the family vs. finances battle.
Deciding Which Services to Offer
At first, Chelsea had no idea who she wanted to work with. She had no clue about the virtual world, or what services she wanted to offer.
Then after going through the course, she listened to a Live Free Podcast success story episode about Heather Walberg. Heather had been working as a virtual practice manager. In the episode, Heather had taken her background in health administration and applied it to her own business. So, Chelsea decided that's what she would do too!
So she started joining Facebook groups, networking, and providing value to people within the groups. She would also comment on any job opportunities that were posted within the groups.
Landing Health Administration Clients
After beginning to network and apply for jobs, Chelsea landed her first client in April 2022. The client was a mental health therapist who had never worked with a VA before. Chelsea says the job went really well and they worked well together.
The next client
After that Chelsea landed another client from the same Facebook group. This client was a naturopathic doctor, which came to be Chelsea's niche.
Becoming booked out
Once Chelsea build a good working relationship with clients, she asked for referrals from them. One client not only referred her to a few of her naturopathic doctor contacts, but she also posted
Chelsea's information in a Facebook group for naturopathic doctors she was a part of.
Chelsea's inbox was flooded with interest in her services, and became fully booked with clients!
Total number of clients
Chelsea currently works with 6 clients and is onboarding a 7th in a few months.
2 Challenges in Building a Virtual Practice Manager Business
Challenge 1: Having no online experience
Chelsea doubted herself in the beginning, wondering if this would work out. She wondered if she knew enough to help an established doctor since she had never worked in the virtual world before.
So, she took some time to get to know what services doctors would need help with and narrow down how she could help them.
Challenge 2: Different time zones
The naturopathic niche Chelsea had chosen also presented its difficulties. Being in New Jersey, an unlicensed state, there are not many naturopathic doctors around. Most are on the West Coast in California, Oregon, and Washington.
Between these states, there are big time differences, about 4 hours.
At first, Chelsea was nervous about the time difference but says it's been a blessing. She can get up late, have a slow morning, and begin work around 10 or 11 A.M. because it's still 8 A.M. for her clients.
A Practice Manager's Day-to-day Schedule
*At the time of this post, Chelsea and her kids are adjusting to summer break which has changed up their schedule a little bit.
During the school year, their schedule looks similar to this:
Wake the kids up in the morning, get ready, and get them off to school.
Come home and have a slow morning with the baby. Get her breakfast, then work out.
Then around 11 o'clock her time, (8 A.M. client time), she would put the baby down for a nap and begin work. At this time she was able to get all her focused client work done.
Chelsea says she tries not to work very much when the baby is awake because it defeats the purpose of her being home. She wants to spend time with the baby when she is awake, so
Chelsea only does a few tasks here and there when the baby is playing.
Normally, Chelsea checks in 3 times with her clients during the day. At 11 o'clock, around 1 or 2, and then around 4 p.m.
Total hours
Chelsea usually works about 4-5 hours a day. Mondays, and earlier in the week are busier working around 5 hours each day.
The middle of the week, and towards the end of the week is lighter and can end up being only 2 hours some days.
This roughly adds up to about 20 hours of work each week.
Tasks of a Practice Manager
She describes her tasks as similar to those tasks an in-office manager would do.
Talk to patients on the phone to return messages
Check email
Schedule appointments for patients
Ordering labs
Upload faxes that come in
Upload medical records that come in
Send out medical records
Many of the doctors have medical dispensaries in their offices, so she takes supplement orders
Process payments
Track intake forms to make sure they are completed
Create newsletters
Update client websites, occasionally
Post on social media, occasionally
Personal scheduling of meetings
Find business lawyers
Create forms for the office
Surpassing a Health Administration Salary
In the corporate world, you have a set amount you make per hour, which adds up to a gross income. Then after everything (like taxes) is taken out, there is the net income that you bring home.
The amount Chelsea has been able to make in her business has doubled her health administration salary take-home pay!
The pay range for a virtual practice manager
The pay range is similar to that of an online business manager. It's so similar in fact, that Chelsea considered pivoting to an online business manager.
Chelsea says she charges her clients $45 per hour and has clients ranging in packages from 40 hours per month to 10 hours per month.
$45 per hour is more than she was making in with her health administration salary in the corporate world.
How to surpass your health administration salary
Create a business plan. Do some research to determine your ideal client and their potential needs.
Get your business set up.

The Live Free Academy

can help you step by step to create a solid foundation for your business.
Network and land clients. After building a great working relationship with current clients, ask them for referrals.
Up your rates for each new client signed. Chelsea upped her rates by $5 per hour for each new client she took on when first building her business.
Why is There a Need for Virtual Practice Managers?
Many people assume that a doctor's office will have in-office staff to do all these tasks. However, many doctors are choosing to hire virtually instead. Chelsea explains it is because many of her clients only see patients via telemedicine.
So, many of her clients don't have an office to go to. And do not feel they can efficiently run their office, see patients, and do all the admin stuff. So, they look to hire a virtual practice manager to help them be able to see patients and run their business.
Chelsea's Advice For Starting Your Own Practice Management Business
I asked Chelsea for her advice to other moms who might be on the fence about starting a business in virtual practice management.
Chelsea's advice:
"Just do it! You have the skills you need to be successful, just take what you already know and apply it. If freeing up time in your life, making more money, being at home with your kids, or just wanting to live a free life. A life without going into the office or working for somebody else, then just make the investment.

Then take time every single day, even if it's just half an hour, and get through the course.

Figure out what skills you do have then go out there and figure out what people are needing help with. Do some market research to create a short form and send it out to people you follow on Instagram or Facebook. See what they could or do need help with.

I did it working full-time with 3 kids, and if I can do it, you can 100% do it!

Believe that you can do it and you can do it!"
If you want to learn more about becoming your own boss, starting a business, and living a free life that you love check out my free resources here
To learn more about what freelancing is and how you can get started today, download the Freelance Crash Course here!