I get asked a lot of questions about launching a course from those interested in launching their own. Plus potential students, (and sometimes skeptics!), asking if freelancing is so great, why do you no longer accept client work?
So I'm excited to dive in and share more with you about my story, how my business started, and how it's grown!
How It Started: Working From Home Became Teaching Others to Work From Home
For those of you that have been following me for a while or have binged the podcast from Episode 1 to now, you likely know that I was a former teacher who desperately wanted to work from home with my growing family.
I got started in 2016, quit my job in 2017, and was living my best life. Working the naptime hustle about 15-20 hours a week, not paying for daycare, and bringing home 3x my old teacher's take-home pay. Life was good!
I started as a virtual assistant, really loved all things marketing, sales funnels, and social media, so was working to pivot my business into an expert role in that niche.
I thought one day it would be really cool to help other women do what I'm doing now, but put that out of my mind, thinking in 5 years maybe I'll be ready.
Little did I know, I had already set myself up for a seamless transition way sooner than I ever imagined.
I was active in a TON of mom-only Facebook groups. Every day someone would ask, "How can I be a SAHM, but make an income?" I started reaching out, offering support where and when I could…both on the group threads & in DM's.
Anytime someone asked, I would immediately be tagged. Eventually, I wrote my story out in a google doc, and just copy and pasted the link each time I was tagged.
One day a post became so engaged, more people were asking for help than I could respond to. So I started a free Facebook group to share with everyone at once.
And it just sort of spiraled from there!
Then, I had this lightbulb moment – Micala, you're a former teacher! You know how to do this thing all these people want to learn, and you work with online courses.
Opportunity was knocking. Now.
The First Online Course
My very first launch – I never worked SO hard.
I mapped out the content plan, started marketing it, and built everything out week by week. Then I created a student-only Facebook group, and a weekly coaching call as well.
I fell in love with helping people and quickly decided that there was a HUGE need for someone to help moms create a business and income around their needs and their family.
My beta round was very much a clunky, learn-as-I-go system. Going forward if I was determined and dedicated to making it as an online course creator, I knew I had to do it right. Which meant I needed to invest in the right tools for my business.
Attending an online conference where Thinkific was a sponsor, I immediately signed up for the software. I wanted to get my content out of a Facebook group and into a well-organized online learning platform.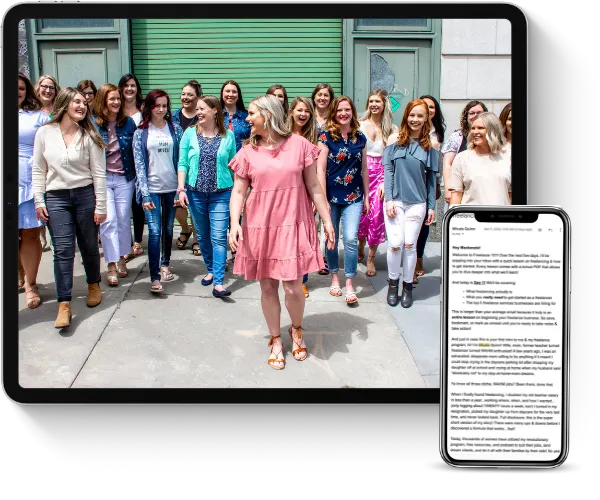 Learn how to earn $3K a month+ as a freelancer working less than 25 hours a week even if you think you have no experience.
This FREE crash course will teach you all about the freelance industry, so you can finally end the family vs. finances battle.
How My Business, Goals, and Course Have Grown
How the course has grown and changed through the years!
2017 – I was testing to see if this worked and if I could do it. Then suddenly, at the end of 2017, a personal tragedy happened. We lost my son George unexpectedly. And growing my business sort of was put on pause for a few months.
In 2018 in the Spring I was mentally and emotionally ready to dive back in. I turned my attention to my initial goal of bringing in $5k a month from course sales and ended up around $12k in April
2019 started and the big milestone I wanted to hit was to make my yearly teacher income in one month as a work-from-home business owner. January- April all came in just under my goal. But in May, I surpassed my goal at $41,939! I ended 2019 with total revenue for my home-based business at $394,793.
In 2020, wanting to hit a new milestone, I set my goal to make my teaching salary in one day. I thought I'd hit a million in revenue and was working towards my new goal. BUT neither of those happened. My crazy growth in 2019 gave me false expectations that every year should see exponential growth. To summarize, 2020 saw $545k, and 2021 saw $605k in total revenue.
Tips from a Course Creator
Don't wait for "the perfect time" to start. If I had waited for the perfect time to transition my business, I would have missed a huge opportunity!
Invest in yourself, your business, and your team. Moving my initial content from Google Docs and Facebook groups was so beneficial for organizing and growing my course.
Don't forget your WHY while chasing your next goal. After all the huge growth in 2019, I learned a lesson in 2020 that while overall revenue is great, that is just ONE metric. Scaling in growth can cause a huge decrease in profit margin. Seeing growth in revenue while sacrificing profit margin is something I'm NOT interested in. I work to help others, but also to give my family a good life!
You can hear my whole story here on the Live Free Podcast.
For more tips, success stories, and behind-the-scenes freelance info — join me on Instagram.