Is this real? Is this legit? These are the questions that Stacy was asking about Live Free Academy just less than a year ago. Stacy dove into the program and went from a stay at home mom to virtual assistant.
As a former dental hygienist who left work to be a stay at home mom, she wanted something more. Stacy chats with us about her journey through LFA, how she pushed through even when hearing "no" and how she landed three clients shortly after!
From Stay at Home Mom to Virtual Assistant
Keeping her license as a dental hygienist and balancing two kids keeps her busy.
Stacy was working part-time as a dental hygienist after her daughter was born, then decided it was best to stay home after the birth of her son. When Covid started, she says she was struggling mentally to balance all the things with staying home, having a newborn, and dealing with quarantine.
Feeling isolated and wanting something more, she began searching for something she could do for herself. Something that gave her another purpose outside of being a mom. Then she stumbled upon the Live Free Facebook group in a comment thread.
After diving into the free resources, then talking with her husband about the program, Stacy decided to purchase the course. She was so nervous she made her husband click the purchase button!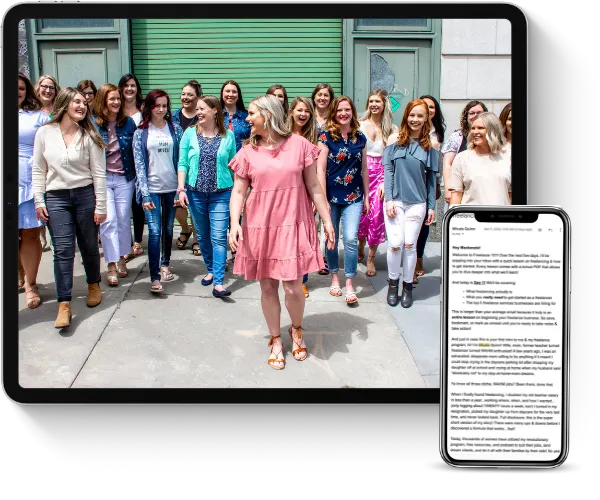 Learn how to earn $3K a month+ as a freelancer working less than 25 hours a week even if you think you have no experience.
This FREE crash course will teach you all about the freelance industry, so you can finally end the family vs. finances battle.
Stacy's Journey to Landing Clients
Stacy started the LFA program in January of 2021 and launched her business in February. She posted about her business on a local community page, and a local art teacher needed her help with social media graphics and email management. That art teacher became her first client!
After landing her first client, there was a big gap in landing another client. She remembers having a lot of discovery calls but getting a lot of no's. Which was a challenge to navigate.
Offering virtual assistant services, she was just learning what she liked doing and what she didn't like doing.
Pushing through even when hearing no
Remembering the "season of no" she says some of them were harder than others because she would feel confident about the discovery call and that they would work well together, but then it wouldn't work out.
She says she asked for feedback on what she could do to stand out more or needed to do next time. She says she heard a lot that it wasn't her, or someone else just had more experience.
Stacy remembers the 'no season' lasting for about a month. By March she landed her second client. Still, hearing a no was tough, and Stacy was planning on giving up after making back her initial investment into the Live Free Academy course.
Overnight, she had a lot of applications out and three scheduled discovery calls. Then within a week, she landed all three as clients!
Gaining experience and preparing for discovery calls
She says, from that 'season of no' she learned that she was giving off the impression of herself as a beginner on discovery calls before she was getting to know the potential client or making a connection with them.
Learning from her mistakes, Stacy started to leave it out of discovery calls unless they asked.
Instead, to prepare for a discovery call, she would figure out what kind of software and help they needed before the call. Then go into those platforms to learn about them so she could say she was not a beginner and could do what they needed.
Stacy's role as a virtual assistant
There are so many different things you can do as a virtual assistant, but Stacy says she has found what she enjoys. Some of those things are creating graphics for social media, newsletters, or freebies in Canva.
She also really enjoys podcast editing and knows she does not enjoy writing copy for social media!
A Day in the Life of a Virtual Assistant
Stacy says she works mostly during nap times, so while her smaller child naps her older child has quiet time at the same time. She will do an hour in the morning, or so. If the kids are busy with an activity she will squeeze in an hour or so while they play.
The point of doing this was so that she didn't need to put them into childcare, and didn't take away time from her kids while working. So, figuring out how much work she can handle and how to incorporate that into her day has been fairly easy.
Stacy also wanted to be a role model for her daughter. So that she could see her mom home with her, but also as an entrepreneur and know that both are possible. And one day, if she wanted that too, it was possible for her!
Do you want to hear more about Stacy's stay at home mom to virtual assistant story? You can listen to the full podcast here!
Are you ready to become a virtual assistant working from home while your kids nap, just like Stacy did? Learn how to start your virtual assistant business today with the Launch Fast Crash Course!