This post about your freelance business contains affiliate links, which means if you click on one of the product links, we may receive a small compensation at no additional cost to you.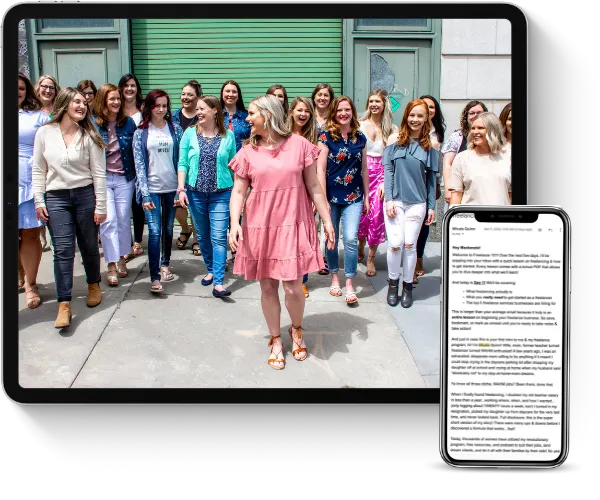 Learn how to earn $3K a month+ as a freelancer working less than 25 hours a week even if you think you have no experience.
This FREE crash course will teach you all about the freelance industry, so you can finally end the family vs. finances battle.
I've been advertising and promoting the freedom and flexibility that freelancing offers for awhile now, almost a year, and yesterday someone asked "how much does it actually cost to startup your freelance business?"
I did a live on my Facebook business page here that you can watch if you want.
The quick answer is that you can spend as little or as much as you want.
Cool, right?
No, that answer is not very helpful, but it really is true.
It is possible to start your freelance business spending practically ZERO dollars.
It's also possible to start your freelance business and overspend like a crazy person.
Both are equally BAD options, and I will explain why at the end of this post.
What do you need to startup — the minimalist route
1. A service to offer. What are you doing in your current job? Chances are (I am almost willing to bet here) that you have skills and experience that easily translates to the online business world. You may just need help to discover how. For example, I was a teacher with zero business and zero marketing experience, but I still was able to grow and build an online service based freelance business. What skills does a teacher have to offer businesses? Well as an English teacher I had writing experience, planning experience, and conversation/engagement experience. In the online business world this translates to copywriting, project management, and social media strategy. Want to figure out what online freelance career is right for you, check out this Ultimate Freelance Guide for free.

2. A way to advertise. You have to be able to market your services. Think this is going to be expensive? It could. BUT the minimalist route is to have a portfolio PDF and a Facebook business page. I didn't have a website or even a Facebook business page when I was working as a freelancer and was able to build my business up to 3K a month. I just had a PDF portfolio.
3. A way to communicate with potential clients. Do you have a cellphone? There you go! Want to take it one step further and appear just that much more professional? Get a zoom account! They have a FREE version. Zoom is a software that allows you to do video conferences with clients all around the world!
4. A cohesive and professional brand. You DIY this yourself for free. Just look at this Pinterest board I started for inspiration. At the most basic branding level, you need a logo, colors, fonts, and a few images that reflect your business look and feel. But also make sure it is attractive and speaking to your ideal client. Yes, you CAN design your logo without a graphic design degree. Don't spend money on this, yet!
5. You need a way to schedule appointments. Look up Calendly or Acuity. Both have FREE options. But you could also do it the manual, old-fashioned way and pencil people in on your calendar.
6. Lastly, you need a way to invoice clients. The free, minimalist route is to use paypal.