What are the skills needed to be a virtual assistant? If you want to work from home and are thinking that becoming a virtual assistant could be the solution you have been searching for!
But you are wondering what services you can offer as a virtual assistant. What services can I offer with no experience? This is a question we see a lot on Facebook groups from new VAs looking to start their new virtual assistant business.
And if you look at the comments on those posts, you will see a lot of responses from other people…WordPress, Facebook ads, or any other tech skill here.
But you don't need technical skills to start your virtual assistant business. Instead, start with the skills you already have!
What are those skills? And what services can you offer based on those skills? Read on to discover 4 top skills needed to be a virtual assistant!
Why are Virtual Assistant Skills Important?
Virtual assistant business skills are essential because they will set you up for success!
Do not skip this process of determining your skillset when starting a freelance business. It will help you figure out what services to offer by determining what services you will excel at and what services you enjoy.
Identifying your skills will help you land and wow clients when working with them too!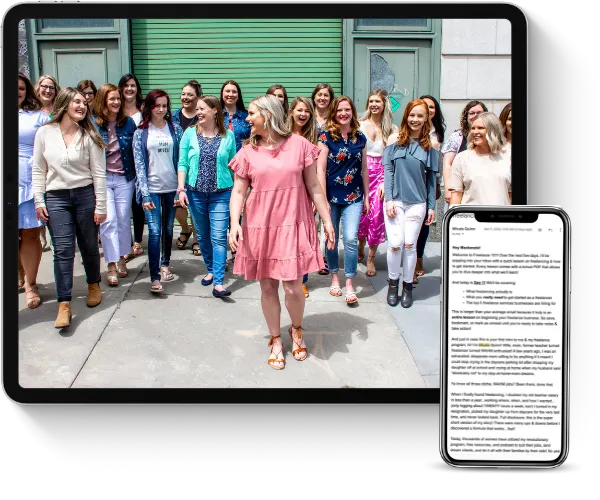 Learn how to earn $3K a month+ as a freelancer working less than 25 hours a week even if you think you have no experience.
This FREE crash course will teach you all about the freelance industry, so you can finally end the family vs. finances battle.
The Top 4 Skills Needed to be a Virtual Assistant
1. Communication
Communication skills are necessary to be a virtual assistant because there are little to no in-person meetings in this industry. Most of the communication is digital, which means it's easier for details to slip through the cracks. So, setting up emails, messaging chats, or video calls to communicate with clients falls under the responsibility of the VA.
2. Time-management
When you start adding multiple clients, you must know how to manage your time effectively. Some virtual assistants use time-blocking to organize their calendars and optimize efficiency. Others use a batch method to create multiple social media posts, for example, in advance in one setting while in that working mindset.
3. Organization
Because virtual assistants are usually helping others become or stay organized, they need to be uber-organized themselves. Virtual assistants usually assist business owners in organizing emails, passwords, meetings, reminders, or calendar events.
4. Creativity
Many business owners are not excited about creating social media posts or writing blog posts. So, often these tasks get lumped into a virtual assistant job. A creative eye will help with creating content, no matter the niche or platform.
VA Services You Can Offer From Having These Skills
Here are examples of services you can offer clients based on the skills needed to be a virtual assistant. With these skills, you can deliver services in high demand.
Communication:
Podcast guest outreach
Daily office functioning
Appointment scheduling
Social media engagement
Time Management:
Project coordination
Calendar management
Organization:
Inbox management
Travel booking
CRM support
Bookkeeping
Creativity:
Blog writing
Social media posting
Copywriting
Want more services you can offer as a virtual assistant? Check out our list of 100 Virtual Assistant Services in High Demand. It will give you many great ideas for the services you can offer as a virtual assistant!
How Do I Become a Virtual Assistant With No Experience?
Just because you do not have experience as a virtual assistant does not mean you don't have skills!
Every virtual assistant starts their business without experience. Eventually, they build it up along with their technical skills and knowledge.
You do have the skills needed to be a virtual assistant. To find them, think about previous jobs. Those could be part-time jobs you held in high school, college, or full-time corporate jobs.
They can also come from your daily responsibilities. Are you a stay-at-home mom? What at home are you good at? Maybe it's meal planning or organizing your family's busy schedule.
Last, your skills come from your strengths. What are you naturally good at?
Answering these questions will give you a start to figuring out how to become a virtual assistant with no experience. These are just some of the brainstorming questions from the skills assessment activity you will do when you sign up for the free Launch Fast Crash Course!