It's estimated that Google handles approximately 2 trillion searches per year. Including the searches from other search engines like Bing, DuckDuckGo, and more, there is a lot of searching going on! In all that search competition, how does an audience see a business? The answer is they try to land on page one of a search engine results page using engine optimization or SEO! Which is researched, written, and input by an SEO virtual assistant!
Search engine optimization is the process that businesses use to get content, websites, and products to rank in the search engine result pages.
If you want to work with SEO but don't have experience with it–no worries!
There are many routes you could take–starting as an SEO virtual assistant! Read on as we dive into what SEO is, what SEO virtual assistants do, and how to start as an SEO virtual assistant.
What is SEO and Why is it Important?
SEO is the process of increasing the visibility of a website in an internet search. For example, SEO helps a website get more traffic or visitors using organic search to rank a website, blog, or product pages higher in the search engine results pages.
Not only is it important for websites to rank higher in the search engine results pages (SERP), but you want to make sure you are driving the right people to the site. The people that are interested in that specific content at that moment. That means choosing the right keywords for each blog or product you post.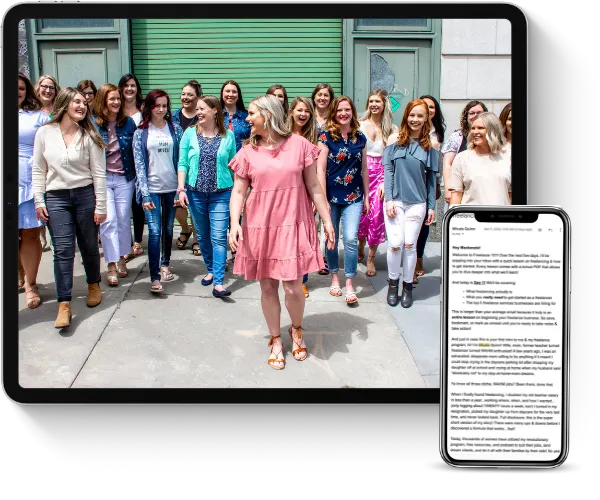 Learn how to earn $3K a month+ as a freelancer working less than 25 hours a week even if you think you have no experience.
This FREE crash course will teach you all about the freelance industry, so you can finally end the family vs. finances battle.
Benefits of SEO
The benefits of SEO are very straightforward.
Help share your content with potential and current customers/clients.
Make sure your content topics are relevant to your audience.
Increase site traffic.
What is an SEO Virtual Assistant?
An SEO virtual assistant can help a business owner or an SEO specialist/strategist implement SEO tasks.
As an SEO virtual assistant, you probably won't implement or advise on strategy. Still, you would be helping with tasks like keyword research, gathering data for analytics, and researching backlinks.
What Does an SEO Virtual Assistant Do?
Onsite
Onsite SEO is all the variables that can be changed within a website. These can include:
keyword research
content optimization
site structure
Offsite
Offsite SEO is the variables that you work on outside of a website. It consists of the following:
link building and broken link building
guest posting
competitor analysis
article submission
Analytics
After creating content and leveraging web pages, tracking their performance is important. A few metrics to track:
traffic
conversions
page authority
domain authority
What Qualifications and Skills are Needed as an SEO Virtual Assistant?
The skills needed to be an SEO virtual assistant are similar to a general virtual assistant. Having communication, attention to detail, time management, and organizational skills will help you!
What qualifications do you need to become an SEO virtual assistant? None!
Every virtual assistant starts their business without experience. Eventually, they build it up along with their technical skills and knowledge. You have the skills needed to be a virtual assistant.
You just need to know where to start.
The Live Free Academy can help! It's an 8-step course with resources like worksheets and brainstorming activities to guide you through each step.
Many free and paid training courses are available to learn more about SEO. Check Udemy, Hubspot, and the StupidSimpleSEO course.
SEO Resources
SEO tools you will use as an SEO virtual assistant may include:
Do you want more resources on SEO virtual assistance or SEO for your small business? Check out this episode of the Live Free Podcast with Meg Clark of Clapping Dog Media. Meg shares the resources she used to learn everything she could about SEO.