EPISODE 16: SHOW NOTES
Hey hey! and welcome back to another awesome interview segment of the Live Free, Mama Podcast!
Today one of my most favorite people ever are coming on.
I have a lot of favorites, but this lady today has had SUCH an impact on my life, my business, and I can't wait to share her wisdom with you!
Today, I share an interview with one of my mentors and friends, Dana Malstaff!
And our focus today is on one of the HARDEST parts of running a business…
confidently asking for the sale.
Make sure you listen to this episode sitting at your desk with a notebook and pen. You are going to want to take notes!
**This post about how to sell your services for freelancers may contain affiliate links, which means if you click one of our affiliate links and decide to make a purchase, we receive a tiny commission from the seller at no additional cost to you. We only share products and services we have used, tested, and love ourselves!**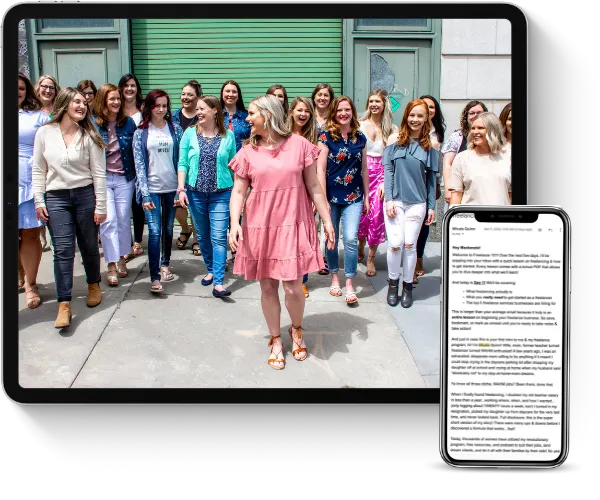 Learn how to earn $3K a month+ as a freelancer working less than 25 hours a week even if you think you have no experience.
This FREE crash course will teach you all about the freelance industry, so you can finally end the family vs. finances battle.
Meet Dana
Dana Malstaff is the CEO and Founder of Boss Mom. She is a mother, author, business strategist, podcaster, blind spot reducer, and movement maker. She is the author of Boss Mom: The Ultimate Guide to Raising a Business & Nurturing Your Family Like a Pro. With over 9,000 students in various courses and a 20k+ community.  With over 10 years of experience in content creation, marketing, sales, community building, and business strategy, Dana grew the Boss Mom brand into a six-figure business in less than a year. Her Boss Mom Movement is all about losing the guilt when it comes to raising babies and businesses at the same time, and believes that pursuing our passions and building our dreams while including our children in the process, is the best way to build thriving businesses and families.
What we chat about in this episode:
How Dana got started as an entrepreneur
Why selling is so hard for people
What it means to sell without being salesy
Tactics a VA or a copywriter (or any freelancer) can implement that will land them clients
Standing out in the saturated market
Resources and links mentioned in this episode: