EPISODE 71: SHOW NOTES
"Scaling your business" is such a buzz-worthy phrase right now but what does it really look like to scale a service-based business? Do you NEED passive income and if yes, when should you focus on adding it?
In this episode, I give you 3 things to consider when scaling your business. And when I say "scale" I mean increasing your income without increasing the hours you work! Landing more clients isn't always the answer if you're actually ready to scale!
We cover how to evaluate if you're ready to scale, the pros and cons of creating a course, if you should consider starting an agency, and how to scale your business by offering a premium service.
Let me know your thoughts on scaling and if you want to hear more about this topic! If you're ready to scale, join the waitlist for our next launch of With Websites We Scale! If you're not quite ready to scale, I hope this episode gave you ideas once you are! Thanks for listening and talk to you soon!
**This post about how to scale your service-based business may contain affiliate links, which means if you click one of our affiliate links and decide to make a purchase, we receive a tiny commission from the seller at no additional cost to you. We only share products and services we have used, tested, and love ourselves!**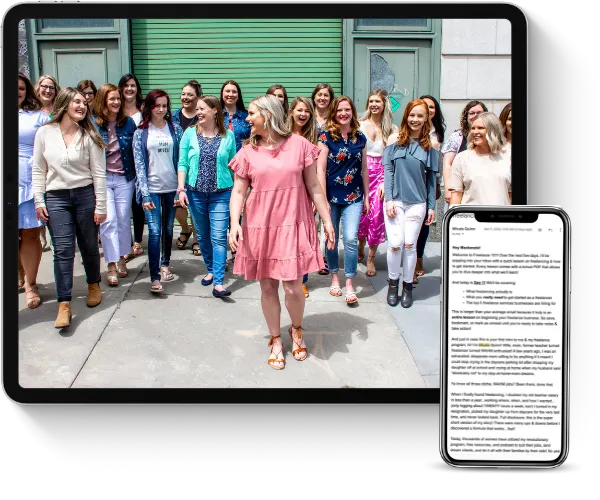 Learn how to earn $3K a month+ as a freelancer working less than 25 hours a week even if you think you have no experience.
This FREE crash course will teach you all about the freelance industry, so you can finally end the family vs. finances battle.
In this episode, we cover:
how to evaluate if you're ready to scale,
the pros and cons of creating a course,
if you should consider starting an agency, and
how to scale your business by offering a premium service
Resources and links mentioned in this episode: