EPISODE 137: SHOW NOTES
When you first start your freelance business your goal may be to replace your full time income or bring in some extra money for your family. As you start to see the limitless opportunities though, many moms start considering how they can scale their business but without facing burnout!
In this episode, Racheal Cook is breaking down how you can scale your business without facing burnout.
Over the last 10 years, Racheal has helped thousands of female entrepreneurs design predictably profitable businesses without the hustle and burnout that doing #allthethings inevitably accomplishes.
We're covering how to know if you're ready to scale up from the start up stage to the success stage, what the correct etiquette is for a referral network, and how to get help in your business and at home early on.
Thanks for hanging out with us today! Let us know you listened over on Instagram @Racheal.Cook and @Micala.Quinn. Talk to you soon!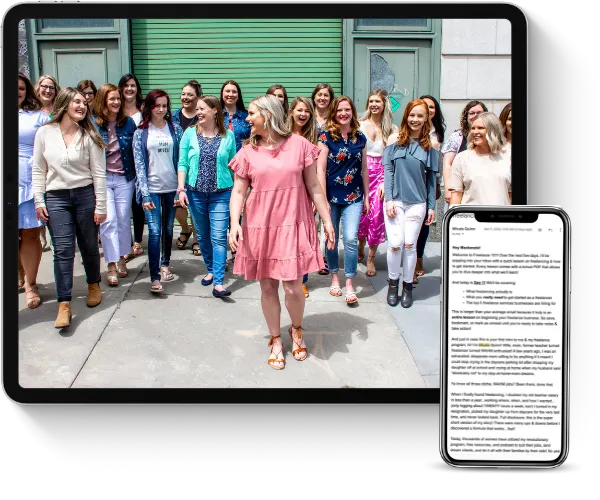 Learn how to earn $3K a month+ as a freelancer working less than 25 hours a week even if you think you have no experience.
This FREE crash course will teach you all about the freelance industry, so you can finally end the family vs. finances battle.
In this episode, we cover:
How to know if you're ready to scale up from the start up stage to the success stage,
What the correct etiquette is for a referral network,
How to get help in your business and at home early on, and
What you can do today to increase your profits without facing burnout
Resources and links mentioned in this episode:
Get Racheal's gift HERE
Read Freshbook's study on the gender wage gap in freelancing HERE
Don't miss my last episode on how to increase your confidence as a beginner
**This post on facing burnout may contain affiliate links, which means if you click one of our affiliate links and decide to make a purchase, we receive a tiny commission from the seller at no additional cost to you. We only share products and services we have used, tested, and love ourselves!**