Forty days – that's how long it took Sarah Randel to go from overwhelmed to booked out in her freelance business! In this month's success story episode, Sarah is sharing her story and how she landed 6 clients in the first 40 days of her business.
Sarah's Story
Born and raised in San Antonio, TX, Sarah is a former 4th-grade teacher and has been married to her husband for almost 6 years! A mom of three under four, her oldest daughter is 3.5, her second daughter is 17 months old, and her son is 5 months old.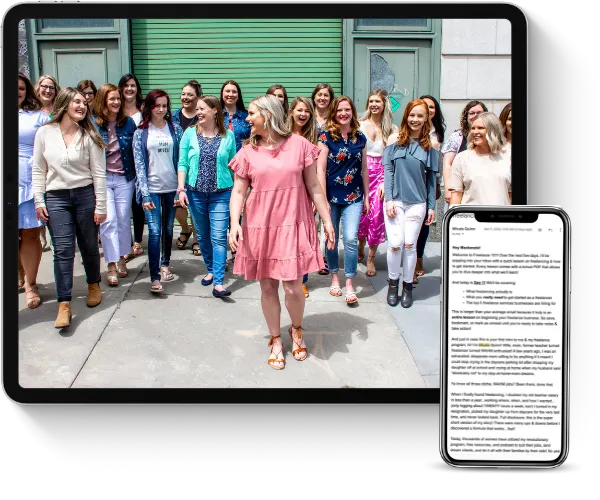 Learn how to earn $3K a month+ as a freelancer working less than 25 hours a week even if you think you have no experience.
This FREE crash course will teach you all about the freelance industry, so you can finally end the family vs. finances battle.
With COVID restrictions rolling in, and following a difficult last pregnancy and birth, Sarah felt the push to find a job that would keep her kids out of daycare but also provide an income as the hospital bills piled up.
After helping her husband with his own social media presence and posts, Sarah started to grow more confident in her social media skills and services. So confident that she informed her husband he needed to start paying her for her work! While googling information on social media and rates, she found Overwhelmed to Overbooked and her journey officially started!
"I usually have to convince my husband for weeks to spend large amounts of money (or any money really!). Within an hour of telling him about OTO, he said do it."
Even though Sarah had the full support of her husband, she was still nervous to tell friends and family about the major change in her life. After completing the OTO module on launching your business, she knew the fastest way to succeed would be to announce her biz on her personal social media platform.
Instantly, Sarah received a text message from a teacher friend. Sarah was terrified – would they be disappointed that she was abandoning the teaching field? Would they think she was crazy or had been scammed? Finally…she opened the text.
"What are you doing and how can I join?"
(PS: that teacher friend is also now an OTO alum!)
The support and encouragement Sarah received from friends and family was the confidence boost and validation she needed to know this was the right place for her new freelance business.
My dad's piece of advice, he said, "watch me. Watch me go, watch me exceed my goals." And so every day when I feel down on myself or I feel like I can't do this, or imposter syndrome sets in, I think "watch me." It just gives me that push.
From Zero to Being Booked Out in 40 Days
Immediately after signing up for the course, Sarah connected with a local mom looking for a social media manager. At first, it didn't seem like a great fit. The potential client wanted someone who could be on-site once a week, and with 3 kids under 4 at home, Sarah could not commit to that schedule. The client eventually told Sarah she would keep her in mind for future projects.
A few weeks later, after officially launching her business and receiving great feedback from personal connections, Sarah reached back out to the local mom and offered to complete a few weeks of social media content in exchange for a testimonial. After receiving drafts of Sarah's work, the client hired and began paying her immediately! Today, she is Sarah's highest-paying retainer client. The power of following up!
After landing the local mom as a retainer client, Sarah quickly brought in two additional retainer clients through her network. With the newfound confidence and success in her field, Sarah landed two more clients with referrals from an OTO alum!
Client Breakdown
Through networking, Sarah connected with a local mom and CEO of an online business.
Through a personal connection, Sarah started social media services with a local water software company starting a market in a new city.
Another personal connection recommended Sarah for a social media position with a local real estate company.
A fellow OTO alum helped Sarah land her ideal client – a mom helping other moms with a concierge-type business.
And her fifth client – a home organization business!
Client #2 asked Sarah to take over social media for their original market.
And that is how Sarah went from zero to 6 social media manager clients in 40 days!
"The beauty of freelancing and being my own boss is, you know, it's okay if you don't connect with every client — I actually dropped a client because I felt I wasn't the best for her business. I want to make sure all my clients succeed and find the best fit."
Sarah's Tips for Success
Confidence. Remember her dad's advice: "watch me."
Have a plan. Prepare, prepare, prepare! Come to the discovery goal with a full plan of how you can help the client achieve and exceed their goals.
Be yourself. Clients want to hire you. Not a professional, polished robot! Don't be afraid to talk about yourself, tell jokes, showcase your personality.
A typical day in the life
Are you wondering if Sarah is spending hours chained to her desk, balancing six accounts and her home life?! Nope! On average, Sarah says she spends about 1-2 hours per day working and has replaced her full-time income! Working 10 hours or less per week!
"One of my spots to work is actually on my countertop. I have an island in my kitchen, in the middle of everything. I leave my computer and my planner and notebook there and run around the house, chasing kiddos, and then when I have a free sec I'll come back to my island work station!"
Listen to Sarah's full story on the Live Free podcast.
Are you ready to join Sarah and the thousands of other women who have ended the battle between freedom and finances…forever?!
Download my FREE resource: Freelance Starter Kit + Ultimate Checklist
Join Overwhelmed to Overbooked
For more tips, success stories, and behind-the-scenes freelance info — join me on Instagram.