Are you interested in becoming an operational business manager (OBM) or running your own OBM agency? Today Salome Fourie talks about her journey from corporate to quitting her job, starting as a Social Media Manager to becoming a certified Online Business Manager. Salome even started an agency that pulled her husband home and out of corporate.
Salome talks with us about how she started freelancing with LFA in June 2020 and started as a Social Media Manager (SMM). She chats with us about pivoting cold turkey from Social Media Management to the Online Business Manager (OBM) world, even quitting her job and jumping right in.
Learn more about Salome and what she does as an OBM. And how even though you can niche down and become an OBM, learn about how each operational business manager can have different focus areas.
The Salome Fourie Story
Salome comes from the corporate world of marketing. She worked in marketing for ten years doing digital marketing and sales. Salome describes it as long days working extra hours and lots of traveling.
Realizing she wanted to be home with her husband and son. She noticed she wasn't feeling fulfilled. She wasn't able to spend time with her family. So, she started looking for other jobs that she could do from home.
Then she found the LFA program and chatted with Micala about what it would look like if she started as a virtual assistant or social media manager. She joined LFA (then OTO) planning on going the social media route because of her background in marketing.
She quickly found clients and started freelancing while working at her corporate job. But still, she wasn't feeling fulfilled. She didn't feel like she was being challenged.
Hearing about online business management, she was intrigued. The pandemic changed her corporate job's structure, leaving her frustrated and wanting a change. After talking with her husband and talking to an OBM course creator, she found out it was possible. So, she signed up in November 2020, buckled down to pass the training, and became certified in January 2021. Then started her own OBM agency.
Looking into Freelance Options
Salome says she did look into other options when she started looking to stay home more. She looked at network marketing or driving for Uber and shopping for Instacart. None were the right fit for her.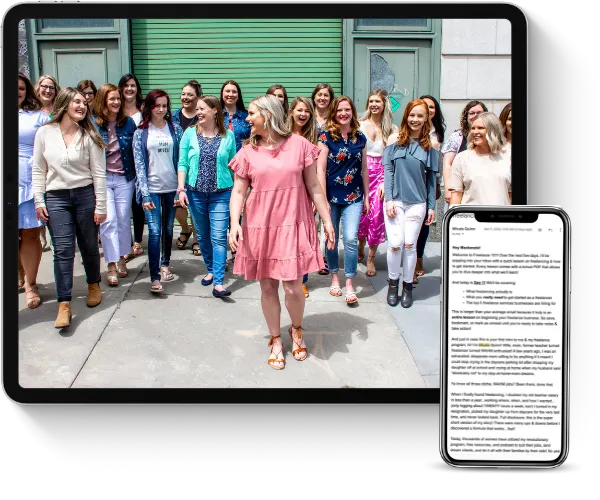 Learn how to earn $3K a month+ as a freelancer working less than 25 hours a week even if you think you have no experience.
This FREE crash course will teach you all about the freelance industry, so you can finally end the family vs. finances battle.
Timeline and Strategy for OBM Finding Clients
Within the first month of signing up with LFA, Salome remembers landing her first client. She found them networking in different groups on Facebook and on the job board for LFA. She believes that if you are working as a social media manager, there are many great groups on Facebook to network in.
However, as she transitioned into an OBM, the strategy to find clients also transitioned. She still sometimes networks in Facebook groups, but the majority of her outreach to other clients starts on LinkedIn.
And the niche of her clients changed too. Her ideal clients are now business coaches and professionals in the marketing world because of her background and who she connects with the most.
The Transition to Operational Business Manager
Salome's corporate skills as a marketing consultant aided her in transitioning to an OBM.
The systems and CRMs she used were similar even though the processes were not the same. And as a marketing consultant, she did a lot of project management for different campaign launches, which helped in transitioning to an operational business manager.
She also learned so many new things during OBM training that she had no idea existed too!
Operational Business Manager Services
Salome's agency's services as an OBM are team management and setting up systems and processes. That includes both processes with clients and within the teams internally.
For marketing-specific clients, she helps with metrics and tracking for their clients by cleaning up the spreadsheets for data tracking and analytics that is not fun to look at. So, it looks cleaner and prettier for presenting to clients.
For team-management clients, she will look at the team management tool, if they use one when things are due, and if those dates are being met. She organizes team communication and monthly meetings with the team and points out areas where they can improve.
Do you want to hear Salome's full story? Listen now on the Live Free Podcast!
Are you ready to start building a life you love that is flexible, financially stable, and fulfilling? If you are new to the idea of freelancing, download the FREE Launch FAST Crash Course to learn more about starting TODAY!
OR join the live event Monday, August 1st, by signing up here!
Is your freelance business not fulfilling you anymore? Do you think it's time to pivot just as Salome did? Learn more about how to transition your business with new skills in the Live Free Academy Masters of Business program!