Is it really possible to create a consistent, full-time income from home?
This is just one of the many questions and topics I discuss on the podcast along with tangible business advice to help you with your virtual assistant business.
I love sharing amazing insight and advice from other female business owners who have been in your shoes! Honestly, the success stories from Live Free alum are a huge reason my podcast is now known as one of the best podcasts for female entrepreneurs.
Whether you're just starting or looking to scale, you will find inspiring interviews with the most interesting women offering their insight on how they built successful freelance careers.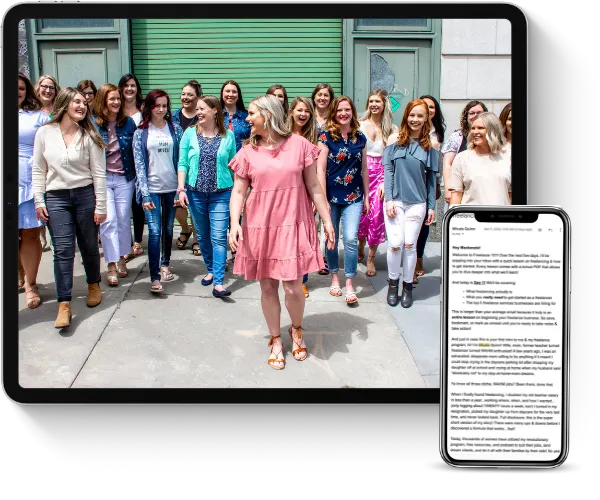 Learn how to earn $3K a month+ as a freelancer working less than 25 hours a week even if you think you have no experience.
This FREE crash course will teach you all about the freelance industry, so you can finally end the family vs. finances battle.
Are you ready to hear how this former teacher started freelancing and doubled her income in less than 1 year?
I am chatting with Chelsea Hall, owner of Chelsea Hall Social – her Pinterest Marketing business.
Chelsea was a first-grade teacher for eight years and truly enjoyed it but was feeling burnt out, and wanted to be home with her daughter more.
Chelsea heard about OTO, bought the course, and dove right in and not only replaced her teaching income but doubled it in less than 1 year.
We chat all about how Chelsea landed her first client within 2 weeks of buying the course, how she got started on Pinterest, and how the OTO community helped her succeed in her transition of switching careers.
Life looks different now with her flexible schedule building a business she loves. Chelsea reminds us that this is 100% possible!
Listen in to hear her story about how she got started and is thriving in this online space.
Ready to start building something on the side so you can leave your corporate job?
That was Betsy less than a year ago – ready for a change and more flexibility! In this episode, OTO student, Betsy Moorehead, shares her story from corporate to freelance marketing strategist!
In addition to being a freelance marketing strategist, Betsy Moorehead is an avid people person and natural-born storyteller based in Texas.
With more than 10+ years in corporate marketing and communications, she started her freelance business, BJM Creative, as a way to take ownership of her future, provide more flexibility for her family, and share her experience and professional expertise with other entrepreneurs who need help with all things marketing related.
We're covering how Betsy got started the DIY route, why she joined Overwhelmed to Overbooked.
Listen in to hear her story and what struggles she had along the way!
Is this real? Is this legit?
These are the questions that Stacy was asking about Overwhelmed to Overbooked just less than a year ago.
She ended up diving into Overwhelmed to Overbooked and went from SAHM to a Virtual Assistant.
As a former dental hygienist who left work to be a SAHM but wanted something more, Stacy chats with us about her journey through OTO, how to push through even when hearing "no's" and then how she landed 3 clients shortly after.
Stacy shares with us how to gain experience when preparing for a discovery call, how she landed her clients, the things that contributed to her success, and what her days now look like as a successful WAHM.
We chat about how your skills can translate to the freelancing world whether you are a SAHM, dental hygienist, nurse, or teacher.
We all have the skills to do this!
Feeling discriminated against in your workplace?
Chatting with Shannon Piegdon, OTO alumni who started and grew her business this past year as a Pinterest Strategist.
Shannon has a powerful story about how she started in her freelancing journey sharing how she faced discrimination in the workplace for breastfeeding.
We cover what happened with her being told she was not going to be terminated to her grueling journey to stand up for herself, the importance of knowing her rights, and how this led her to eventually start her freelancing journey.
In addition to being a new mom, Shannon is building her business during the nap-time hustle and is now a thriving Pinterest Strategist.
Sharing how she went from feeling discouraged but refused to give up when trying to land her first client.
She remained dedicated and persistent and eventually landed that first "unicorn" client and then booked three more to become overbooked!
Are you in the medical field and wondering if there is space for you in the freelance world?
My guest Heather Walberg is here today sharing her story about how her medical background helped her become a Virtual Practice Manager in the freelance space.
Heather and I chat all about what a Virtual Practice Manager (VPM) is, what things you need to set up your business as a VPM, and how to find clients.
She even shares the key phrase she uses when looking for new clients.
Heather shares the growth that she expects to see with the medical field going even more virtual and the need for VPMs.
As Heather explains, if you are interested in this field, ask questions and get started as soon as you can because there is going to be an increase in demand for this role!
If you are looking for your niche in the freelance world and want to incorporate your medical background, tune in to hear Heather's story.