There is no shortage of women googling, "how to work as a stay-at-home mom". In fact, becoming a stay-at-home mom who freelances is easier now than ever before!
I remember when I started searching for ways I could stay home with my kiddos and make money.
This was just a few short years ago, and I had to dig deep to get more information about What Freelancing Is.
It was almost like no one wanted to talk about freelancing. Like it was this big secret no one could share!
So, I'm spreading the word about it because starting my own business by becoming a virtual assistant changed my life.
It helped me to stay at home with my babies while making enough money to replace my full-time teaching salary. At the height of my freelance career, I was actually making 3x my teacher salary working only 15-20 hours per week.
You may already know the types of jobs you can do as a freelancing mom, but what you need to get started is not as commonly answered.
So, today I'm gathering up all my most popular, most searched for blogs and putting them all in one place for you!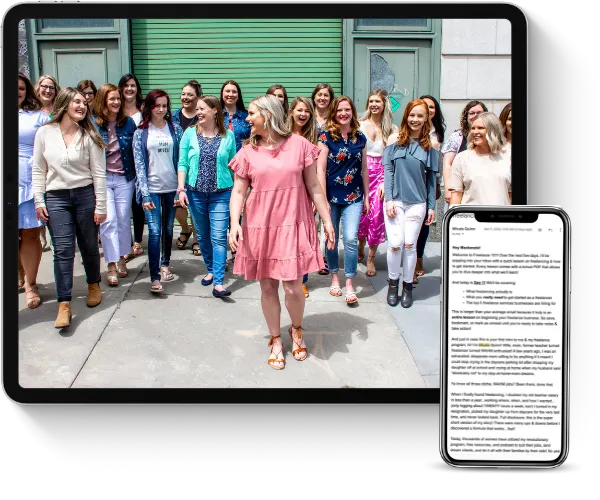 Learn how to earn $3K a month+ as a freelancer working less than 25 hours a week even if you think you have no experience.
This FREE crash course will teach you all about the freelance industry, so you can finally end the family vs. finances battle.
Let's examine seven legit work-from-home jobs that are perfect for moms. These jobs are all in-demand…if you know where to look! They are flexible: you can work them around your schedule and in your favorite yoga pants from home. They are all paid and you do not need any special training or degrees to do most of them!
I know this sounds too good to be true, but I swear it's really an option. There is this whole freelance world of mamas who are crushing it in work-at-home jobs just like these, and you can join them!
Actionable steps you can take today to start your own business as a virtual assistant. It's how I started and how I tripled my old teacher income…only working 20 hours per week!
You'll be working on your own terms – when, how, and where you want to work – and setting your own rates (and deciding when to raise them! Cha-ching!). You can choose the clients you want to work with and set the schedule that works best for you.
Four Proven Tips to Work Remotely with Kids: Now that I manage and run all things MQHQ, typically I have childcare lined up Monday-Thursday, but I didn't always have that luxury.
In the early days, I fit building and growing my business around a busy bee toddler and a clingy mama's boy and this blog post compiles some of my best secrets on how I used to do it and how you can do it for the foreseeable future!
Everyone is busy. Everyone has a million things to do. And if you are a mom you have a million things to do PLUS juggling all the millions of things your husband and kiddos have to do!
Unfortunately, I can't give you more time in a day… But what I can do is teach you how to effectively manage your time… or at least the time you can dedicate to growing your business!
This post is for you if you are a work at home mom who needs a little more guidance on how to manage your time for maximum productivity!
One of my most asked questions!
As I am becoming more open with what I do, and how and why I got started, I am finding that more and more moms (or non-moms — freelancing is NOT just for moms) are interested in exploring if this lifestyle could work for them and their career and family goals.
So I wanted to address it, plus a few other questions I often get in one post. So when a mom joins my Facebook group and asks, I can send her here for all the answers!
I think it helps to see someone's personal story and their journey of how and why they did what they did and got to where they got.
Ready to dive into the world of freelancing and make more money from home than you do working full-time? Start right now with the Live Free Academy, where you will get 1-on-1 coaching, video trainings that go in-depth with workbooks and other tools that actually teach you how to get started, immediate access to the course community, and other fun bonuses.
Not ready to jump in yet? Check out my Launch Fast Crash Course! You'll get the actual truth on what it really means to freelance, which services are in HOT demand right now, and where to find paying clients fast, plus so much more!