Richelle Villalta's Story
Richelle worked in the corporate world for nearly 3 years as an insurance agent. It was busy and so frustrating to be on the phone all the time. So, she started searching for something else and got a work-from-home position within her company. Then the pandemic started and she felt stuck at home. Wanting something else, she started searching for alternatives and found freelancing.
After learning more about freelancing, she found the Live Free Academy program and the Live Free Podcast and started listening to the podcast every day during her lunch break!
How Richelle Went from Working from Home as an Employee vs. Working from Home as a Freelancer
Is there a difference between working from home as an employee vs. working from home as a freelancer? Absolutely! The only difference in her job working from home in the corporate world was that she was at home in her pajamas. There were still time requirements, lunch breaks were stressed, and she felt she was more micro-managed working from home. Whether it was through managing her emails, or skype.
"Working from home is great, but it really does depend on the type of work you're doing because it can be just as miserable as being in the office."
The Timeline of Going from Zero Clients to Fully Booked
Learned about freelancing in January 2020, pre-pandemic. Found out she was pregnant in March of 2020, so she began to research daycare costs. After crunching the numbers, she figured out she would be coming home with a paycheck of about $100 every two weeks after paying for full-time daycare. Then a good friend of Richelle's, who had taken the LFA course, referred her to freelancing. After researching, Richelle bought the course in June of 2020 and took it slow. After having her daughter in November 2020, she used her 5 months of maternity leave to make it work. By January 2021 she started looking for clients and was fully booked by the end of February!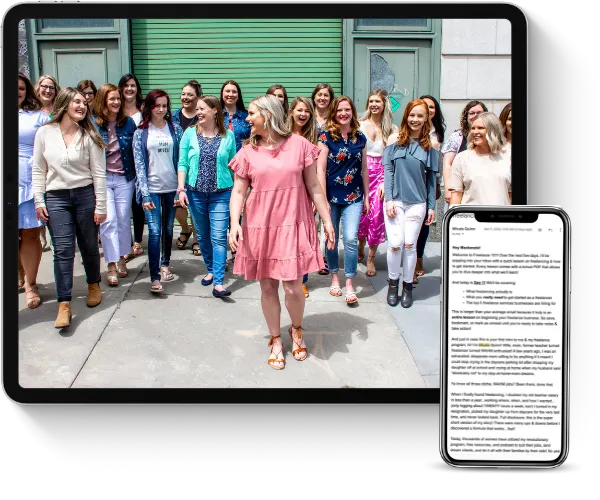 Learn how to earn $3K a month+ as a freelancer working less than 25 hours a week even if you think you have no experience.
This FREE crash course will teach you all about the freelance industry, so you can finally end the family vs. finances battle.
Landing the First Client
Richelle has 4 retainer clients, and 3 of those she found from the OTO job board! Going back through it all, Richelle says she applied for over 30 positions from the job board in that 2-month time frame. She was trying to land clients and though it was hard if she didn't get a position, she was determined to make freelancing work for her. And that she did.
The Transition from 0 to 4 Clients + a Newborn
In the beginning, it wasn't easy. There were days when Richelle recalls just crying, trying to figure out why she wasn't landing clients after many discovery calls. Every time she heard a no, she says, she would have a pity party then get herself back out there and start going through job listings again. She says, every time it got hard, she would look at her daughter and remember the reason she was doing it all was for her!
After 8 months, she says it's all been worth it! Having the flexibility has helped her in the world of being a new mom. She can run to the store at 2 PM if she wants and no one is checking in on her. Not having the stress of needing to get something done right away has allowed her to spend more time with her new daughter and live the life that she always wanted.
Services
All the services. Richelle says she has one client that lets her do anything and everything. She considers it as testing the waters for different services, and after she does something new will chat with the client about which things she likes and wants to keep doing and what she doesn't. Richelle gets to write blog posts, and create social media posts, and says this client is writing a book, so sometimes she even reads a chapter of the book and sends her feedback.
For two other clients, she does inbox management and invoicing in a project management role.
For the last client, Richelle does all social media. Including writing captions, posting, etc.
Richelle is now offering  VIP days and growing her certifications for personal growth within her business.
Learning New Skills
To learn new skills Richelle says she started following her on Instagram and joined her email list to see how it was being written. started using that same verbiage to imitate the same style of writing. Sometimes it's hard when there's a brain block since she's blocked out this time to write blog posts and can't do it.
She reminds us that even when we feel like we don't know where to start and how to do it all – just start. She says, "Stop telling yourself you don't have the skills and don't know what you are doing. Just start!"
Listen to Richelle's full story on the Live Free Podcast.
Are you ready to start building a life you love, having the freedom and flexibility to work from home on your schedule? Download the FREE Launch FAST Crash Course to find out more about getting started TODAY!