One question coming up a lot lately is, "How long should my responses be to respond to a freelance application?"
To answer this question, we are going to break down exactly how to respond to a freelance application, how long responses should be, and other tips.
As a freelancer, one of the routes to finding freelance clients is responding to freelance job postings. Different business owners will do a job posting with an application, and say, "We are hiring a social media manager, a tech virtual assistant, or a copywriter." They will have a job description, requirements, info about the company, and instructions on how to apply. Some of these postings even have a link that may lead to a Google form where the application asks questions, and you put in your responses on the Google form to submit.
So, how long do the answers need to be?
When you respond to a freelance application, it's not as much about meeting a certain length. These answers are all a person has to make their decision on hiring you. Remember you haven't sent over a portfolio, a cover letter, or an email of interest. All they are looking at is this Google Form with your responses. So your answers need to fully and thoroughly answer their questions.
Include 4 Things to Respond to a Freelance Application
It doesn't need to be super lengthy, but you need concrete examples in there.
Show in your responses that you have read their job posting, and have done research on their site, and their business.
Use the resources and information available to help you highlight why you would be a great fit.
In your answers, show your strengths and what you bring to the table.
Example:
As the person that is hiring, a very short, to the point, no elaboration in their answer to a question makes it seem like you are not interested.
Question: Do you have experience with social media?
Answer: Yes.
Answer: Yes, I have experience. For example, (list out your experiences here). Tell them about the things you have done.
4 Tips on How to Respond to a Freelance Application:
Tip 1: Paint a picture
You want to paint a picture of the work you have done. Show not tell, with examples and provide proof to convince them they want to get on a discovery call with you!)
Tip 2: Pre-type responses
If you are a Live Free Academy student and are applying to a lot of these responses, it can seem tedious to type responses to every single application you want to respond to. Something to think about would be to pre-type your responses in a Google Doc so you can copy and paste them.
This way you have time to reflect on it and refine it as needed.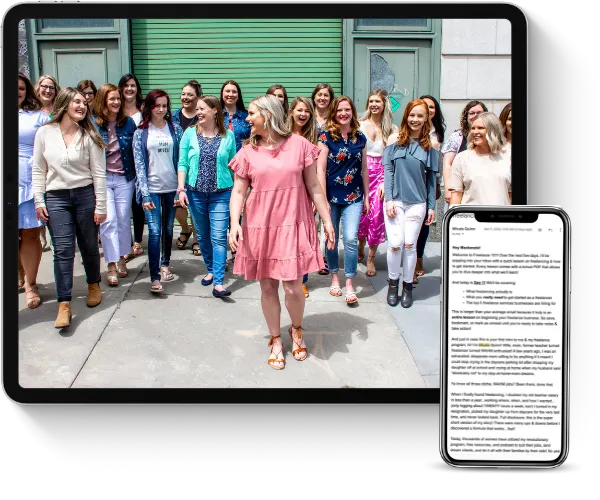 Learn how to earn $3K a month+ as a freelancer working less than 25 hours a week even if you think you have no experience.
This FREE crash course will teach you all about the freelance industry, so you can finally end the family vs. finances battle.
Tip 3: Customize responses
Customize each response to speak to that business owner. That shows that you went above and beyond, that you researched them, put a little time and effort into your response, and that you truly are interested in working with them.
If you put your answers into a Google Doc template so that you can repurpose your responses, highlight in Yellow anything specific to a business. That way you know to update or personalize it before sending it to another business on the next application.
Tip 4: Do not repeat.
Do not repeat your examples using fluff to make them longer. You don't need to say the same thing 50 times in different words when you can say it once and provide a great example. Use different examples, not the same filler fluff over and over.
To Summarize
In conclusion, respond to a freelance application with these three things:
Do not use short and sweet answers instead provide examples.

Type the answers in a Google Doc so you can repurpose them.

Customize each response to speak to each business owner.
Are you ready to land your first freelance client? Start today, enroll today in The Live Free Academy so that you can participate in the Land Your First Client Challenge. These challenges are super effective at helping freelancers and LFA students land their first client–really stinking fast! The key is that you need to be through Step 5 of the LFA program so that you have a solid foundation. Sign up today at MicalaQuinn.com/academy to get all the tools, templates, and coaching support you need!