Did you know every industry needs virtual assistance? Specializing your services doesn't only help you to get clarity on how you can help people, but it helps your messaging too.
If you are interested in working as a virtual assistant and niching your services to help real estate agents–this post is for you!
On the blog today, we are talking about niching your services as a real estate virtual assistant, the tasks you may do as a real estate virtual assistant, and what skills you need.
Do Real Estate Agents Use Virtual Assistants?
Yes! Every industry needs help with virtual assistance, real estate agents included! Real estate agents carry a heavy load of tasks and responsibilities that a virtual assistant can help with.
Those tasks can include administrative tasks, paperwork, and marketing.
What tasks can real estate virtual assistants do?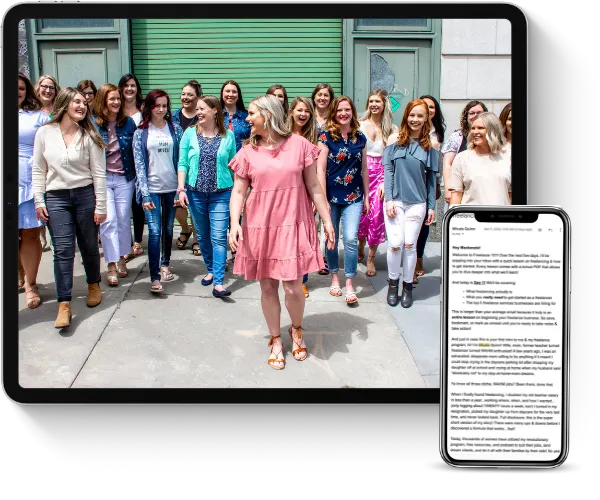 Learn how to earn $3K a month+ as a freelancer working less than 25 hours a week even if you think you have no experience.
This FREE crash course will teach you all about the freelance industry, so you can finally end the family vs. finances battle.
Admin
Maintaining CRM (customer relationship management) apps and keeping the information updated within the system.
Managing appointments or client meetings, calls, and showings on the real estate agent's calendar.
Data entry and management for client notes and meetings.
Sales
Respond to incoming calls, emails, or chats.
Leads screening
Listing management
Create new listings in MLS
Manage MLS listings as posted on other websites
Accounting
Track accounts payable/receiveable
Reconciling bank statements
Tracking expenses for supplies, fees, licenses, and marketing costs
Transaction coordination
Assist in the escrow closing process
Coordinate with photographers, mortgage agents, seller's agents, inspectors, or other outside parties as needed.
Marketing
Help to create brand marketing promotional materials like fliers and brochures.
Create email campaigns/newsletters
Write and manage the website and/or blog
Appointment scheduling
Create calendar invites for meetings with sellers and buyers.
Monitor calendar invites for marketing events.
Coordinate meetings and professional events.
Social media
Manage existing social media accounts by creating and scheduling posts
Create new accounts on untapped social media platforms
Respond to comments or direct messages
Create, schedule, monitor, and analysis for paid social ads
Arrange closing & seasonal gifts
Coordinate ordering of gifts for clients
Execute drop-off of gifts for clients
What Skills Does a Real Estate Virtual Assistant Need?
A HUGE misconception in the freelance space is that you need skills, degrees, courses, and certifications to be a freelancer.
Really though, you don't need all that jazz. You do need some skills to become a freelancer. BUT you already have skills that will help you be a successful freelancer. You do not need all the extra training, certifications, and courses to begin!
You can always take courses and training and obtain certifications to level up your skills as you advance your business!
To start brainstorming your skills check out the freelance skills assessment. It's a free resource that prompts you to think about your past jobs and other daily responsibilities that translate to freelance services. And it will help you to determine how exactly you can use those skills in freelancing as a real estate virtual assistant.
Three common skills you will use as a real estate virtual assistant are communication, time management, and organization.
As a real estate virtual assistant, you will need excellent communication skills. You don't want to let details fall through the cracks, and transparency in your communication of details is how you accomplish that. In addition, you can be consistent in your communication by setting up email threads, messaging chats, or video meetings with clients consistently.
Time management is a must for freelancers in any niche because you don't work full-time hours. So, you will want to make the most of your working time by using time management to

increase your productivity

.
Having an organizational system will help you in real estate virtual assistance by keeping track of important details for clients. You will want to reference important information easily, so keep a filing system of logins, calendar meetings and events, documents, and anything else real estate clients may need.
How to Start a Freelance Business
Are you ready to start your freelance business today? Ready to end the work vs. home battle?
The Live Free Academy is an 8-step course to help you build a freelance business from home. It includes tools and templates in apps like Trello and Canva that will allow you to tailor the scripts to your business and your ideal client to help you launch asap!