EPISODE 23: SHOW NOTES
How do you know if freelancing is the right option for you? I've been getting this question a lot lately and by the end of this episode you'll know if you want to pursue freelancing!
In addition to the 3 steps to determine if freelancing is something you should pursue, I also cover the 3 lies that hold us back from thinking we can do this. And if you're wondering if YOU can do this, the answer is YES! Yes you can! But do you want to? This episode will help you answer that!
Head over the Facebook Group to share you're takeaways from this episode and to bounce ideas off the other moms on this journey. We're here for you!
**This post about how to build your freelance business on the side may contain affiliate links, which means if you click one of our affiliate links and decide to make a purchase, we receive a tiny commission from the seller at no additional cost to you. We only share products and services we have used, tested, and love ourselves!**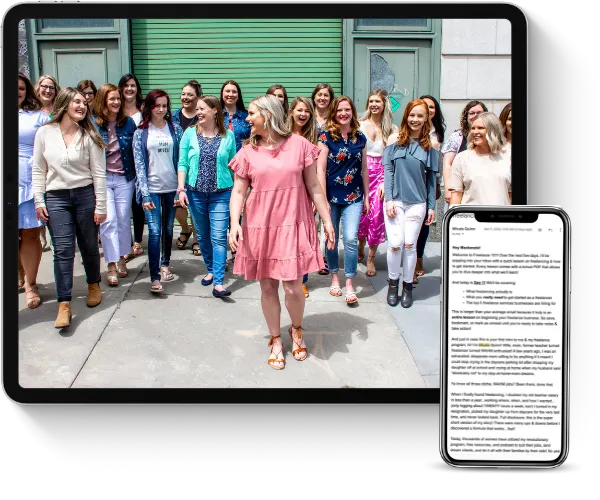 Learn how to earn $3K a month+ as a freelancer working less than 25 hours a week even if you think you have no experience.
This FREE crash course will teach you all about the freelance industry, so you can finally end the family vs. finances battle.
In this episode, we cover:
the 3 steps to determine if you should pursue freelancing
the 3 lies we believe that keep us from thinking we can be successful
the personality traits of a dynamite freelancer
What now:
If you decide you DO want to pursue freelancing after this episode, you have two routes to do so. Route 1 is the DYI route. Catch up on all the Live Free, Mama podcast episodes that you've missed and download all my free resources to start learning! Route 2 is for those of you that want to streamline the process by joining my program! There have been countless moms that have invested in the program and landed their first client within the first month. That can be you! Check out the details of my program here!
Resources and links mentioned in this episode: