EPISODE 100: SHOW NOTES
EPISODE 100! I can hardly believe it and I am so thankful to have you here each week as a listener and for all of the love you have given this show over the last year! I wasn't going to waste this special opportunity to do something special for our 100th episode! Today I am covering my 5 tips for freelance success paired with 5 stories of women in my program who are using each of these tips to rock their businesses.
PLUS, I have a special offer for you that is only available through Sunday, March 1st at midnight! Listen in to hear what it is!
My goal with this episode is to point out the tactics the women in my program are using to build a successful freelance business so that you can too! Let me know which one you are implementing TODAY by posting in the Live Free Podcast Mastermind fb group or sharing on instagram. Thanks again for being a loyal listener and helping me spread this message week-by-week. I can't wait until we chat next!
**This post about the 5 tips to propel you into freelance success may contain affiliate links, which means if you click one of our affiliate links and decide to make a purchase, we receive a tiny commission from the seller at no additional cost to you. We only share products and services we have used, tested, and love ourselves!**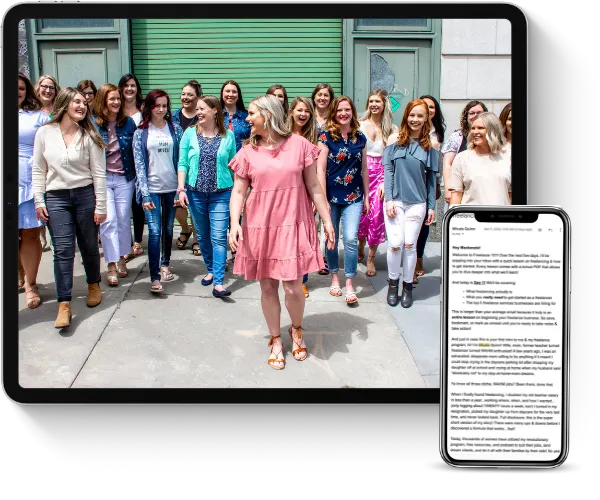 Learn how to earn $3K a month+ as a freelancer working less than 25 hours a week even if you think you have no experience.
This FREE crash course will teach you all about the freelance industry, so you can finally end the family vs. finances battle.
In this episode, we cover:
How to own your strengths and background when building your freelance business,
Why successful freelancers are forever learners,
How to utilize community to reach your goals, and
How to spend your time when you're first building your business compared to when you have a few clients
Resources and links mentioned in this episode: