This post about productivity hacks for work at home moms may contain affiliate links…  we only share items and programs we LOVE ourselves!
Life as a work at home mom is super rewarding, but can also be tough… especially if you are in side-hustle or naptime hustle mode in the early stages… aka you have kiddos at home and are working around their schedule!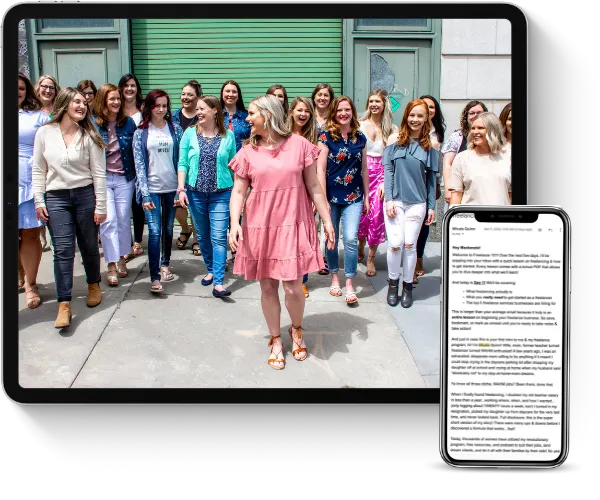 Learn how to earn $3K a month+ as a freelancer working less than 25 hours a week even if you think you have no experience.
This FREE crash course will teach you all about the freelance industry, so you can finally end the family vs. finances battle.
These are some of my best productivity hacks to get more accomplished each day, and to make sure that I was giving my all to both being a mom and being a business owner. I hope you find them helpful and if you do… give us a shout on Facebook, share on Pinterest, or share how it's helped you and tag us @thelivefreemama on Instagram!

Productivity Hack #1: Schedule EVERYTHING
Last week, I shared a post all about how I manage my schedule to get everything done each day… You can check out the full post here… but basically, if it is not on my schedule it does not get done.
I schedule everything from my work to do's, appointments, my husband's stuff, family stuff, kid stuff, to household stuff. It really makes a difference!
Here are my 3 musts to managing your schedule:
I must know exactly what I have to work on and focus on each week
I must know when my work chunks are
I must know exactly what I am doing during each work chunk
Productivity Hack #2: Wake-up early
If you struggle to find the time either as a mom who is working full-time or a mom who is balancing building her business while being home with kids full-time… one of the best times to get work in is early morning.
This helped me both when I was teaching full-time and building my business when I was a full-time at home mom who was freelancing on the side, and now even still as I am growing Live Free Mama.
Before you say, I could never wake up earlier than I do now… Let me just say I felt the same way. I love me some sleeping in… but I also was dedicated and motivated to replace my full-time income and keep it that way once I quit. So I forced myself to become one.
Here are a few tips to become a morning person:
Get an automatic coffee pot, and set it to go off 5 -10 minutes before your alarm… the smell and promise of freshly brewed coffee waiting for you in the kitchen might just be enough to get you out of bed.
Find an early am buddy! If coffee won't do it, maybe the promise of having a friend wake up early too, will! I had a group of women that was also building their business on the side and we all woke up at 5 am and hopped on a video call and just did a virtual co-working session. The promise of friends on the other end, who I didn't want to let down helped keep me accountable and then also excited to wake up and get started with my day!
And lastly, make sure if you agree to stick wake up early to get stuff done, that you PROTECT this time! Don't get distracted by other to-dos or anything that is not working on your business. This early AM time id YOURS to work on YOUR business!
Need help finding an early AM wake-up buddy? Come ask in the LFM Facebook group.
Productivity Hack #3: Gym Daycare
On the super crazy busy days or the days I needed a break and didn't want to juggle being a mom and working at the same time all day long, I would take the kiddos to the gym, check them into the daycare, and go to the cafe and work in peace!
Our gym gives all members 2 hours of childcare a day.
I didn't do this every single day, but at least 2-3 times a week, and it was a huge lifesaver!
Productivity Hack #4: Multi-task and learn new skills
One of my favorite ways to multi-task is listening to podcasts while I am cooking, cleaning, going for a walk, or even taking a bath or getting ready in the morning.
Podcasts are great for learning new skills, getting inspiration to take action, and if you are in the early stages of building your business or even looking to grow and scale, podcasts can help give you tips and ideas on what steps to take.
Some of my favorite podcasts are:
The Boss Mom Podcast
The Strategy Hour Podcast
Online Marketing Made Easy Podcast
Productivity Hack #5: Go to bed with a clean house
Easier said than done right?
I get it.
But I also know that the days I wake up in a clean house, my urge to clean first thing in the morning is not there… because it is not needed!
Not only is that urge not there, but my mind is more focused and my home is a more pleasant place to be which adds up to a more productive work day!
Bonus tip with this: don't clean when you should be spending time work… save cleaning for either end of day or when you kiddos are eating lunch or you can pop in a podcast to learn as you clean!
Typically most days, I will shut down work after naptime so 3/3:30 and we will do something fun… then around 4:30 we will start picking up toys, and start prepping dinner.
Then after dinner… everything gets cleaned!
Second bonus tip… get the rest of the family involved! The more hands to help the faster it gets done!
Productivity Hack #6: Get out and about in the morning!
One of my biggest times to work is naptime… My daughter is getting to the age where she is starting to fight naps, but still desperately needs them. One of my hacks to make sure I get my naptime work chunk in is to make sure she gets an active morning and burns energy.
Some of our favorite morning activities:
The petting zoo
Local children's museum
Going to the park
Going to the library
Going on a walk
Playing outside with neighbors
Pool time in the summer!!
Going to the gym
Productivity Hack #7: Meal plan on Sundays
I use Trello to organize my family's meal plan for each week.
(Trello is a FREE project management tool and you can check it out for free here. I use Trello for all things business and all things family. I LOVE Trello!)
But I have a board set up that is just for meal planning. And on the board, I have a template card which I just copy each week and create a new menu for that week.
Here are my steps:
Look what meat we have in the freezer, fresh veggies, and other items that need to be eaten
Search Pinterest or my Recipes board on Pinterest and plan what we are eating each night.
I copy the link over to the Trello board
Once I have the whole week planned out, I pull up the grocery store app (we use Hy-Vee for their delivery service!) and write out my grocery list
Then I have it delivered Monday morning and life is good!
This helps me not have to run to the grocery store and waste time each day wondering what's for dinner or what should I cook.
Plus doing the grocery delivery also saves me money because I am not adding random food cravings that I don't need to the shopping cart each week! It's a win-win!
I hope these productivity hacks were helpful for you… and if you did find them helpful, I sure would love some shares and shouts on social media! Just click the social share buttons below to share easily!! (All your shares helps us grow and helps us to keep being able to provide awesome free content for you!
Also, I'd love to hear from you below! What are some of your productivity hacks as a work at home mom?
P.S. I did a Facebook live on this topic if you want to check that out here!