Let's be real….being a freelancing mom is super rewarding – but it can also be frustrating and overwhelming! Doing the side-hustle or naptime hustle can feel especially difficult to work around your little kids demanding schedules.
It's easy to become frustrated when you are in the middle of something and are interrupted for the 846,127th time for a snack.
Then seeing someone online seemingly doing what you thought was impossible for a human to accomplish. Is she using super-sonic speed to do everything? How is she doing all that in one day?
Trust me no one is! Those moms who do-it-all almost always have behind-the-scenes help!
For the rest of us trying to make it all work, here are a few productivity and time management tips that freelancing moms have tried and shared in the Live Free Mama Mastermind Podcast Facebook group that I'm sharing with you today.
These things are easy to implement to help you get a few more tasks completed (and save your sanity!).
Create a To-Do List
Every week, generally on Sunday, I take some time to plan out my week.
I start by doing a massive brain dump of all the tasks I need to accomplish. It is an all-encompassing list that includes business tasks, household tasks, errands, kid items, husband items, and personal items.
Next, I look at the calendar and add all the scheduled appointments and meetings coming up for the week.
After adding those, I schedule each day. Starting with the must-do items like the appointments, events, or meetings that are already scheduled and set in stone. I will add the "have to stuff" next, like making dinner and cleaning up. Then working out, taking the kids somewhere to play, and anything else I want to do. Last, I'll schedule all my work tasks.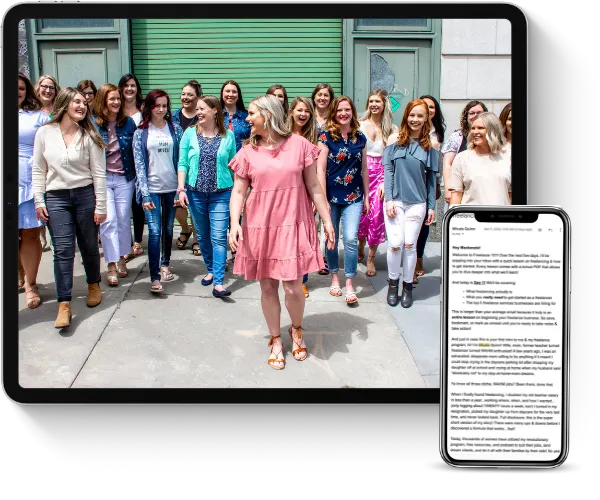 Learn how to earn $3K a month+ as a freelancer working less than 25 hours a week even if you think you have no experience.
This FREE crash course will teach you all about the freelance industry, so you can finally end the family vs. finances battle.
Schedule Out Time Blocks of Work
As a freelancing stay-at-home mom, it helps to create blocks of time throughout the day to work.
Creating one in the morning, afternoon and night are generally the most helpful to me. Incoincendentally, these time blocks just so happen to coincide with when my kids are sleeping throughout the day.
During the time block, I choose one thing to work on. When I finish then I will move on to another.
Create an Organization System
After creating a to-do list and a schedule for when I will work this week. Then I schedule exactly what I plan to work on during those time blocks.
I don't want to waste a minute of my working time figuring out what has priority.
I want to maximize it!
So at the end of each day, I prepare for the next day by scheduling my day hour-by-hour and prioritizing my tasks.
That way, I minimize decision fatigue and take the guessing out of what I should be working on.
Use Every Instance of Childcare Available To You
If you have family close by, a babysitter, or a gym daycare, use it!
There will be days when you need a break or more time to work on your business.
On those days, use whatever resources you have available. For me, was checking the kids into the gym daycare and working in the cafe in peace for a couple of hours.
It wasn't an everyday occurrence, but this trick helped me a few times when I needed some extra help.
Multi-tasking New Skills
Podcasts are increasingly becoming more popular and are one of my favorite ways to learn.
I like utilizing my time by listening to the Strategy Hour Podcast in the morning when I'm getting ready, in the car taking kids to school, or taking a walk.
When you need a little inspiration podcasts can give you tips and ideas to take action in your business. They can help give a little inspiration or learn about a new skill, and that is all while cleaning the house.
Listen to podcast episode 19: How to get all the things done as you build your freelance business on the side to help you get started.
Create a System That Works for You
Creating a system that works for you is important. Find a scheduling software that you love like Trello or a planner that you can't live without like the Erin Condren Planner.
If you try a system out and it doesn't work for you, try something else. Just find a system and stick to it!
Winging it is too stressful and not effective. I used to wing it until I realized I wasn't getting anything substantial accomplished. So I created and implemented a system and gradually started becoming more and more productive. Sure, winging it seems easier but in the long run it's not helping you or your business!
Finding a mix of systems and tools that you love will make a huge difference in how you work and how productive you are.
Managing your time is one thing, but managing it effectively to squeeze every minute out of your minimal working schedule is key.
Using these tips helped me and other women in the Live Free Podcast Mastermind Facebook group get organized and stay on track making the most of our time.
If you want more support on what to do to grow your freelance business as a stay-at-home mom check out my program the Live Free Academy for more information on how to get started today.