EPISODE 90: SHOW NOTES
I know I say this each week but I really really mean it when I say I am SO pumped for you to hear this interview with Bridget Chambers. In this episode, Bridget walks us through the 5 things we need to have a productive conversation about freelancing with our husbands.
Bridget has spent the better part of a decade building and refining her own private practice, where she serves as a Life Coach, Writer, and GenY personal development expert. You are going to get so much out of this conversation, whether your husband is unsupportive, does or doesn't get it, or knows nothing about the world of freelancing!
Thanks for hanging out with me today. Head over to the Live Free Podcast Mastermind fb group to chat more. See you there!
**This post about having a productive conversation with your husband may contain affiliate links, which means if you click one of our affiliate links and decide to make a purchase, we receive a tiny commission from the seller at no additional cost to you. We only share products and services we have used, tested, and love ourselves!**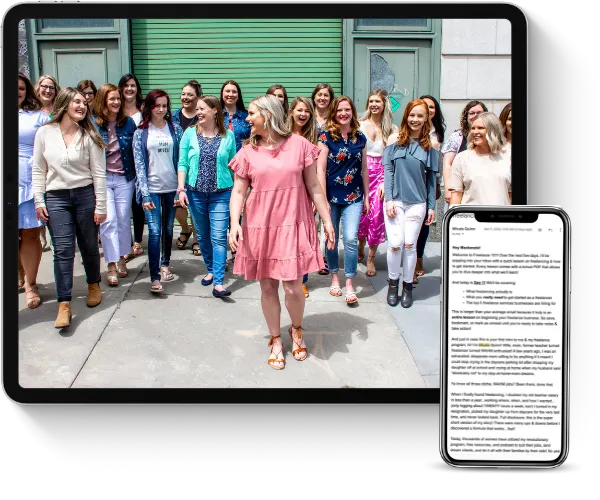 Learn how to earn $3K a month+ as a freelancer working less than 25 hours a week even if you think you have no experience.
This FREE crash course will teach you all about the freelance industry, so you can finally end the family vs. finances battle.
In this episode, we cover:
the 5 things you need to consider to have a productive conversation about freelancing with your husband,
what to do if your husband is unsupportive of you starting a freelance business, and
how to be respectful and give support to your husband when you're looking for the same in return
Resources and links mentioned in this episode:
Get my Get Legit and Quit Kit here!
OTO opens for presale on January 17, 2020! Get on the waitlist here!
Listen to the previous episode I did on this topic with my own husband, Colin!
Access my free video training, How to Become a Work At Home Mom, by clicking below!