EPISODE 61: SHOW NOTES
Ok today's topic may ruffle some feathers! We're talking about all things pricing your services and I'm giving you 6 tips to make this tough task easier!
I often see the question, "How do I figure out what to charge?" and I get it! Pricing is one of the hardest parts of running a business. Use these 6 tips on your next proposal so you can land clients, increase your rates, and meet your goals!
6 tips to help you confidently price your services:
Feel confident and comfortable about your prices

Not confident ENOUGH with your rate yet? Listen to episode 7 on how to gain confidence as a beginner

Make your prices public
Update your prices as you land clients
Raise your rates on existing clients
Continually evaluate your business and prices
Understand that you will be too expensive for some and not expensive enough for others
Have you joined my paid program, Overwhelmed to Overbooked, yet? If not, I'd love to have you! Learn more here. If you have joined, don't forget to utilize the support we offer – post your pricing questions in the Facebook group and join us on the weekly coaching calls! We're here to see you succeed!
Thanks for hanging out with me today! I love having this platform and I owe you a huge thank you for listening each week. If you liked this episode, let me know in a review on Apple Podcasts or tag me on instagram! I love hearing from you. Talk to you soon!
**This post about pricing your services may contain affiliate links, which means if you click one of our affiliate links and decide to make a purchase, we receive a tiny commission from the seller at no additional cost to you. We only share products and services we have used, tested, and love ourselves!**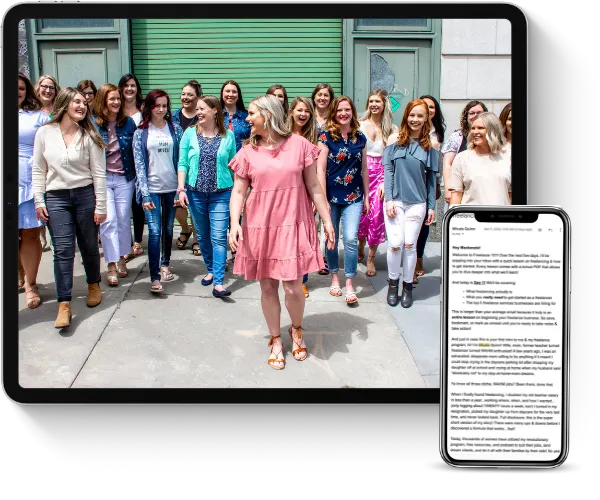 Learn how to earn $3K a month+ as a freelancer working less than 25 hours a week even if you think you have no experience.
This FREE crash course will teach you all about the freelance industry, so you can finally end the family vs. finances battle.
In this episode, we cover:
how to increase your prices incrementally,
why you should increase your prices on existing clients, and
the difference between retainer clients, package price, hourly work, and more!
Resources and links mentioned in this episode: