EPISODE 65: SHOW NOTES
We've got something special planned for this episode of the Live Free Podcast! My podcast producer, Lauren Wrighton, is here to talk about podcast management and the lessons she's learned from 1.5 years as a freelancer. PLUS we have a special flash sale for you!
Lauren is a podcast producer and strategist, wife, mom of two girls, and an OTO grad from more than 1.5 years ago! If you're a podcast junkie, you're going to love Lauren's story on how she went from burnt-out podcast editor to where she is today. We're also teaming up for a special flash sale!
When you buy my paid program, Overwhelmed to Overbooked, this Monday, Tuesday, or Wednesday, you will get Lauren's course on how to become a podcast manager as a bonus! This deal is for those of you that are loyal podcast listeners and that are listening right when the episode goes live.
Thanks for listening and sharing the show with your friends – I so appreciate it! If this episode got you thinking about niching down and you haven't listened to last week's episode, do that now and head over to the Live Free Podcast Mastermind to get your questions answered! Talk soon!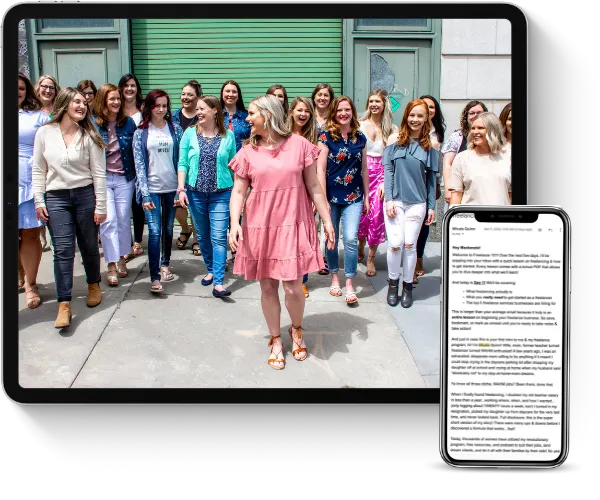 Learn how to earn $3K a month+ as a freelancer working less than 25 hours a week even if you think you have no experience.
This FREE crash course will teach you all about the freelance industry, so you can finally end the family vs. finances battle.
**This post about podcast management for freelancers may contain affiliate links, which means if you click one of our affiliate links and decide to make a purchase, we receive a tiny commission from the seller at no additional cost to you. We only share products and services we have used, tested, and love ourselves!**
In this episode, we cover:
what podcast management is,
the lessons Lauren has learned over the last 1.5 years as a freelancer, and
how you can get started toward becoming a podcast manager today!
Resources and links mentioned in this episode: