Brittany Kues' Story
Do you want to niche down as a podcast manager? Are you trying to figure out where to find those more premium clients?
Today, Brittany Kues talks about how she started her freelance business almost two years ago. Brittany tried different routes, such as social media management and Pinterest but ultimately found her niche as a podcast manager.
Brittany shares some struggles in her business, including losing all of her clients within a matter of 2 months. She shares how she pushed forward, went back to the basics, and became booked out with premium clients, doubling her income!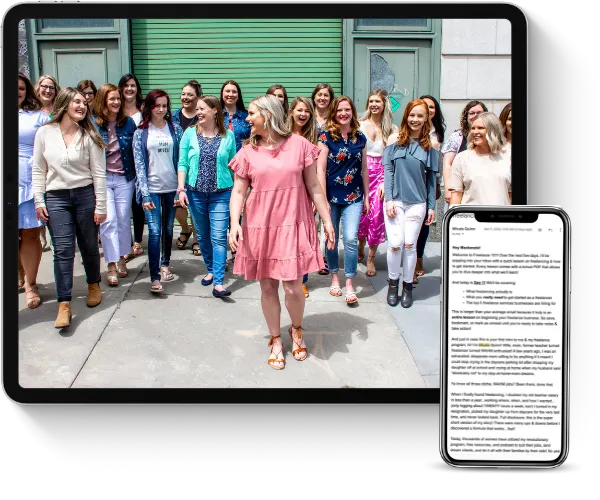 Learn how to earn $3K a month+ as a freelancer working less than 25 hours a week even if you think you have no experience.
This FREE crash course will teach you all about the freelance industry, so you can finally end the family vs. finances battle.
Brittany's Start to Freelancing
With a 5-year-old at home, Brittany was a SAHM and ready to work. Not wanting to give up any time with her son; however, Brittany started looking into options on how to work from home.
After learning about freelancing, she found a coach who said she would teach Brittany how to freelance from home. Brittany quickly realized that this person she had paid to coach her was a scam! Once the coach received Brittany's money, she never heard from the scammer again.
Feeling down on her luck that freelancing was all a scam, she gave up on it. Then she started seeing the LFA program with all of the testimonials of real women it was teaching and helping to learn to freelance. Brittany then started listening to the Live Free Podcast, which led to her investment in the Live Free Academy.
Brittany had heard about social media management and wanted to start providing services as a social media manager. So she started her freelance business offering SMM services to clients and landed her first client within 1-month.
Brittany quickly realized that social media management wasn't for her. The constant engagement, content creation, and repetitiveness of it all were not what she wanted to do.
So, she learned about Pinterest and took on a new client offering Pinterest services. She was enjoying it but not loving it, and heard this client comment on her Podcast manager which piqued Brittany's interest. She had no idea that was a thing!
Brittany reached out to the Podcast manager to learn more and eventually decided that was what she wanted to be doing.
Finding a Niche as a Podcast Manager
Brittany describes her transition from social media management to Pinterest to podcast manager as messy.
Her first SMM client and Brittany mutually agreed to end the working relationship.
However, the Pinterest services client stayed on with her. Then she signed another Pinterest services client that also needed podcast management help. This helped her with transitioning from Pinterest to podcast management and eventually led to landing clients that are only in podcast management.
How Brittany Lands Clients as a Podcast Manager
Brittany believes many people are hiring for these specific jobs in every niche.
She found her clients from networking in Facebook groups. And even as she has pivoted her business from social media management to podcast management is still finding her clients by networking on Facebook groups.
What Brittany Does as a Podcast Manager
Brittany offers podcast launch services, so she will take a podcast idea and help get it turned into a full show within one month.
She offers monthly management services editing, SEO titles and descriptions, show notes, social media graphics, audiograms, and production services.
Brittany offers guest management services. So she will do pre and post-guest management and Pinteresting for podcasters.
Since her clients are course creators she is starting to get into the strategy as well. So she is helping to build a strategic plan to get leads to purchase her clients' high-ticket offers that will convert.
Learning How to Offer Podcast Management Services
Brittany says she learned Pinterest from taking a course online that taught her the basics. Then learned about podcast management from Lauren Wrighton's course, which she describes as wonderful if you want to learn about podcast management.
She suggests, though, that it is best to take the Live Free Academy course first if you are starting out in the world of freelancing. Because it teaches you the basics of starting your business, it taught her how to set up her business as an LLC, learn about taxes, and other basics of starting her own business that the niche courses just don't teach you. And you can learn about offering multiple services until you figure out what exactly you want to niche down into before you invest big money in a niche course that teaches you how to become an expert.
Do you want to learn more about starting a freelance business? Start today with the Launch Fast Crash Course!
The Challenges In Starting a Freelance Business
Brittany describes her biggest roadblock in becoming a successful podcast manager when she first started transitioning her business. After booking out with four clients within a matter of 2 months, she lost all four clients for different reasons. And almost gave up, thinking this wasn't for her.
Instead, she changed her mindset and decided she didn't want to give up. So instead, she redid her website and pricing and decided to uplevel her packages to premium packages. Within a few months, Brittany had booked out with premium clients and doubled what she was making before!
Listen to the whole episode of the Live Free Podcast with Brittany Kues here!
If you want to learn more about freelancing, download the Launch Fast Crash Course here. With it, you will learn how to transform your skills into a freelance business today!