Full disclosure, I've included TWO podcast launch checklists in this blog!
When I started this post, I intended to create an ultimate podcast launch checklist for podcast managers to keep handy when helping their clients.
However, when I sat down and began brainstorming what was needed to create The Live Free Podcast and what it takes to continue to produce episodes for it…well, two separate lists started to take shape.
The first list is for podcast managers helping a client launch a new podcast. And the second list is for managing and producing podcast episodes.
As a podcast manager, you could offer clients some or all of these services. Depending on your interests, skill level, and the services your clients need help with. A podcast manager helps clients by launching a podcast show and creating the episodes for the podcast.
Some of the tasks included in launching a show and producing episodes are editing, publishing to a host site, writing show notes, promoting the show, and promoting the podcast host as a podcast guest on other podcasts.
So without further ado, let's dive into the podcast launch checklist(s) to learn a little more about what podcast managers do to help launch and produce a podcast.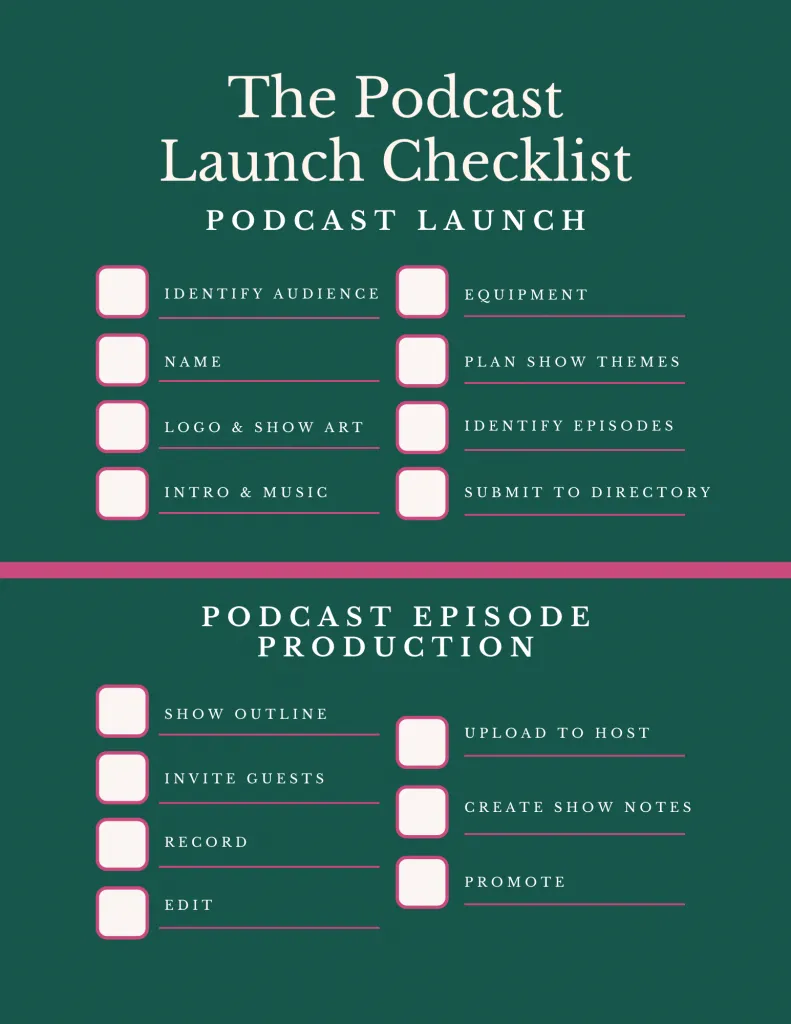 The Podcast Launch Checklist
Identify goals, niche, and listener base
First, your client will need to identify their goals and why they want to start a podcast. Will it help them to achieve their goals, or is it merely another thing to maintain? A podcast can be a great tool to gain more traffic, build brand awareness, and even help move the client along the purchasing process.
Once goals are established, your client will know what metrics they (or you) need to track.
The next thing to determine is a niche. If the client hasn't already established a niche, they need to do so. For example, is it a podcast related to an already-established business? If so, that is an obvious niche.
After establishing a niche, the audience will be easier to determine. Finally, identifying an ideal client or listener will help market the podcast.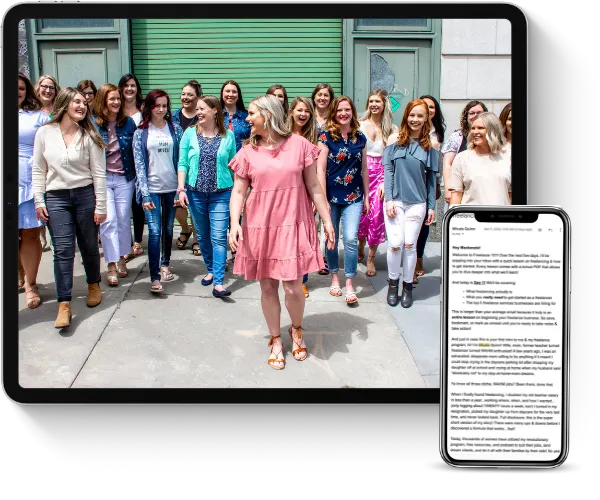 Learn how to earn $3K a month+ as a freelancer working less than 25 hours a week even if you think you have no experience.
This FREE crash course will teach you all about the freelance industry, so you can finally end the family vs. finances battle.
Name
The name of a client's podcast show can be anything. If you are charged with helping to find a name, you can offer a few suggestions. Something similar to their name or the business's name would work well. Plus, it will transition easily if they change services or products.
You could suggest a creative name if they don't want to use their name. Something that reflects the business, services, products, or niche the business is in.
Things to consider are terms that potential customers might be searching for. Remember to brainstorm names that will describe what the podcast is about.
Logo and show artwork
If your client doesn't already have a logo for their business, they will need a logo, plus show artwork for the podcast cover image.
Both of these are easily creatable in a design program like Canva, plus they have templates you can customize.
Intro and music
The best podcast intros include introducing the podcast host and what the podcast is about. It can include music or sound effects and sometimes have a CTA. For example, The Live Free Podcast encourages listeners to share the episode on their social media for a chance to be tagged and shared!
Host
The host is where your clients' podcasts will live in the cloud. Some platforms will automatically distribute the show to sites like iTunes, where listeners can find and listen to the show, and some don't automatically distribute it. There are many choices like Libsyn, Soundcloud, and Bluehost to consider.
Some hosts like Libsyn will give you metrics for each show. Tracking numbers like how many times each show has been downloaded and where each show is downloaded.
Things like cost and features will help to determine which option is best for your client. Cost can range anywhere from free to $50 a month.
Equipment
To record any podcast episodes, the client will need recording equipment. It will be worth investing in a decent recording system so that the podcast gives good quality sound when recorded. Some of the equipment needed for producing a podcast will be:
microphone
headphones
recording software
audio interface
Identify episodes
A plan with the topic of the episodes your client plans on recording and the content ideas behind it will be helpful. Do some brainstorming and keyword research on topics the audience will want to hear about to get the ball rolling and ensure the content is what the audience wants to hear about.
Submit to a Podcast Directory
Podcast directories are where listeners can find podcasts. The more directories the podcast is listed in = the more chances it will be listened to. Listing the podcast with keywords will help it to be seen by new listeners with related searches.
Produce a Podcast Episode Checklist
Show Outline
First, plan the episode. Write a rough script of the episode and the content you want to include. Creating an outline will give the show structure. If you have guests, you want to include spontaneity and discussion.
Include a hook or teaser for the beginning of the episode to intrigue listeners to listen to the whole show. If you have a guest on the show, introduce them. Explain what your client will be interviewing them about and the guest's credentials.
If your client is going to have a guest appearance on an episode, they first need to invite the guest. You can help with that by researching guests that would be good to have on the show, then reaching out with an email or social media.
Schedule a time that works with both your client's and the guest's schedule so that they can record the interview. You can do that with either old-fashioned email or scheduling software.
Once the interview is scheduled, you or your client should send the guest an idea of the episode outline and what will happen during the recording.
Some podcast hosts will send the guest a guideline document and a pre-show questionnaire. The guidelines will help inform the guest about what will happen during the show, and the questionnaire will pull more information out of the guest before the interview starts that the host can use during the interview.
Record
Just tap start and begin speaking; it's as simple as that, right? Should be! Using a recording software, there are tons to pick from, like Auphonic, which allows you to use your phone, Camtasia, Ecamm, GoToMeeting, and Skype to record the interview or show content.
Don't forget to record any commercials for the sponsor or other promos you want to include!
Edit
Since most people include extra umms and ahhs when speaking, it will be good to edit these out with any long, awkward pauses or sneezes, etc.
Here is where the editor or producer of the show will put together the show adding in the intro and sponsor commercials. This is the time to produce any audio graphic for promotion to social channels, and add any subtitles for the audiograms or other editing features to enhance the video/image for social media.
Upload to host
Next, upload the show to your client's host from the first checklist. It is where your client's podcast will live in the cloud. Some platforms will automatically distribute the show to sites like iTunes, where listeners can find and listen to the show.
Create Show Notes
The show notes are a summary of the show. What is it about, was there a guest, and what was discussed? The show notes are where you include any main talking points, links, and other details that might be important for readers to know or make them want to listen to the show.
Promote
Finally, your client must promote the new episode to their existing audience, so people listen. That could be a heads-up in a newsletter that they send to subscribers or mentioning it on a social media account.
Audiograms are an excellent way to promote the show on social media!
Podcast Launch Checklist Summary
There you have it, two checklists for helping clients manage their podcasts. This podcast launch and episode checklist will help you as a podcast manager or podcast virtual assistant next time you need a cheat sheet.
Do you want to learn more about becoming a podcast manager? Start by checking out the free resources tab at Micalaquinn.com. Then check out the  Live Free Academy course. It will teach you step-by-step how to start and run your business as a freelancer! Plus, with the LFA course, you gain access to advanced training programs, like the LFA Masters of Business course, that will teach you about podcast management!