EPISODE 66: SHOW NOTES
I'm so excited to introduce you to Angie Trueblood on this episode of the Live Free Podcast! Angie is the pitch queen when it comes to getting yourself (or your clients!) more visibility, especially on podcasts.
In this episode, Angie shares how to craft the perfect pitch, how to find the best podcasts to pitch to, and why the "pitch and pray" approach is not the best.
Whether you're looking to add this service to your business or you're interested in getting more visibility yourself, you are going to learn so much from Angie!
Get Angie's workflow at AngieTrueblood.com/Micala! Thanks for spending time with me today – I so appreciate it! Don't forget to hit subscribe so you don't miss an episode and if you love the show, share it with a mama friend that needs to know she has options for her career and motherhood! Thanks again and I'll talk to you soon!
**This post about how to pitch yourself or your clients may contain affiliate links, which means if you click one of our affiliate links and decide to make a purchase, we receive a tiny commission from the seller at no additional cost to you. We only share products and services we have used, tested, and love ourselves!**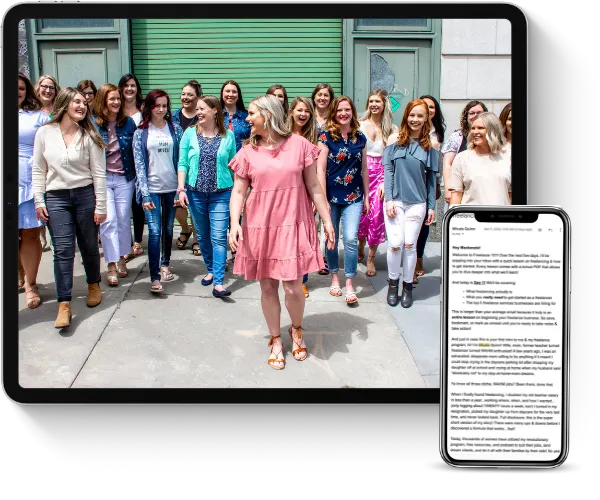 Learn how to earn $3K a month+ as a freelancer working less than 25 hours a week even if you think you have no experience.
This FREE crash course will teach you all about the freelance industry, so you can finally end the family vs. finances battle.
In this episode, we cover:
how to craft the perfect pitch email (and what not to include!)
the best way to find podcasts to pitch to, and
why the "pitch and pray" approach is not the best
Resources and links mentioned in this episode:
Connect with Angie on her website or in her Facebook group!
Find episode 47 on relationship marketing here!
Learn more about my paid program, Overwhelmed to Overbooked here!
Download the Ultimate Become a Work At Home Mom Starter Kit by clicking below!